Britain's Last Invasion By Phil Carradice
Today, the Welsh port of Fishguard is best known for its Stena Line ferry service to Rosslare in Ireland, but there has been a strong maritime community there for hundreds of years – and the town's finest hour arguably came in February 1797.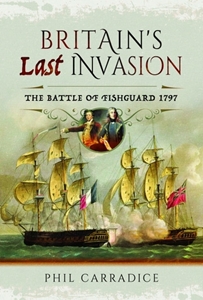 In Britain's Last Invasion, historian Phil Carradice tells how the women of Fishguard came particularly to the fore that month when 1,400 drunken and out-of-control French soldiers from the Legion Noire landed for an attempted takeover. When the local men fled, the women stood fast, and one-armed only with a pitchfork – captured 12 enemy soldiers.
The whole incident was hardly in the league of William the Conqueror, as Carradice readily acknowledges, but he makes a good case for this being a genuine invasion.
And although it was all over in a few days, he says it influenced the development of the British fleet – and even led to the introduction of paper money.
Britain's Last Invasion By Phil Carradice Pen & Sword, £19.99 ISBN: 978 15267 43268