Maritime / Non-fiction
From hunter to hunted
Bernard Edwards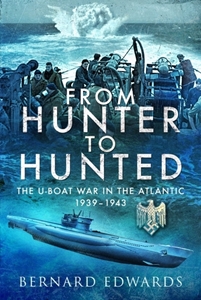 His latest book, subtitled The U-Boat War in the Atlantic 1939-1943, tells the story of the bitter struggle for supremacy in the vital sealanes through 14 compelling chapters that each recount a significant incident or significant developments during the conflict.
It begins with the Brocklebank cargo liner Manaar, which was torpedoed off the coast of Portugal only three days after the outbreak of war. The sinking of the ship, and the remarkable bravery of its radio officer, sets the scene for much of what follows as the U-boat threat to merchant ships intensified. Each incident is told with insight and precision, with Edwards explaining the wider context of events and vividly describing the often grim reality of life and death on the convoy routes. The evident depth of his research underpins his evocative accounts of the ships and the seafarers caught up in the conflict, as well as highlighting the huge challenges of running the wolf pack gauntlet with many ageing, ill-equipped and heavily loaded tramp ships.
The book underlines how close the Allies came to defeat in the Atlantic, typified by a three-day attack by 44 U-boats on Convoys HX 229 and SC 122 in which 22 merchant ships and more than 300 seafarers were lost, together with their vital cargoes of food, fuel and war materials. However, in the second section of the book the author explains how the tide turned early in 1943, with the week-long battle over Convoy ONS 5 kicking off what the German navy described as 'Black May'. Improvements in air cover and convoy escorts, together with advances in radar and radio location equipment, began to give the Allies the edge, and resulted in the withdrawal of the U-boats from the North Atlantic.
As the book concludes, it was also the 'quiet stoicism of the men of the merchant ships' which was to prove pivotal, and Bernard Edwards has once again produced a powerful tribute to them.
Purchase the book today
Visit our shop to browse our selection of books and make a purchase.
Book.BuyNow