International
British shipbuilder urges government to back new aid and training vessel
12 November 2019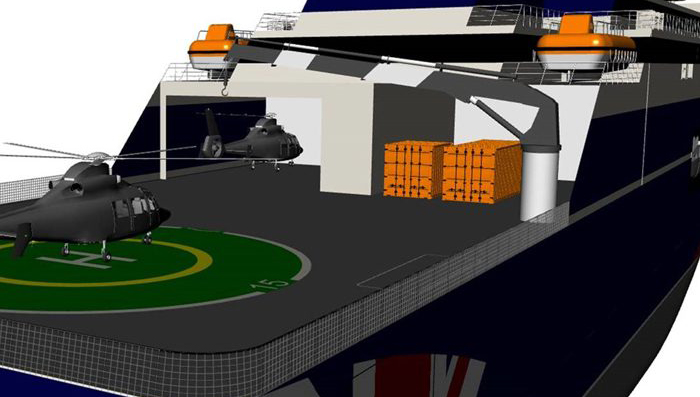 British shipbuilder Cammell Laird has written to UK Shipping Minister Nusrat Ghani, asking for government support in funding the Britannia Maritime Aid (BMA) charity via the International Aid budget.

BMA plans to build a £150m concept vessel that will deliver humanitarian aid and disaster relief, while simultaneously providing a dual role as a training platform for UK and Commonwealth cadets, apprentices and trainees. It would also deliver ocean advocacy programmes, including marine clean-up and research.

Cammell Laird is supporting the proposal with the intention of providing a UK designed and built vessel which will showcase advanced British technology for efficiency and environmental sensitivity.

Following design approval and fundraising, the vessel would take four to five years to build and would be based full-time in Barbados.

Meanwhile, BMA is considering an interim vessel, bought second-hand and refitted for purpose. Funding is planned as a mixture of crowdfunding and government support. The charity believes that the project fits with the UK government's Maritime 2050 strategy.

The project had a letter of support from the then Secretary of State for International Development Penny Mordaunt earlier this year.

Cammell Laird says that, being commercially operated, the vessel would 'free up expensive and valuable Royal Navy resource currently committed to the region'.
The Birkenhead shipyard believes that the vessel will prove 'excellent value for the UK taxpayer, compared with the cost of maintaining a Royal Navy asset on disaster relief duties. If the ship could be financed through the International Aid budget (providing much needed aid in kind rather than cash) then it would effectively be cost-neutral.'

Cammell Laird says that the new vessel would 'demonstrate the UK's commitment to safeguarding the environment by incorporating the latest environmental measures' and that it would 'prove an ideal project to follow the RRS Sir David Attenborough, support UK shipbuilding and capture the public imagination.'

Launched at the UK Chamber of Shipping during London International Shipping Week on 9 September 2019, BMA is a registered charity, backed by Nautilus and put together by a group of maritime professionals and training experts.

Mrs Mia Amor Mottley, Prime Minister of Barbados, said at the launch: 'The non-military vessel will considerably enhance the regional ability and scope in responding to disasters and in particular using Barbados as a base port enables essential lifesaving equipment such as the Field Hospital to be delivered to a disaster zone in the shortest time possible.'

Rather than being a one-off specialised vessel with limited applications, the first-of-its-kind disaster relief and training ship will have strong, versatile commercial Ro-Pax capability.

It will have a training centre, landing craft, helicopter drones, rough terrain vehicles, onboard medical facilities, briefing rooms, and a full mission bridge and engine room simulators for trainees.

An armoured beach recovery vehicle and onboard workboat will allow for beach surveys and clean up – even where harbours are damaged and inaccessible to other vessels. Cadets will be deployed to assist in the clean-up, providing practical experience to supplement college education.

The ship will have capacity for up to 6,000 tonnes of vehicles and aid supplies including field hospitals, field kitchens, tents, fresh water and fuel for devastated areas.

For more information visit the Britannia Maritime Aid website
---
Tags