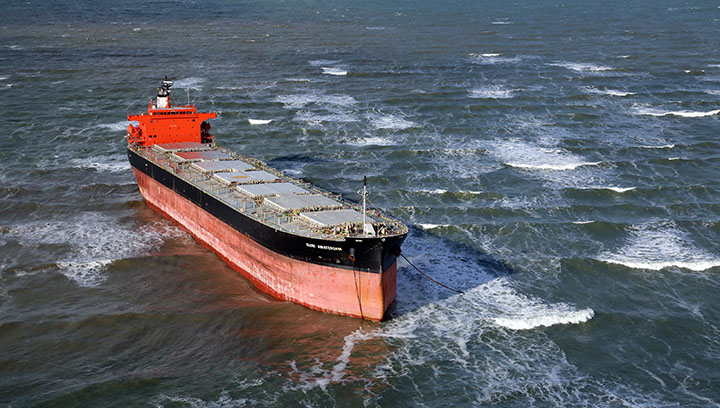 Accident investigators have called for clearer rules over the deployment of emergency towing vessels (ETVs) following an incident in which a Panama-flagged bulk carrier ran aground off the coast of Germany.
The German accident investigation board BSU found that the 77,171dwt Glory Amsterdam had drifted onto a sandbank in hurricane force winds during a storm in October 2017. The ship was refloated three days later.
Investigators said there had been 'considerable communication problems' between the ship's Chinese master, vessel traffic services and the ETV Nordic.
The master had been unable to understand the emergency services' plans to deploy a boarding team to help connect his ship to the ETV and 'major linguistic problems' caused confusion over the manoeuvring arrangements for establishing the tow.
The BSU report also points to evidence that Glory Amsterdam's master was concerned that the Nordic was a commercial salvage vessel as it lacked any clear markings to show it was an official ETV acting on behalf of the German authorities.
It recommends that all ships chartered by the federal government to serve as ETVs should be painted in the same colours and markings as other state vessels and that the use of the term 'boarding team' should be replaced by 'emergency assistance team' to remove any confusion over the legal and commercial nature of the intervention.
The report also highlights concerns raised by Nautilus over the risks posed by reducing ships' engine power to meet environmental standards. It quotes evidence from an internationally-acknowledged shipbuilding expert showing that Glory Amsterdam's main engine and propeller curve arrangements were insufficient to prevent the ship drifting in the circumstances. The evidence warned that steerageway problems are set to increase if engine power is further reduced to cut CO2 emissions.
---
Tags