International
Continued government apathy on crew change is leaving shipping at crisis point
30 June 2020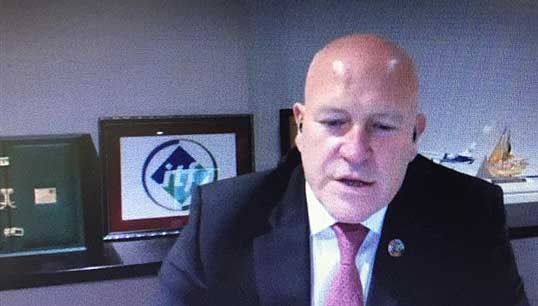 Ship registries have been warned not to take shortcuts on crew changes by the International Transport Workers' Federation (ITF).
Continued apathy from governments on pandemic crew changes would mean the world will 'struggle with the consequences', ITF general secretary Steve Cotton said.
'The Day of the Seafarer was all about the seafarers' high level of professionalism, resilience and sacrifice. Covid-19, however, has highlighted that while most of us in the industry appreciate that, the world does not,' he said.
'We now need to look at how to indemnify the industry from Covid-19.'
Despite some criticisms of the ITF calling for seafarers to stop work if they felt unsafe due to excessive length of contracts, the ITF's preferred method was collaboration, Mr Cotton said.
'We do not want to stop shipping, but to get seafarers back home. However, we are looking at all our options. The ITF will not hesitate to support exhausted crew if they felt the need to stop ships.
'My key message is no shortcuts on crew changes for ship registries; and governments must help us get seafarers moving, get them onto those aeroplanes. If we do not move the seafarers soon, we will all struggle with the consequences.'
Mr Cotton was speaking at a webinar of industry and shipping leaders held for Day of the Seafarer and organised by the International Maritime Organization.
He said the ITF had taken a responsible approach to the Maritime Labour Convention (MLC) provision for Seafarer Employment Agreements (SEAs) with regard to contract extensions. It had agreed a two-month extension, and then a further month, and still, the deadline for action on 16 June had passed with only a handful of governments agreeing to lift travel restrictions through their countries.
'We continue to receive hundreds of complaints from seafarers all being held potentially under duress beyond their contracts. As unions we have lobbied governments, port states, flag states and established the 12-step protocol to ensure the safe repatriation of seafarers.'
The ITF Seafarers Trust had also quickly established a Covid-19 taskforce, which had granted £1m for Personal Protective Equipment (PPE), support for seafarers in hostels, and emergency provisions.
The webinar was also attended by the heads of the International Chamber of Shipping (ICS), charity Stella Maris and Netherland ship owners. They all drove home the urgency for governments to stop act together to prevent an impact on world trade.
Secretary general of the ICS Guy Platten highlighted the sheer scale of seafarers needing to be enabled to leave their ships: 'Every month 200,000 seafarers alternate, but now more than 400,000 are not able to change. It is unacceptable treatment for seafarers who have gone the extra mile for us.
'Those 400,000 seafarers represent a risk. They are keyworkers and it is a state's duty to protect their human rights.'
Head of operational affairs for the Dutch shipowners KNVR Niels van de Minkelis gave some insights into what the Netherlands – top of a crew change country lists – had done to try and repatriate about 12,000 crew.
Airline KLM had collaborated with key air and port corridor 'hub' interchange countries which represented the key nationalities of crew needing to change from Philippines, Ukraine and Russia.
'In spite of problems we have slowly reached 6,000 seafarers, but still much has to be done to get the others home,' said Mr van de Minkelis.
---
Tags