International
Crew charged with attempted murder for allegedly throwing two stowaways overboard
15 April 2020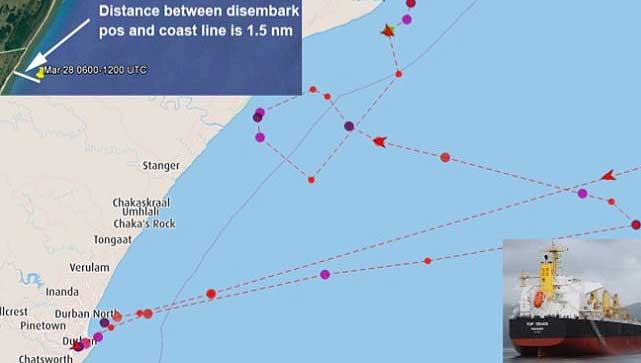 The South African Maritime Safety Authority (SAMSA) and police are investigating an incident involving two stowaways allegedly thrown overboard off South Africa by the crew of the Panama flagged bulk carrier MV Top Grace.
Seven crew, including the 2016-built ship's Master, Chief Officer, Third Officer, Chief Engineer, First Engineer, Second Engineer and Bosun, were arrested and charged with attempted murder before being released on bail.
They have appeared in court while official investigations continue and allowed to return to the 34,593GT vessel until their next court appearance.
The two Tanzanian nationals, believed to be stowaways, allegedly had been forcibly removed after the vessel left Durban.
It is alleged the two stowaways boarded the Top Grace while berthed in Durban by climbing up the mooring ropes and then hiding in the chain locker, according to SAMSA.
Discovered after the ship had set sail, the Tanzanians said they were thrown overboard with a makeshift raft, life jackets and some bottles of water.
They claimed they spent two days at sea before landing at Zinkwazi beach on the North Coast of Kwa-Zulu Natal.
Once informed of the incident, the authorities detained the ship in Richards Bay, where it remains berthed.
SAMSA vowed to take all possible steps necessary to prevent people abuse on board ships sailing on South Africa's oceans, inclusive of taking such harsh punitive measures as necessary, as provided for in law, against established violations.
SAMSA warned ships sailing through its territorial waters that any vessels 'found to have transgressed South Africa's national laws will be held accountable to the fullest extent of the law'.
---
Tags