Welfare
Crew welfare debate for Day of the Seafarer dominated by pandemic crew change crisis
26 June 2020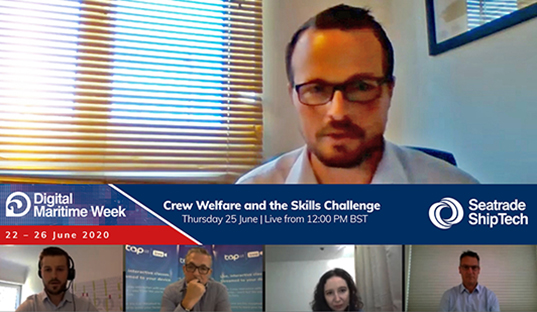 An online event to mark International Day of the Seafarer 2020 focused mainly on the worldwide crew change crisis, with panellists discussing how to get stranded seafarers home – or at least have a bearable life onboard while they waited.
Opening the Crew Welfare and the Skills Challenge webinar on 25 June, panel chair Nick Chubb of Thetius said that the Day of the Seafarer was usually an opportunity to celebrate. However, this year the mood was one of growing anger at international inaction on crew relief and repatriation during the Covid-19 pandemic.
Nautilus professional and technical officer David Appleton was the first panellist to comment, pointing out the scale of the problem. Around 225,000 seafarers are thought to be stranded on their ships around the world due to pandemic travel restrictions – including an estimated 2,000 from the UK.
As Covid-19 starts to wane in some parts of the world, governments are focused on reopening air travel for tourism, he said, but 'seafarers are a low priority as usual'.
And it's not just about getting seafarers home. There are knock-on effects on pay and tax status for crew members who cannot leave their home countries to join their vessels, and disruption to cadet training and sea time is storing up problems for the future.
Speaking from a flag state perspective, Cameron Mitchell of the Isle of Man Ship Register said that the emphasis was currently on extending seafarer employment agreements (SEAs) for those stuck onboard, and on pressing governments to designate seafarers as key workers.
Richard Turner of online maritime training hub Tapiit said tech companies should be helping to maintain seafarers' wellbeing during this time by streaming courses and activities to vessels. And Clara Wahnich of vessel broadband provider Inmarsat said her company was working to support a massive increase in voice calls by crew members trying to stay in touch with their families.
Asked what he made of reports that some seafarers trapped on their vessels by Covid-19 were not being paid, Mr Appleton remarked that this is not only a pandemic problem; it is all too common for shipowners to abandon their crews in port without paying the wages they are owed.
Whether during the coronavirus outbreak or in normal times, seafarers deserved to have international regulations enforced that help to keep them safe and well – such as the Maritime Labour Convention and SOLAS convention.
And while contract/SEA extensions have their uses as a way to ensure most seafarers continue to be paid while stuck onboard, the focus should be on getting people home, he stressed.
Moving beyond the short term, the panel also addressed the issue of crew welfare more generally. They noted that today's young seafarers had expectations of onboard connectivity similar to the wi-fi and phone data access they enjoy at home. It was generally agreed that companies should be 'increasing the bandwidth' on vessels to accommodate these expectations, and that if this was not done, employers would have difficulties with recruitment and retention. Mr Appleton said this was supported by the Nautilus crew connectivity research carried out in recent years.
There were familiar concerns raised among the panel and webinar audience about whether improving individual crew members' access to the internet would make them stay in their cabins rather than socialising together, but it was felt that a stronger broadband service for the vessel as a whole could allow for communal activities such as livestreamed training courses and exercise classes – and even improve the choice of songs for the ever-popular karaoke nights.
Audience members at the webinar asked where they could read about the Nautilus connectivity research. The white paper An Investigation into Connectivity at Sea is available to download from our Resources section.
---
Tags