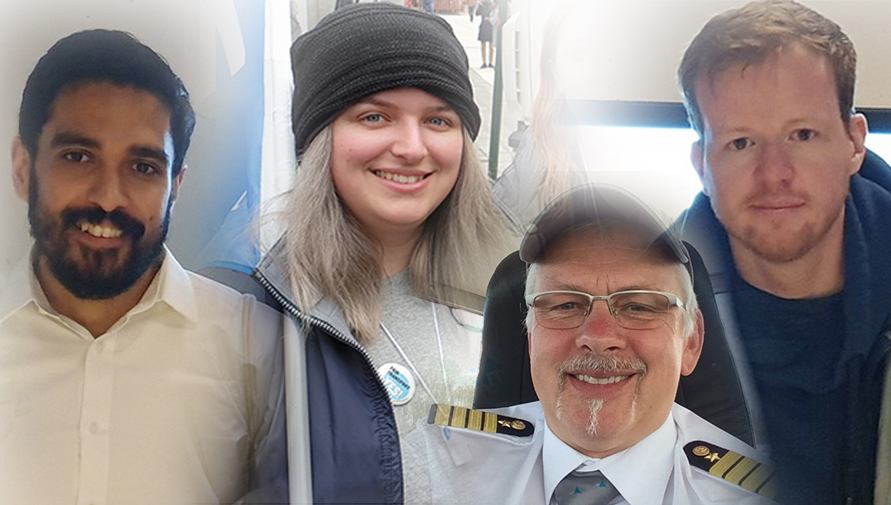 Nautilus Council now has six new faces as a result of the 2019 election results.
Newly elected members where votes were needed in the UK navigator section include: Samantha Belfitt, Graham Fisher and Fraser Matthew. Three new members elected unopposed include Ashley Gale and Bari Khan in the UK engineers category, and Harald Ludwig in the Swiss inland navigation section.
Those current council members who re-stood were all re-elected.
The results of the balloting process for the Union's governing body were declared on Thursday 18 April 2019, by the scrutineer for the elections, Electoral Reform Services (ERS).
In the 2019 Council elections 20 of 32 seats were up for election. Votes were only necessary, however, in the UK section for navigators and other particular categories, where an encouraging number of nominations were received - including 15 nominations for seven navigator places including - four sitting council members; and four nominations for one seat needing a vote in the 'Other particular' category – where the existing Council member Jessica Tyson was re-elected.
Council consists of 32 members and the general secretary. Of the 32 seats, 23 are for members of the UK branch, eight for members of the Netherlands branch and one from the Swiss Branch. The seats reflect various categories of membership, and members are normally elected to serve a four-year term. All members (from all countries) were able to vote in these categories and were urged to do so.
Council elections are held on a rolling basis, which normally means that just about half the Council positions come up for election every two years.
The candidate statements were published in the My Nautilus member's login section of all branch languages, and were also posted to members along with the ballot papers, which were due to be returned by post by close of play Wednesday 17 April 2019.
Assistant general secretary Ronnie Cunningham, welcomed the election of new Council members who will meet for the first time at the 41st meeting of Council on 26 June in Rotterdam.
'As a member-led organisation it was encouraging to see an increased number of nominations from younger members including women, and great interest in the categories where votes were necessary,' commented Mr Cunningham.
'It is heartening to see members taking part in the democratic life of their Union, especially as it enters its 10th anniversary year as an international body. It is vital that the Council includes people with a broad range of backgrounds, opinions and expertise, so our Council meetings are organised with the members' work commitments in mind.'
Council members are asked to attend meetings three times a year, and can also volunteer to take part in specialist policy and governance work in their areas of interest.
Training for new Council members will take place on Monday 7 October prior to the General Meeting in Rotterdam.
---
Tags