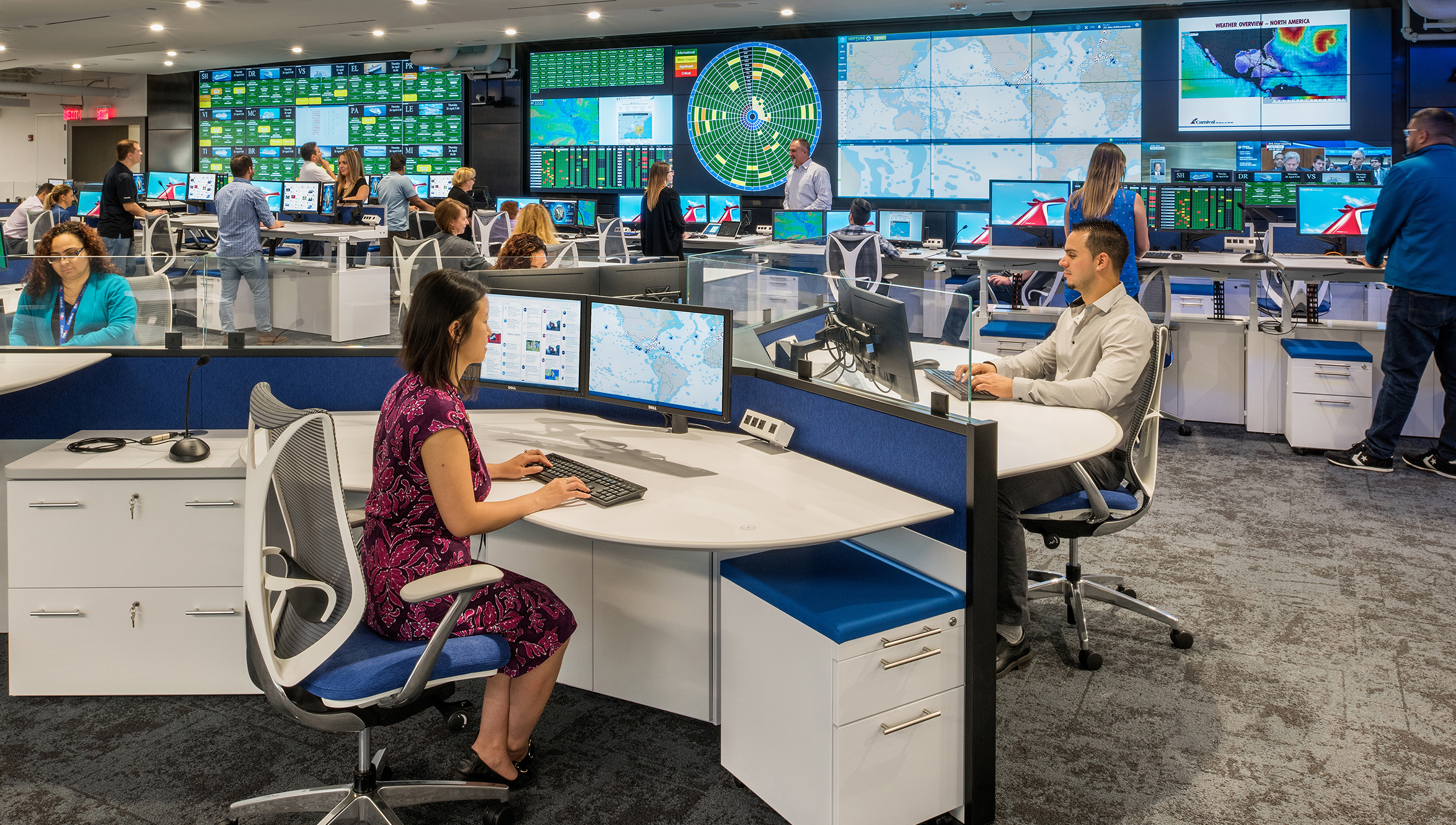 Carnival Cruise Line has this year opened a new FOC in Miami, which is designed for hands-on, around the-clock monitoring and support of its 26 vessels.
Said to be the largest and most advanced of its kind, the centre features a 74ft-long video wall composed of 57 LED screens. The high-definition wall displays the status of all the line's cruiseships – reporting on local weather conditions and giving updates on engine performance, safety management and environmental equipment. The status of ports, ship logistics, guest operations and many other functions are also monitored.
The FOC is staffed by cross functional teams covering technical, nautical, port and guest operations, environmental operations, occupational safety, and technical services. It is not known how many of these have STCW maritime qualifications, but the facility is described as a 'support' rather than a 'control' centre, and is not directly operating the vessels remotely.
However, Carnival crews are expected to pay close attention to shore-based workers at the centre, who use the company's bespoke monitoring and analytics systems Neptune and Argos.
'The FOC brings together real time information for decision making,' said Gus Antorcha, Carnival's chief operating officer.
'Integrated shoreside teams support our shipboard officers to act quickly and decisively while significantly increasing the operational efficiency of our ships.'
The South Florida-based facility is the third and largest in Carnival Corporation's global FOC network, complementing those in Seattle and Hamburg.
While the new location is dedicated primarily to Carnival Cruise Line, it includes the ability to monitor the entire 103-ship fleet among parent company Carnival Corporation's nine operating lines and it can act as the FOC for any of them.
The recent City of Glasgow College smart ships symposium also generated a great deal of debate about the growing role of fleet operations centres (FOCs) and the qualifications and experience of their staff.
---
Tags