Nautilus news
'Global Industry, Global Workforce, Global Union' – Nautilus International kicks off its 2019 General Meeting
8 October 2019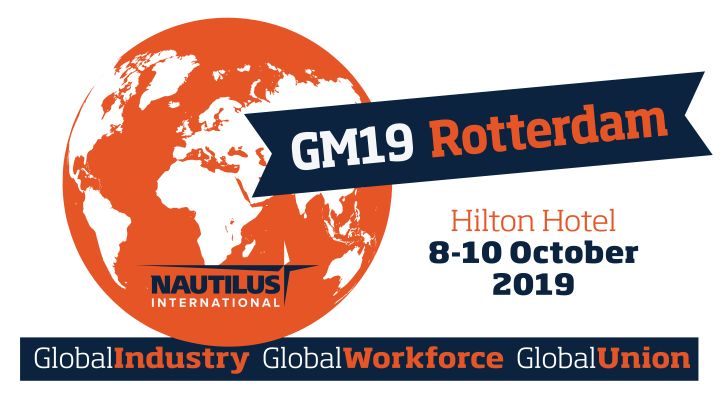 Nautilus International is hosting its 2019 General Meeting in Rotterdam this week, welcoming members from across the globe to reflect on its work over the past four years and discuss the issues facing the maritime industry.
The conference, which takes place under the banner of 'Global Industry, Global Workforce, Global Union', will recognise key successes over the past four years including the increase in SMarT funding in the UK, developments in crew connectivity and securing milestone payments and minimum wage commitments for crews around the world.
It will also set out the future agenda of the Union, with members having the opportunity to determine the policies and priorities that Nautilus should pursue over the next four years as the industry faces challenges including Brexit, automation and criminalisation at sea.
Running between Tuesday 8 and Thursday 10 October at the Hilton Hotel in Rotterdam, the General Meeting will also feature a lively programme of presentations, debates, and speeches from leading maritime and trade union figures.
Guy Platten, the secretary general of the International Chamber of Shipping, will be the keynote speaker on the first day of the conference, while Han Busker, the president of the Netherlands trade union confederation Federatie Nederlandse Vakbeweging, will address the meeting on Wednesday.
On Thursday, as part of a day focusing on the longer-term vision for the Union and the industry, International Transport Workers' Federation general secretary Steve Cotton will speak, followed by Dr Cleopatra Doumbia-Henry, president of World Maritime University and 'Mother of the Maritime Labour Convention'.
The Union plans to broadcast live from the meeting so those unable to attend will be able to follow events as well as send in questions online via its Facebook page.
General secretary of Nautilus International, Mark Dickinson, said: 'The General Meeting is a great opportunity for everyone – regardless of their position - to share their views on the maritime industry and the issues directly affecting them.
'This year's conference is a day longer than normal, allowing extra time for attendees to debate the future of the industry, network with likeminded people and meet influential figures from the world of shipping and beyond.
'We're proud of what we have achieved as a Union since 2015 but know our work can't stop as the industry changes and brings new challenges to our members. As such, we are looking forward to an entertaining and productive week as we set out our agenda for the next four years.'
To keep up to date on all of the activity from the conference, visit Nautilus International on Facebook and @nautilusint on Twitter, as well as following the dedicated General Meeting hashtag #NI_GM19.
---
Tags