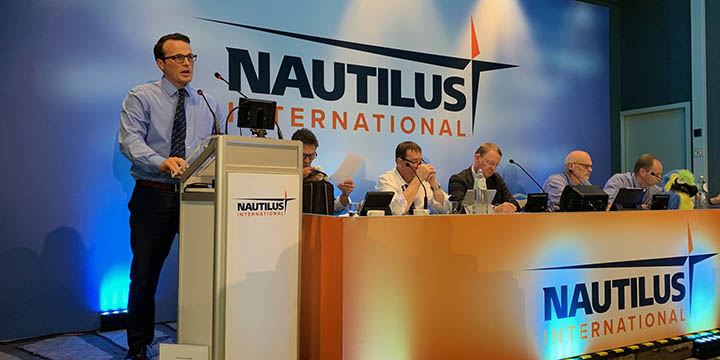 Nautilus International received strong endorsement from members today for its work to develop advanced certification and a proper career path for electro-technical officers (ETOs).
Proposing the Senior Electro-Technical Officer motion at the 2019 General Meeting in Rotterdam, Nautilus professional and technical officer David Appleton said the Union had already been instrumental in the development of officer-of-the-watch-level ETO certification under the STCW 2010 Manila Amendments.
This had been a great success, he continued, especially in the UK, where Nautilus went on to help develop ETO training requirements and had supported seafarers to study for ETO qualifications through the Nautilus Slater Fund bursary scheme.
However, a career path for these qualified ETOs was still lacking, he said, and the industry is losing experienced people because they cannot see a way to rise through the ranks through further study in their field of expertise.
To address this, today's Senior Electro-Technical Officer motion to the General Meeting called on the Union to pursue – both nationally and internationally – the implementation of a Senior Electro-Technical Officer certificate of competency.
Nautilus member Allan Graveson seconded the motion, pointing out that the recent rapid increase in shipboard technology made it more important than ever for ship owners and operators to recruit and retain qualified ETOs to serve onboard their vessels. Mr Graveson was a senior national secretary at Nautilus at the time the STCW 2010 Manila Amendments were being drawn up, and has made a significant contribution to the development of ETO qualifications over the past two decades.
In the discussion that followed the speeches, Nautilus deputy general secretary Marcel van den Broek was asked from the floor how the proposed senior ETO certification would affect Dutch seafarers, given that the ETO role was not part of the Dutch crewing system. Mr Van den Broek said that the work done at the IMO to develop STCW certification for ETOs applied to all countries, including the Netherlands. He conceded that ETO qualifications had not yet truly been embraced in the country at any level, but reported that work was in the pipeline by Nautilus and other Dutch stakeholders to make this happen.
The Senior Electro-Technical Officer motion was passed by a majority of full members voting, with two abstentions. It has now become a resolution mandating the Union to take action.
---
Tags