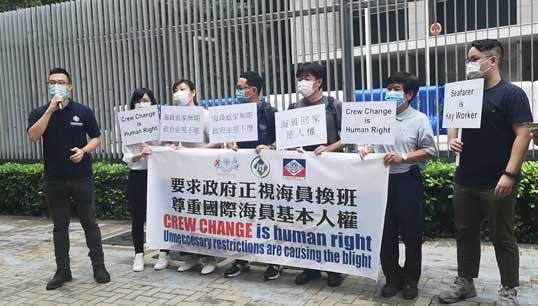 Hong Kong has announced 'unrestricted' crew changes through the region's ports and airports in response to joint action from unions.
Under the latest guidelines, crew members of goods vessels, including those without cargo operations, are exempt from compulsory quarantine under Cap. 599E (Compulsory Quarantine of Persons Arriving at Hong Kong from Foreign Places Regulation).
Seafarers signing off their vessels are required to stay onboard and travel directly to the airport for repatriation.
On-signers should board their vessels immediately upon arrival in Hong Kong. Seafarers should not arrive in advance of their ship.
If there is an extraordinary requirement for on-signing crew to stay in Hong Kong in advance of boarding, self-isolating accommodation must be arranged by the shipping company or agent until the crew members boards their vessel.
Representatives of the Merchant Navy Officers' Guild-Hong Kong (MNOG-HK), an affiliate of the Nautilus Federation, were joined by the Amalgamated Union of Seafarers, Hong Kong (AUSHK), the local International Transport Workers' Federation (ITF) inspector and colleagues from the ITF office in Hong Kong.
The unions urged for the appropriate relaxation of border restrictions that negatively impacted on crew changes.
The delegation delivered a joint petition letter to Chief Executive of Hong Kong Special Autonomous Region Carrie Lam, which raised three demands:
to recognise the workers of the global supply chain, including seafarers, maritime professionals, aviation workers, cargo supply chain workers as 'key workers' and that their works are 'necessary for the supply of goods or services required for the normal operation of Hong Kong or the daily needs of the people of Hong Kong'
to eliminate obstacles that restrained possible crew changes, in particular for those crew on vessels which entered Hong Kong for replenishment purposes
Hong Kong is a leading world port and international hub airport – the government is capable of settling the crew change issue and should shoulder more responsibilities
The previous border and transit policy enabled crew change only for seafarers working onboard operational cargo vessels.
Local unions determined that this was unsustainable for the safety and wellbeing of ships' crews and the safe operation of maritime trade, and that the measures were 'damaging Hong Kong's reputation as a leading seaport and international logistics hub'.
---
Tags