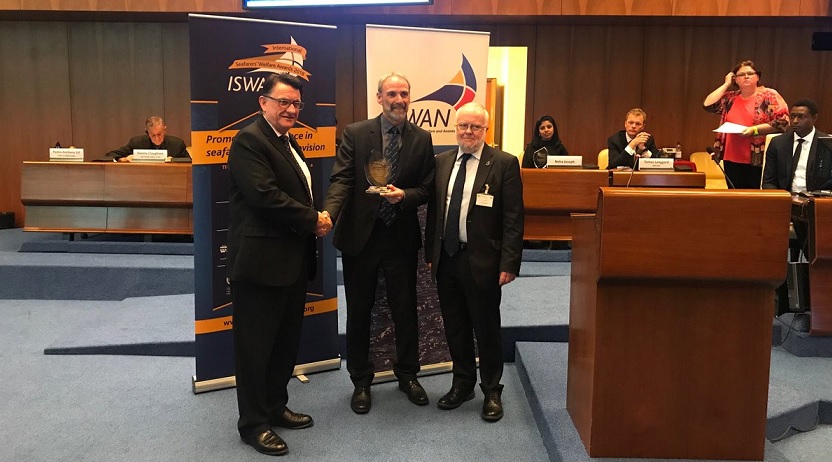 The Nautilus Welfare Fund's (NWF) extensive range of support for seafarers has been recognised with the presentation of a prestigious international award honouring 'exceptional levels of welfare services and facilities for seafarers'.
The Union's charity – which operates the Mariners' Park residential and care facilities at Wallasey – is the winner of 2018's International Seafarers' Welfare and Assistance Network (ISWAN) Dierk Lindemann Welfare award.
Nautilus welfare services manager Mick Howarth was presented with the award during a ceremony at the International Labour Organisation (ILO) headquarters in Geneva, during the third meeting of the Maritime Labour Convention special tripartite committee.
As well as providing residential and care facilities for 170 former seafarers and their dependants, the NWF provides one-off grants for essential items or household repairs to those in need. It also runs the expanding caseworker service, which last year recovered more than £950,000 in benefits and grants for retired mariners and their dependents, ensuring they receive the financial support they are entitled to.
There was a record field of entries for the ISWAN awards this year, with more than 2,300 individual nominations received from seafarers around the world.
Judges chose to make the award to the NWF on criteria including the unique or very special services it delivers, the direct benefits provided to seafarers, and the priority the organisation places on the welfare of seafarers.
Nautilus general secretary Mark Dickinson said he was delighted the Union could collect the award on behalf of the charity. 'The Nautilus Welfare Fund has rightly been described as the jewel in the crown of the Union's varied work on behalf of seafarers, and it is a remarkable achievement for it to be formally recognised against such intense global competition,' he added.
'To receive such a high-level tribute for the Fund's work is a profound honour and it reflects the terrific work undertaken by our staff, officials and members of the NWF committee and the Council of the Union in delivering such important services,' he added. 'Nautilus International's welfare work for seafarers stretches back over 160 years, but we are constantly innovating and expanding the services to ensure they remain relevant to the needs of seafarers today.'
---
Tags