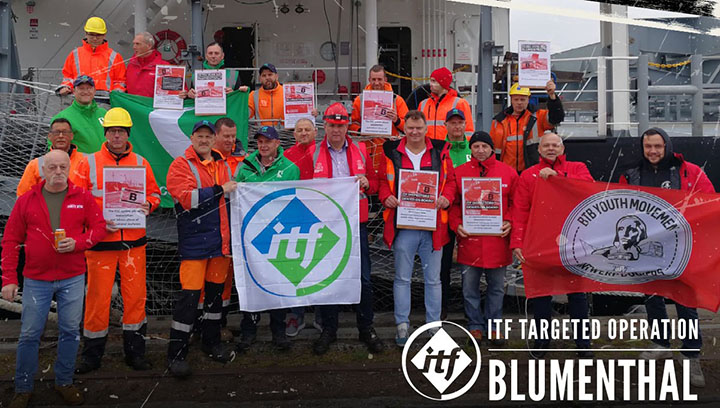 The International Transport Workers' Federation (ITF) has launched an international inspection operation against Hamburg-based Johann M. K. Blumenthal, one of Germany's oldest shipping companies, for its 'continued refusal to recognise seafarers' welfare and rights'.
It is challenging the company to 'modernise its business practices in line with what is expected of multinational companies in 2019'.
The decision follows the Australian Maritime Safety Authority's recent detention of the Liberia flagged Anna Elisabeth. The 2008 built bulk carrier was held following crew complaints of unsafe working conditions, bullying and insufficient and substandard provisions to feed the crew on its onward voyage.
Meanwhile, seafarers on board Blumenthal's Liberian-flagged bulk carrier Lita are being forced to collect rain water with tarpaulins for drinking water after the ship ran out of potable water.
'Their diet is bread and water, without the water,' ITF Maritime Co-ordinator Jacqueline Smith said in a press release.
Safeguarding the rights of seafarers working on Blumenthal ships is now the ITF's 'number one priority' with its Inspectorate auditing Blumenthal's mostly Liberia and Malta flagged fleet in ports around the world to ensure that their crews are paid properly, adequately fed and that all their rights are being upheld.
ITF representatives will be inspecting Blumenthal's over 30-strong fleet with an average age of five years, and which operate worldwide.
The ITF also urged the company's president to work with it to raise standards for seafarers across its FoC fleet.
---
Tags