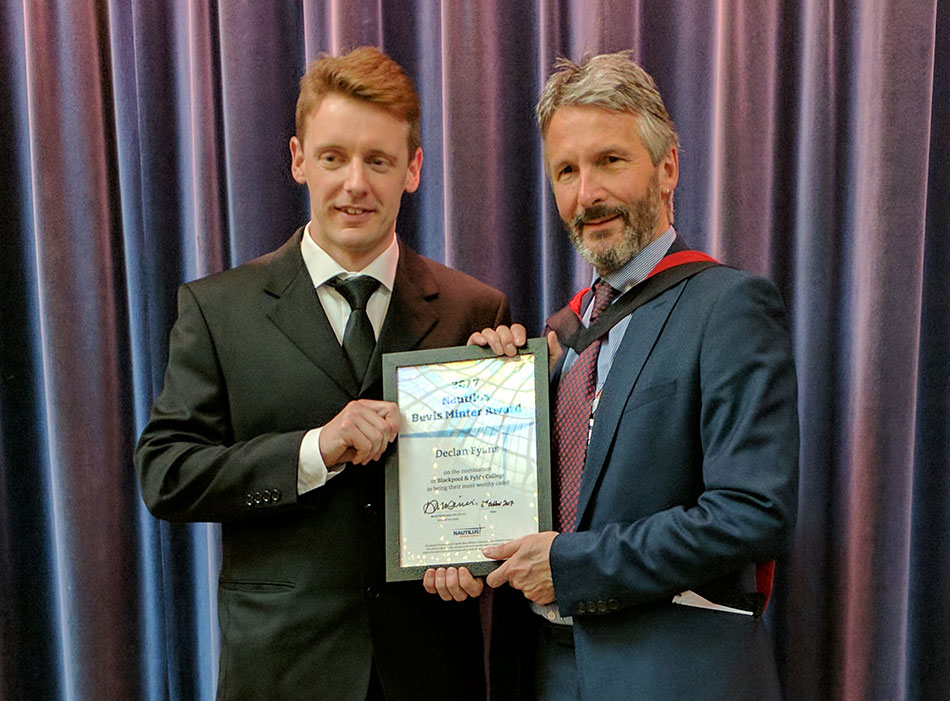 2017's Nautilus Bevis Minter Award for a cadet displaying particular determination and commitment to the training was presented to Declan Fyans, who gained a distinction in his foundation degree in marine engineering after studying at Fleetwood Nautical Campus.
Now serving as a fourth engineer with Foreland Shipping, Declan was selected for the award on the basis of his outstanding enthusiasm and work ethic. College staff praised the way he put 'maximum effort into his cadetship' and also supported fellow cadets, as well as going on to represent the college at the Merchant Navy Training Board.
Presenting the award at the Fleetwood Nautical Campus graduation ceremony, Nautilus head of communications Andrew Linington said Declan was an extremely deserving and outstanding winner. In nominating him for the award, lecturers had commented: 'The crew of any vessel would be lucky to have him serving with them.'
Declan had trained as a sound engineer and worked in the entertainments industry for a decade before deciding to make a career change. 'I wanted to be doing something where there were good future prospects, and the maritime sector offered all of that – with clear goals and promotion paths to follow,' he said.
'I had applied to Bibby Ship Management and was sponsored by Foreland from the start,' Declan added. 'I've never looked back since and I feel very lucky to have gone straight into a job with the company. Their approach to cadets is a really good example and is something that other companies should be following.'
Declan said he was delighted to win the Bevis Minter Award, which is presented annually by Nautilus to recognise officer trainees who have shown special qualities and aptitude:
I never saw myself as the sort of person to get something like this,' he said. 'I work hard and do my job, and this was a great surprise.' Declan Fyans
---
Tags