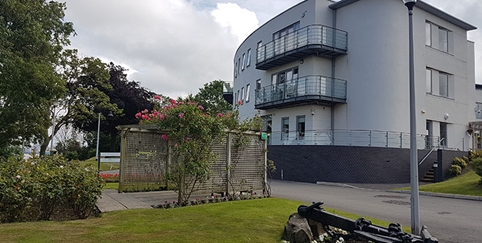 Nautilus is backing the findings of a major new report on UK maritime welfare which recommends radical changes in the way services are organised and delivered to serving and retired seafarers and their families.
The 224-page report, which has been published to coincide with a two-day Maritime Charities Group conference, calls for much greater cooperation and collaboration between welfare organisations if they are to meet the growing challenges of supporting seafarers in the years ahead.
The study warns that seafarers and their families face many unique or complex needs arising from their work and says that increased support will be required over the next 10 to 20 years in such areas as financial needs, social isolation and loneliness, dementia, limitations on daily life, and long-standing health conditions.
Anchor and bench outside a resident's home in Mariners' Park Independent living at Mariners' Park.
Researchers found that while many maritime welfare charities are anticipating an increase in demand over the next five years, only 25% believe that the sector is in a 'good position' to respond.
The study questions whether they should be spending more of their reserves to address the pressure on their services arising from recent austerity policies.
It also warns that seafarers are a relatively invisible workforce and much more must be done to tackle 'sea blindness' that hampers fund-raising work by maritime charities.
Centenary Wing rear gardens and pond June 2017 The new Seafarers UK Centenary Wing rear gardens at Mariners' Park.
Nautilus general secretary Mark Dickinson attended the conference and he welcomed the report:
This is essential research that updates the trail-blazing study on supporting seafarers published a decade ago.
'A lot of work has been done since then – not least by the Nautilus Welfare Fund in expanding its Mariners' Park facilities and launching nationwide caseworker service – but the report rightly identifies the huge scale of the challenges ahead and the need for the maritime charity sector to find even more efficiencies and effective programmes to cope with the growing demands.'
---
Tags