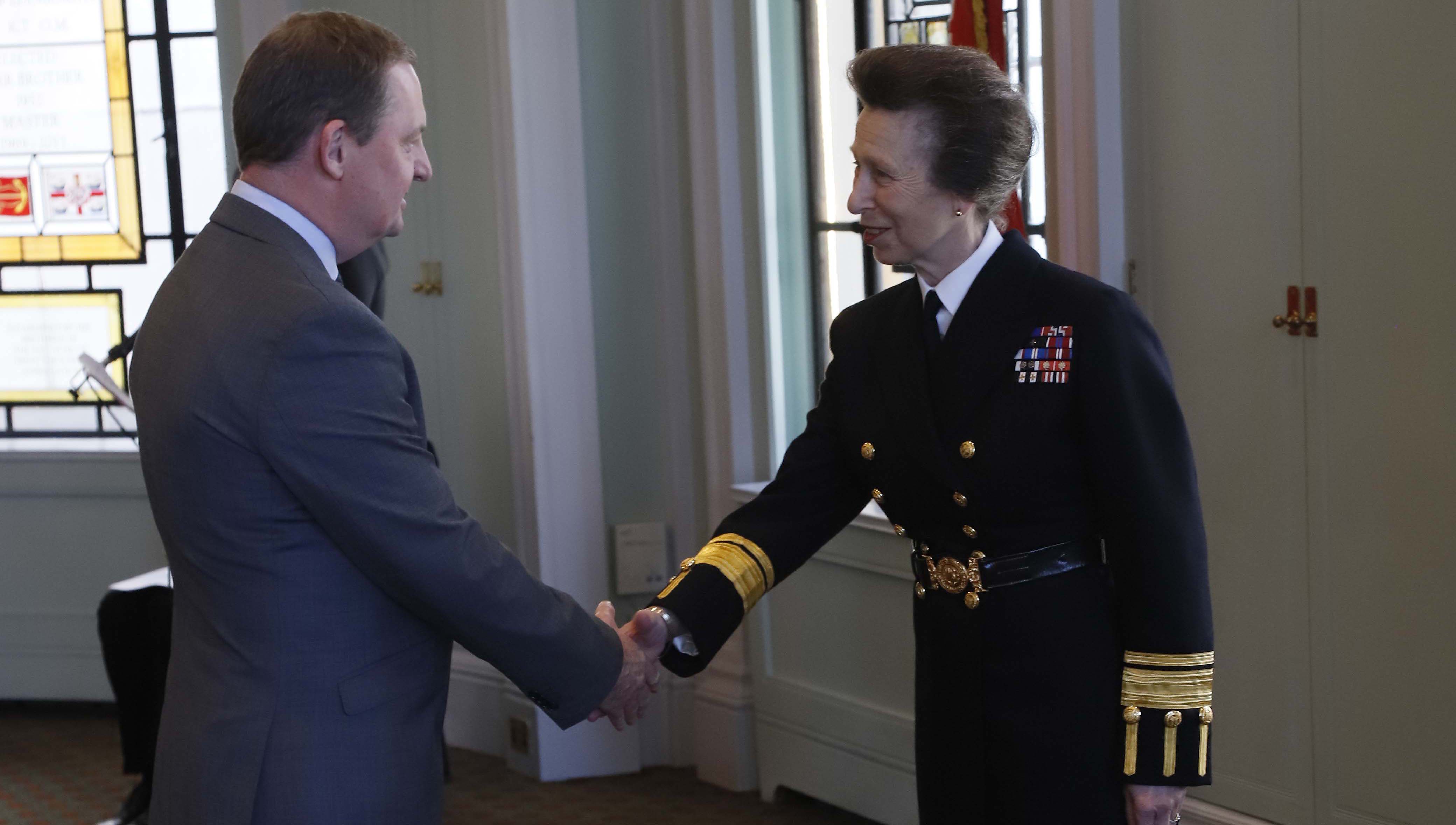 Nautilus general secretary Mark Dickinson has been awarded the prestigious Merchant Navy Medal for meritorious service in recognition of his work on seafarer employment, training and welfare.
Mr Dickinson is one of 19 people who will be presented with the award by the Princess Royal at a ceremony at Trinity House later this month.
Other recipients include Nautilus members Captain Belinda Bennett, the first black female shipmaster in the cruise industry, for services to the promotion of the maritime sector; and Princess Cruises master Captain Nick Nash, for services to maritime training.
Among the other winners this year are: Wightlink deck officer Stephen Chamberlain, who risked his own life to rescue a man from cold water in Portsmouth Harbour in February; Captain Timothy Charlesworth, who provides sailing opportunities for people with mental health and addiction problems; Captain Michael Reeves, who has five decades of Merchant Navy experience – much of which has been spent promoting seafaring to young people; and NERC master Captain Antonio Gatti, who has played a crucial role in scientific research during his 33 years of service.
Maritime minister Nusrat Ghani said: 'These 19 people are a credit not just to the maritime industry but to the wider nation. They have gone above and beyond their duty for the benefit of others.'
The full list of winners is:
Captain Belinda Bennett, for services to the promotion of the maritime sector
Derek Cardno, for services to the welfare of fishermen
Lieutenant Commander David Carter, for services to the careers of young seafarers and seafarer welfare
Stephen Chamberlain, for an act of bravery in saving a life
Captain Timothy Charlesworth, for services to UK ports and the maritime industry
Mark Dickinson, for services to seafarer employment, training and welfare
Captain Antonio Gatti, for services to UK research expeditions
John Halsall, for services to the careers of young seafarers
Captain Nigel Jardine, for services to UK ports and the maritime industry including the small port sector
Captain Robin Lock, for services to a maritime charity
George Lonie, for services to the careers of young seafarers and seafarer welfare
Michael Morley, for services to a maritime charity
Captain Nicholas Nash, for services to maritime training
Captain John Rankin, for services to the Merchant Navy
Captain Michael Reeves, for services to the careers of young seafarers and seafarer welfare
Captain Andrew Schofield, for services to the large yacht industry
Captain Ian Shields, for services to maritime charity
Keith Thompson, for services to maritime charity
Thomas Woolley, for services to harbour towage and safety standards
---
Tags