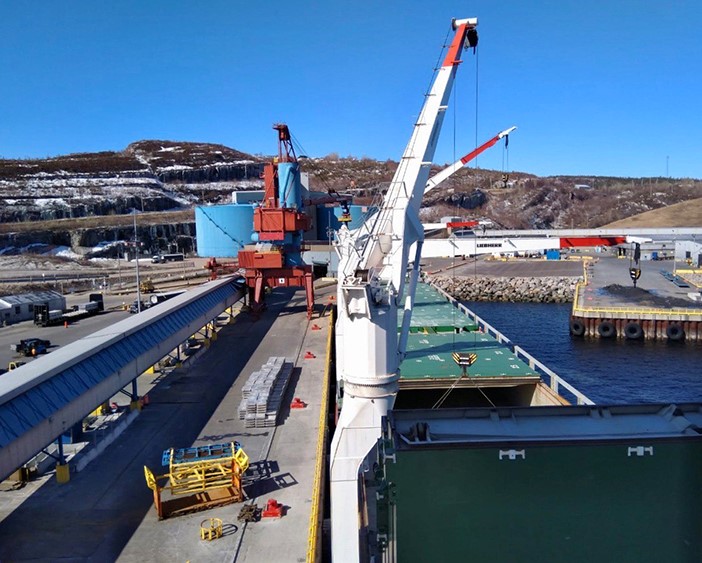 Two masters on Dutch flagged ships, including a Nautilus member, have highlighted the reality of life being stuck on board during Covid-19 travel restrictions.
The Dutch captains, both from Groningen in The Netherlands, are among thousands of seafarers on ships under the Dutch flag stuck on board because of national restrictions for combatting coronavirus. They cannot disembark and new crew cannot be flown home.
They told their story to Dutch news website NoordZaken.
At the entrance of the Saint Lawrence River in Canada, near Baie Comeau, the vessel Tiberborg is berthed with Nautilus member Fred Reineking, from Termunterzijl, at the helm.
For eight days in a row, bars of aluminium have been loaded on board the Dutch-flagged Wagenborg shipping company vessel. The Tiberborg will soon leave for Baltimore, unloading and loading there before voyaging back to Canada. By mid-June Captain Reineking hopes to be back in Rotterdam. 'Then we hope to unload people.'
Another Dutch Captain Leo de Jong, who is also employed by Wagenborg, is interviewed as he passes through the Spanish port of Pasaia. When he gazes through his binoculars from the bridge of the Lauwersborg, he sees little life on the streets. There are no Spaniards on the boulevard and hardly any cars on the motorways.
'Everything is completely in lockdown,' says De Jong. It's understandable that we too are not allowed off the boat.'
While understandable on the one hand, Captain de Jong's personal story highlights the reality of tiredness facing Merchant Navy crew who deliver 90 per cent of the world's food and other supplies. He boarded the Lauwersborg more than three months ago on 6 January and was due to be relieved on 30 March. He has so far seen no crew changes on the horizon but hopes May becomes a reality.
Uncertainty makes work more difficult for Captain De Jong and his eight crew. After unloading rolls of paper and cellulose in the Spanish port, they sail to Figueira da Foz in Portugal, but are also denied permission to go ashore there.
Captain de Jong says 'of course' he wants to go home and be with his family. 'When you've been on board for three months and working day in and day out, you've had it at some point.'
But he acknowledges not all seafarers feel the same. For the two Romanians and the four Filipinos under his command, they earn their money at sea, so as long as they are onboard, they have an income, which an entire family often depends. When they are at home, they don't earn anything.
Nautilus has also drawn attention to the safety concerns and the risk of increased accidents for fatigued seafarers.
'If things go wrong on board, things often go very wrong,' said Nautilus deputy general secretary Marcel van den Broek, who has also called for seafarers to be flown home who need repatriating. 'That's not only a danger to the people on board, but also to the environment.'
---
Tags