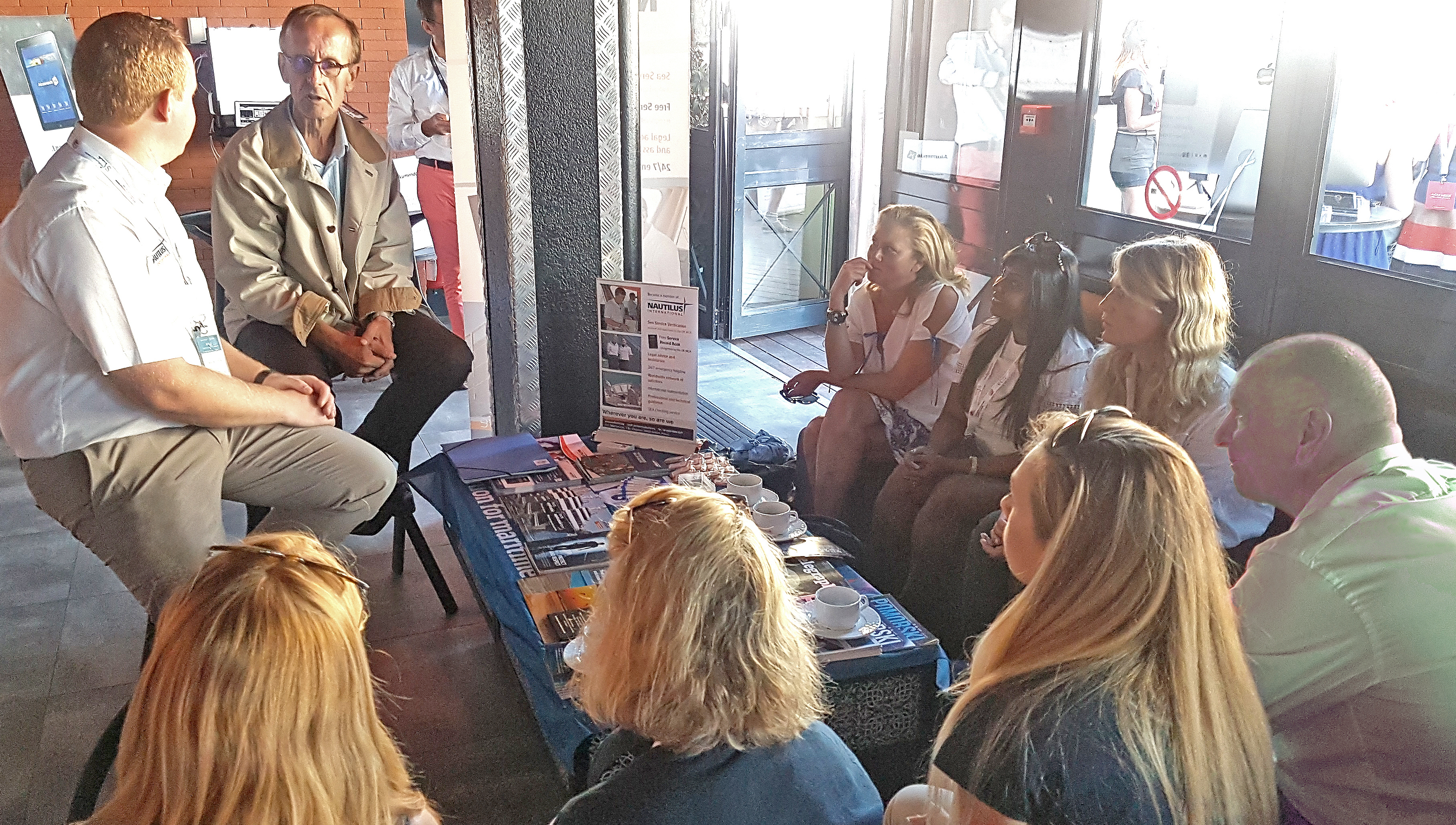 Nautilus staged a drop-in event at this year's Monaco Yacht Show offering advice and support to superyacht crews.
Held at the busy ACREW lounge, the event included meetings with the Union's strategic partners in the sector and with representatives from two unions affiliated to the Nautilus Federation - CFDT (France) and SPH (Croatia).
Corine Archambaud, of CFDT, spoke of the help she has provided for Nautilus members facing unfair dismissal and abandonment. Belonging to the Union and its federation of unions gives crews access to organisers, free legal help, and an international network of helpful connections and strategic partners, she stressed.
Union officials can also help crews on issues as diverse as employment contracts, working hours, sexual harassment and tax, Ms Archambaud added. She cited a recent example where she had been called to help an abandoned charter yacht officer unfairly dismissed in Nice. Thanks to support from the international network of unions, as well as coastguard and port state control inspectors, the officers owed wages were paid.
Jorg Wendt, Nautilus honorary delegate from its Antibes-based partner D&B Services, reminded the meeting of the importance of the Nautilus Service Record Books – a free benefit for members.
Other strategic partners attending the drop-in included the training charity UKSA, Palma-based yacht crew recruiters Sovren, Monaco superyacht consultants and payroll experts Hemisphere, and Guernsey-based payroll and employment consultants Voyonic.
Nautilus strategic organiser Danny McGowan commented: 'Crew may think they are on a well-run yacht, but sadly it is clear from what we have heard at Monaco and beyond that being prepared for the unexpected before you set off is really important.
'Nautilus's package of benefits and protections are unmatched by any other union or crew association. With assistance from our colleagues in the unions affiliated to the Nautilus Federation, access to our 24/7 helpline, legal support and worldwide directory of lawyers, joining Nautilus should be the first thing all maritime professionals do in the superyacht industry so they know where to go in an emergency.'
---
Tags