Community
Nautilus pays tribute to global champion for seafarers' rights Reverend Canon Ken Peters
12 May 2020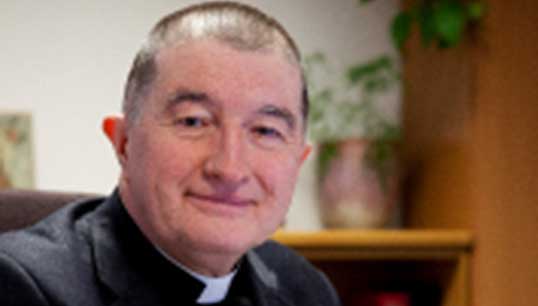 Nautilus has joined in tributes for the Mission to Seafarers' (MtS) much loved and respected former director of justice and welfare the Reverend Canon Ken Peters who has died after long-standing illness.
In a statement the Mission's secretary general the Reverend Canon Andrew Wright said: ' It is with great sadness that we announce that Canon Ken Peters died on the evening of Saturday 9th May 2020.
'After 38 years of distinguished service within The Mission to Seafarers, Ken was very well known across the world, not just to the MtS family but to many beyond.'
Nautilus International general secretary Mark Dickinson said: 'Ken was a constant feature of my working life at both International Transport Workers' Federation (ITF) and then at Nautilus.
'Passionate about justice for seafarers and constantly working to ensure their welfare needs were met. The only time we had a minor fallout was comparing membership – he always claimed the Church had more members than unions something I hotly disputed! We've lost a champion for seafarers rights.'
After first working for the Mission as a student, Rev Peters soon returned to take up port chaplaincies in the UK and Japan, where he made a significant difference to seafarers' lives, said the Rev Wright.
It was, however, in his subsequent role that he left 'the most transformational legacy' – as MtS director of justice and welfare. In this capacity he became well known, and 'indeed well-loved, throughout the maritime industry'.
Beyond the Mission, the Rev Peters was regarded as one of the world's leading advocates in crew welfare, and a great believer in the importance of partnership, said Rev Wright.
He influenced policy and made regular interventions at international fora, including the maritime charities under the International Christian Maritime Association. He liaised closely with key global shipping, trade and professional associations.
'To all his dealings he brought an academic rigour and long practical experience. All who knew Ken experienced his unfailing warmth and kindness,' said Rev Wright.
Over the last 20 years of his life he had 'wrestled with serious illness', which only highlighted another aspect of his character, added Rev Wright. 'He was a man of the most immense courage, continuing with an absolute commitment to his work, and sustaining an extraordinary pace of travel, for most of those years.
'He rarely spoke about his illness and he never complained, even when things were very difficult indeed. He would always say that three things sustained him – "family, friends and faith".'
Although Ken retired from MtS in 2018, he was and remained 'an enormous inspiration and countless are those who will be touched by his death. We give thanks for an extraordinary life and our thoughts and prayers are with his wife Jackie and his two sons, Michael, and David.'
---
Tags