International
Nautilus retains specialist maritime and coronial lawyers to assist members onboard Ruby Princess
14 April 2020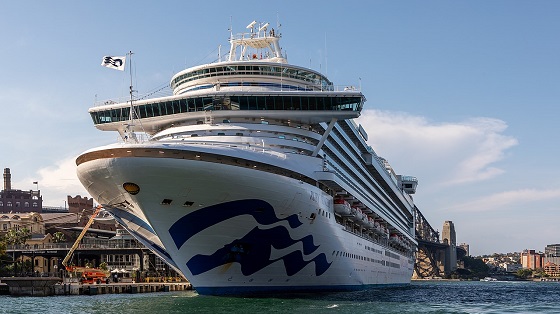 Nautilus International has retained specialist maritime and coronial lawyers to assist members onboard a cruise ship at the heart of a possible Covid-19 related criminal case in Australia.
The Union retained the expert legal team on behalf of its members working onboard the Ruby Princess after they got in touch seeking advice ahead of a police interview.
The Ruby Princess disembarked about 2,700 passengers in Sydney on March 19 after an 11-day cruise to New Zealand. Since then there have been more than 660 Covid-19 cases and at least 13 deaths associated with people onboard.
A crew of 1,100 seafarers remains onboard the Carnival-owned Bermuda-flagged cruise ship.
New South Wales Police Commissioner Mick Fuller indicated in press interviews early April that he would launch a criminal investigation into whether the country's strict biosecurity laws had been broken.
He told the BBC that, by law, vessels were only allowed to dock and disembark passengers if the captain could assure the local authorities that the ship was free from contagious disease.
Due to the expected complexity of the investigation, Nautilus has retained specialist coronial lawyers which are experts in assisting the Coroner's Court with works such as establishing cause of death.
The legal team has a rich experience in criminal investigations, including homicide strike forces, criminal prosecutions, counter-terrorism law and intelligence analysis and immigration law. An experienced ships master/engineer has also been retained.
Nautilus has previously called on the UK government to urgently assist its members onboard.
Up to 800 seafarers are described as isolated onboard the vessel, with a further 200 said to be experiencing symptoms of Covid-19 but testing of these seafarers has been extremely limited.
Nautilus wants those seafarers experiencing symptoms of Covid-19 to be taken to a hospital, and those who are symptom-free should be housed in one of the region's many empty hotels. All seafarers should be assisted in their repatriation.
Nautilus general secretary Mark Dickinson said: 'The International Labour Organization (ILO), International Maritime Organization (IMO), and other world bodies have already called upon national governments to facilitate the safe passage of seafarers around the world.
'Those seafarers being held onboard Ruby Princess are concerned for their own health and safety, and the Australian and NSW governments should understand this. We hope that some humanity will be shown in allowing for these Union members to disembark and to return to their home countries immediately.'
Mr Dickinson has written to the British consul-general in Sydney, requesting the support of the UK government in maintaining the dignity and fair treatment onboard Ruby Princess.
Nautilus members who are experiencing difficulties related to the coronavirus outbreak are advised to contact their industrial organiser for assistance. In an emergency members can also contact the Nautilus 24/7 helpline.
More help and our coronavirus resource hub can be found on our Assistance page.
---
Tags