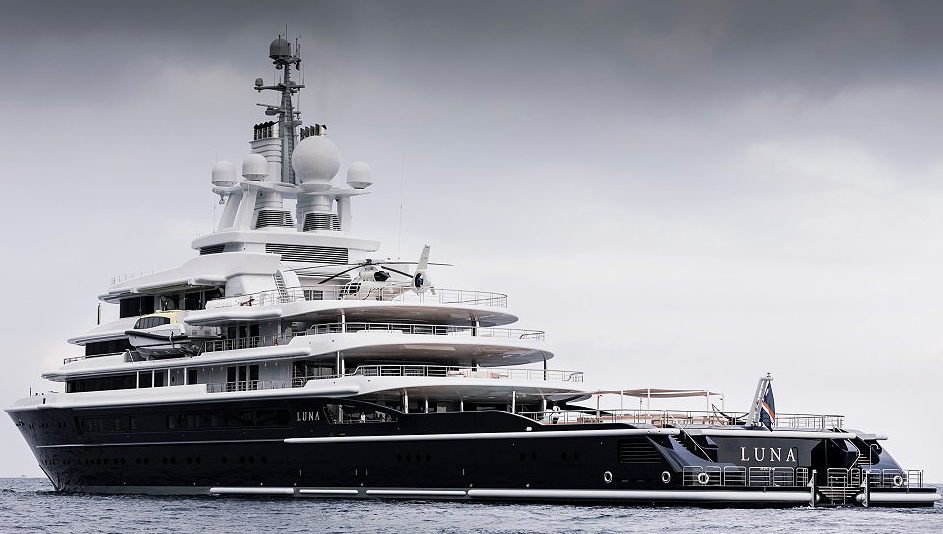 Nautilus International is urging officers and seafarers to exercise extreme caution in dealings with the Marshall Islands flagged M/Y Luna, a luxury superyacht caught up in a bitter divorce dispute between a rowing Russian Oligarch and his ex-wife.
The M/Y Luna has been moored in Port Rashid, Dubai since October 2018 following an increasingly rancorous clash between oil and gas billionaire Farkhan Akhmedov and his estranged wife Tatiana Akhmedova.
In December 2016 the English High Court ordered Mr Akhmedov to pay his estranged wife £453m in a divorce settlement that included the transfer of cash and property comprising a modern art collection, helicopter, private jet and M/Y Luna.
The helicopter was seized and sold in December 2018, according to lawyers for Ms Akhmedova.
The English court further granted a world-wide Freezing Order and made a Financial Remedy Order ordering Mr Akhmedov to pay a lump sum of £350,000,000, transfer the property and pay his ex-wife's legal costs.
The vessel is also subject to an order of the Dubai court arresting it and an injunction order from the Marshall Islands Court preventing it from being moved.
The Freezing Order was upheld by Justice Gwynneth Knowles on 26 March 2019 and the vessel ordered to be held in Dubai until further notice. The defendants were ordered to pay port fees, insurance, and other operating costs, including crew costs.
Nautilus members are advised not to participate in the removal of the vessel from Dubai international waters. 'Acting in contravention of those orders may put crew at risk,' Bridge McFarland partner Rob Ripley cautioned.
Nautilus estimates up to 30 crew could remain onboard.

'It is disappointing that yet again, the crew onboard M/Y Luna are being drawn into a divorce dispute,' Nautilus international organiser Danny McGowan said.
'Seafarers working onboard superyachts are maritime professionals, and do not deserve to potentially face pressure to move a yacht in contravention of high court orders.'
Despite repeated offers from Nautilus to the yacht management company, providing the opportunity to work with the Union in such instances, these offers have not yet been taken up.
'Maritime professionals working in the superyacht industry should become members of Nautilus International at the earliest opportunity, as they never know when they might become embroiled in such an unusual – and high profile – case that requires the assistance of the only trade union and professional association working globally in the industry.'
Nautilus previously helped members serving aboard the M/Y Luna who, in a flagrant violation of their rights, had their passports seized by local authorities in Dubai purportedly to prevent the superyacht from leaving the Emirate. Nautilus worked with the Marshall Islands flag state to reassure members and a successful court judgment ordered the return of the passports.
M/Y Luna was built in 2010 by German shipyard Lloyd Werft for Chelsea football club owner and Russian magnate Roman Abramovich. The 115m vessel has a helipad, 60-ft swimming pool, spa and deck Jacuzzi. It can host up to 18 guests in nine cabins and is capable of carrying up to 49 crew onboard.
Lawyers acting for Ms Akhmedova sought to enforce the Freezing Order after the vessel sailed into Dubai for dry-dock for maintenance.
In the original ruling, Mr Justice Haddon-Cave said Mr Akhmedov hatched a campaign to evade and frustrate the enforcement of the judgment debt against him.
Mr Akhmedov has taken numerous elaborate steps to conceal his wealth including transferring title of the M/Y Luna between a number of shell companies based in Liechtenstein and Panama. The vessel is currently held in a trust called Straight Establishment based in Liechtenstein.
'In my judgment, it is clear that Straight is simply another "cipher" and alter ego [of Mr Akhmedov], and another attempt to evade enforcement,' Justice Haddon-Cave said.
---
Tags