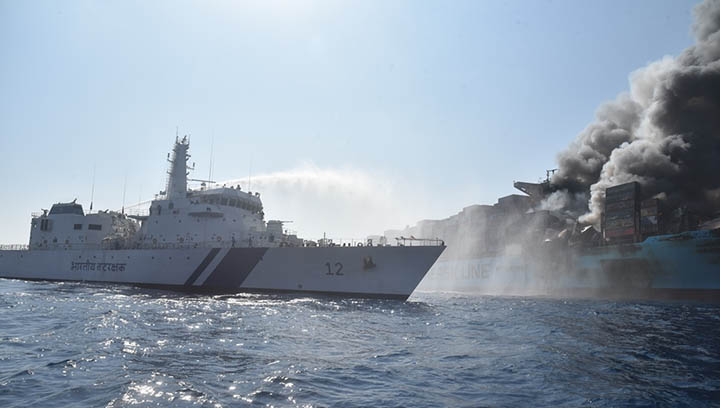 Seventeen months after a fire ripped through the Maersk Honam leading to the deaths of five seafarers, the 15,282teu box ship, rechristened Maersk Halifax, recommenced active service on August 5, joining Maersk's Asia-Mediterranean AE11/Jade' service with MSC.
The 353m vessel, delivered in August 2017 as the third of a series of six sisterships caught fire on March 6 2018 between the coast of India and 900nm from Oman while en route from Singapore to the Suez Canal.
The Indian coastguard co-ordinated the rescue operated from the Bombay Assistance Centre, sending its new patrol vessel from Cochin, 604nm from the vessel.
Maersk Line confirmed the deaths of five of the 27 crew members and sent three of its box ships operating in the area to aid the Honam, which was transporting 7,860 containers.
The damaged ship's bow was cut off at a yard in Dubai and the remainder of the ship was moved by a semi-submersible ship to Ulsan in South Korea, where it was repaired by Hyundai Heavy Industries.
The re-dux vessel now features a re-shaped, less flared bow and an SOx scrubber.
---
Tags