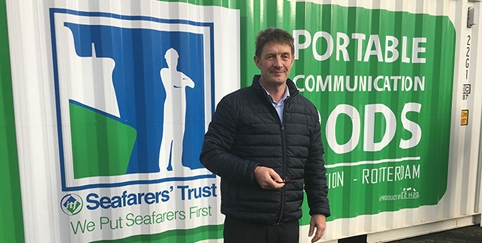 Nautilus deputy general secretary Marcel van den Broek attended the launch in Rotterdam of a new initiative to help seafarers stay connected to friends and family.
Developed through the ITF Seafarers' Trust digital welfare project, the portable communication pods are housed in special-adapted shipping containers that will provide seafarers with access to wi-fi, tablet consoles and on-screen information services.
The pods can be adapted to provide additional services – such as vending machines of health-check equipment – and can be easily transported to areas of particular need. Powered by solar panels, they have been designed to be energy-efficient and suitable for use in all sorts of areas.
The pods won the Best New Communication Product at this year's Safety At Sea Awards, for the innovative way of addressing seafarers' unique welfare needs, and the first five units will be trialled in the port of Rotterdam, and in Nigeria, Senegal, New Zealand and Venezuela.
The pods are portable and flexible, and very versatile. They are not designed to be a replacement for seafarers' centres, but as a useful addition that will help to meet their needs in sites lacking in existing service provision. Seafarers' Trust consultant Kimblerly Karlshoej
---
Tags