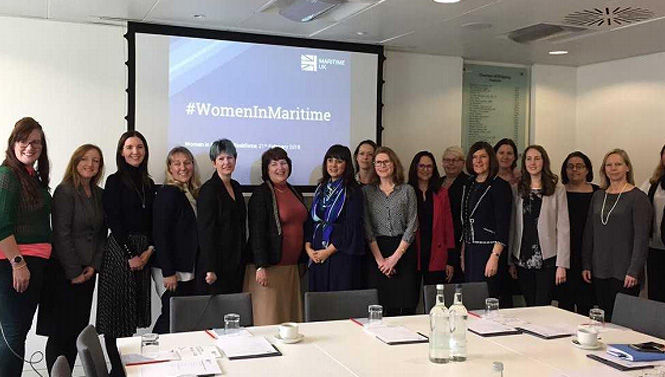 International Women's Day on 8 March saw the launch of two new resources for the industry-wide Women in Maritime Charter: a speaker bank and an interview pool to help training for smaller businesses.
Backed by Nautilus and numerous other UK maritime employers, the Charter aims to improve the gender balance in the sector, and is currently in its pilot stage after getting off the ground in September 2018. It is a concrete way of helping companies and organisations to make progress on recruiting, supporting and promoting women in a heavily male-dominated industry,
Employers signing up to the Women in Maritime Charter will be required to agree an action plan setting out individual targets to improve the gender balance in their own organisation. A key commitment will see companies identifying a member of senior management responsible for implementation of the action plan as well as distributing a survey to staff on workplace culture.
Performance against action plans will be self-assessed via online portal and national performance published in a joint industry-government report.
A suite of digital 'toolkits', or resources to help companies realise those targets, is also being developed – including the speaker bank and interview pool launched on 8 March. These, as with the other elements of the Charter, will now be tested by the four organisations participating in the pilot scheme: Shoreham Port, Brunton Propellers, maritime law firm MFB, and Fleetwood Nautical Campus (part of Blackpool & the Fylde College).
Sue Terpilowski is chair of Maritime UK's Women in Maritime Taskforce, which is the driving force behind the initiative. She commented: 'We've been focused on making sure that the Charter we deliver is relevant to companies across the length and breadth of the maritime sector – both in size and function.
'We think we've struck the right balance between realism and challenge, with the appropriate plan in place to support companies to excel on gender diversity.'
Reflecting on the Charter's progress in February 2019, Ms Terpilowski commented: 'The Women in Maritime Taskforce have achieved great momentum throughout 2018, and the initiative has already provided a platform for industry to share, partner and challenge one another. Much good work was already going on, but we are collectively in a much better position to now move forward together.'
Ms Terpilowski said the Taskforce also welcomed the news that in the UK, the Department for Transport has agreed, via its Maritime 2050 strategy, to fund a maritime 'people like me' project.
---
Tags