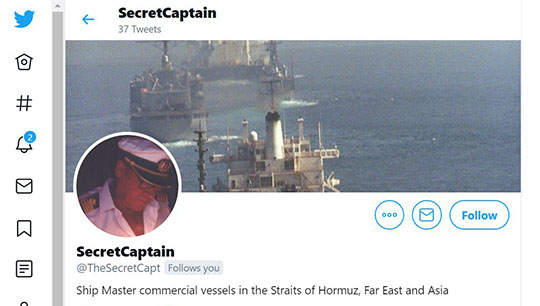 Nautilus has heard from @TheSecretCapt, a master in charge of commercial vessels in the Straits of Hormuz, Far East and Asia about his experience of being in lockdown onboard, unable to return home to family, during the Covid-19 pandemic.
Hello everyone! How are you all doing out there in this crazy world?
I keep seeing some positive words from them 'the industry'. But nothing feeding down to the crew stuck out here on the ships.
What is your shipping company / crewing agency doing for you?
If you are anything like me, it is precious little. At least my company sends updates on the 'Global Situation'. Crewing agencies not even that. I think their isolation involves a communication blackout.
The situation here is a suspension, worldwide, of any crew changes until May. That's a company directive nothing to do with port or country regulations.
I see some companies are paying crew members who are stuck on ships an extra 50% of salary until they can get home. No such payments here.
The worst thing is there is no light at the end of this long tunnel. We have been told the suspension of crew changes could be extended.
Everyone onboard is very low. Just no sign of anyone getting off anytime soon. It does not help when you hear of other companies chartering planes to get crews home.
The only good thing that will come out of this will be a very clear understanding, by all my colleagues, of which are the good companies to work for. The ones who care about us seafarers. The days of being just a number or a bum on a seat could, and should, be coming to an end.
It is plain to see already the Oil Majors are found wanting and conventional shipping companies are leading the way.
Care, companionship, empathy and understanding goes a long way when being asked again to extend your contract. Some of my guys are heading for 9+ months already.
If asked I would like to be quarantined or in isolation with my family right now. Not an option offered by my employer.
Hang in there guys and stay safe.
The Secret Captain
@TheSecretCapt
---
Tags