Nautilus news
'Together we are Nautilus': two new Union videos launched at 2019 General Meeting
10 October 2019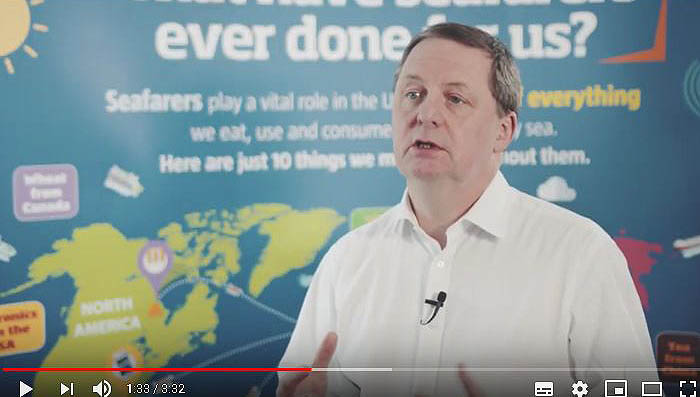 Shipping is a global industry, and Nautilus International's support for members around the world in times of change is highlighted in two new videos presented to the Union's 2019 General Meeting in Rotterdam.
The first video brings members up to speed on the Union's work around its strategic priorities over the last four years and its industrial achievements for members.
Nautilus officials explain the range of areas in which they organise and represent members – from being involved in developing wellbeing guidance, putting proposals forward to the National Maritime occupational health and safety committee, achieving pay increases on behalf of members globally, standing firm on fair treatment for all seafarers, and working on behalf of retired seafarers through the Nautilus Welfare Fund.
In the future forward video, the Union's general secretary Mark Dickinson explains: 'It's more important than ever to ensure our office supports members wherever they may be. The world around us is changing and we need to stay relevant.'
Mr Dickinson highlighted how Nautilus has been working across international, European and national forums to discuss issues affecting members on a daily basis in the past four years. 'We've delivered a number of successes for members including extending SMaRT funding for cadet training, and advising on a range of safety issues affecting members.'
Members are 'at the heart of everything the Union does, as shipping keeps the world moving and our members keep the economies going,' commented Mr Dickinson.
He said it is imperative seafarers are seen as 'essential components to trade in any concern about future trade growth.'
Looking to future technological, automative, communication and connectivity advances, Mr Dickinson says shipping is under more pressure than ever before to invest in new technologies.
'The rise in automation means the role of the seafarer is constantly evolving. We will always embrace technology, but it has to serve a purpose. It has to be about enhancing the human experience. We know many of our members are worried about automated vessels and what they mean for the industry. We carry out surveys [of members] and speak regularly to shipowners to understand how technology can impact members where the technology is embraced.'
Mr Dickinson said it was a key focus of the Union for the next four years to see technology used in a positive way to improve conditions for members and to secure their futures, making sure that they have the skills and the training to embrace the technology and deal with issues around safety, criminalisation and deployment of automated vessels.
Encouraging diversity is a necessity to ensure that the industry 'is an attractive and welcoming place for women,' he added. 'We need a diverse workforce to represent the diversity of our country.'
Nautilus International members can now also watch a selection of video clips from the General Meeting via the Union's private Facebook group.
---
Tags