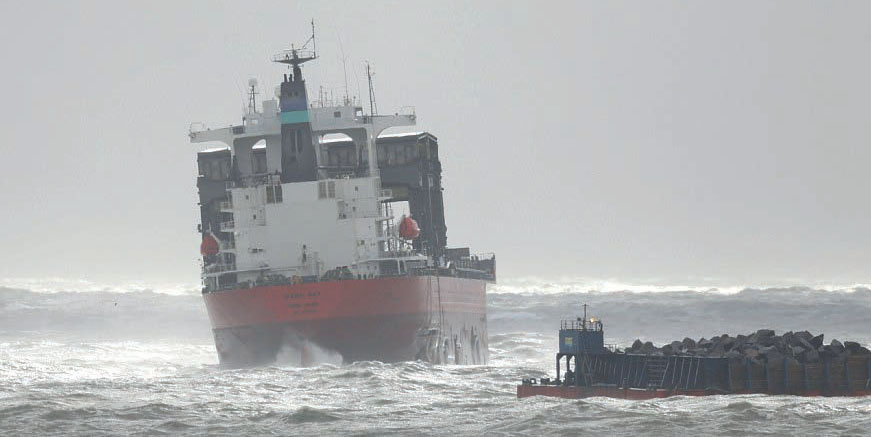 Nautilus backed a call by the UK Marine Accident Investigation Branch (MAIB) for a review of emergency towing vessel (ETV) cover in the Dover Strait.
The call comes in a report on a collision between the Hong Kong-flagged general cargo ship Saga Sky and a rock-carrying barge off the coast of Kent during a storm in November 2016.
Attempts to locate a tug capable of providing assistance to Saga Sky as it drifted towards the unmanned barge for 90 minutes leading up to the accident proved unsuccessful. The French ETV Abeille Languedoc was sent to the scene, but with a 30 minute mobilisation period and a two-hour transit time, the MAIB said the collision occurred 'well before' it could have been in a position to intervene.
The report notes that the Dover Strait is one of the busiest shipping lanes in the world, with an estimated 400 vessel transits each day. However, it points out that the UK ETV introduced in the area in 1994 was withdrawn in 2011.
'Given the volume of traffic using the Dover Strait and the apparent absence of local commercial salvage assets, it would be appropriate to review the availability of emergency towage provision in the Dover Strait, as has already been done for north and north-west Scottish waters,' it adds.
The report recommends the Maritime & Coastguard Agency to commission a study to review the full range of emergency response assets available in the Dover Strait, including a reassessment of the need for a dedicated emergency towing capability.
We wholeheartedly support this recommendation and believe it should be acted on with urgency, given the scale of the potential risk in the area. Nautilus professional and technical officer David Appleton
'The MAIB report drives a coach and horses through the assurances that were given when the ETVs were withdrawn under the austerity cutbacks,' Mr Appleton added. 'It is clear that the market cannot provide and any review should not just look at the threats, but also consider the opportunities that arise from the deployment of a dedicated ETV – including training, hydrographic surveying and a wide range of other tasks.'
---