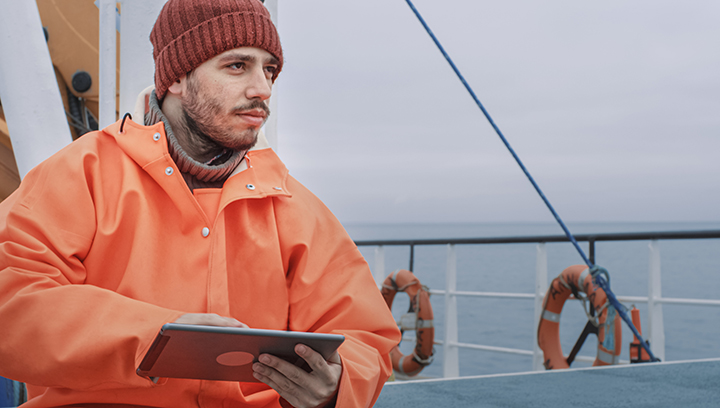 Nautilus has backed calls for crew internet, data and satellite calls to be made free for three months to cover the peak infection period expected of the Covid-19 pandemic.
Global satellite provider Inmarsat and shipboard high-speed internet solutions provider KVH Industries have been urgently requested to enable free calls by Nautilus 24/7 provider International Seafarer Welfare and Assistance Network (ISWAN), on behalf of Nautilus and other trade unions, seafaring charities, the UK Chamber of Shipping and international maritime medical experts.
In separate letters to the service providers, ISWAN executive director Roger Harris asked Inmarsat to grant additional free data and free satellite calls, and for KVH Industries to grant additional free data and free satellite calls for seafarers aboard vessels on international voyages for the next three months.
'The maritime sector, like many others, is being severely impacted but it is the main industry that keeps world trade moving and seafarers are key to this.
'Seafarers on board vessels are being badly affected, often unable to leave their ship because of port state and other restrictions. They are having to stay on board for a lot longer than they signed up for and are being prevented from going ashore. Many seafarers are also stranded and unable to return to their home countries.'
Mr Harris said communication back home is the 'number one welfare concern of seafarers, and the link with home has become even more important'.
Inmarsat Maritime president Ronald Spithout responded positively and offered a meeting to all the parties on Wednesday 25 March to discuss further ways it could help seafarers, in particular what else could be done on the development of a crew technology platform that Inmarsat and the main charities were already working on together.
He said that in recognition of the 'unprecedented crisis' Inmarsat had already been proactive over the last eight weeks in helping seafarers keep connected. 'lnmarsat has a 40-year legacy of supporting crew safety and welfare at sea 'to which we will always remain fully committed.
'Since the virus first became widespread in Asia over eight weeks ago Inmarsat has been working internally and with our partners to take proactive steps to keep seafarers connected and in touch with loved ones during this difficult time.'
In February Inmarsat had added free additional call time for all users of its ChatCard voice service which seafarers pay for, added Mr Spithout.
Inmarsat had also been working with several shipowners to provide subsidised bandwidth to meet with the increasing bandwidth demands from vessels. In the next few weeks it will be announcing 'further incentives that our wholesale partners can choose to use to provide further additional support to crew using our services'.
Free medical advice and assistance service is available over Fleet One, FleetBroadband and F77.
Nautilus members who are concerned or are experiencing difficulties related to the coronavirus outbreak are advised to contact their industrial organiser for assistance.
---
Tags