Environment
World's first hydrogen vessel on winter stopover after completing first leg of its round-the-globe voyage
10 December 2019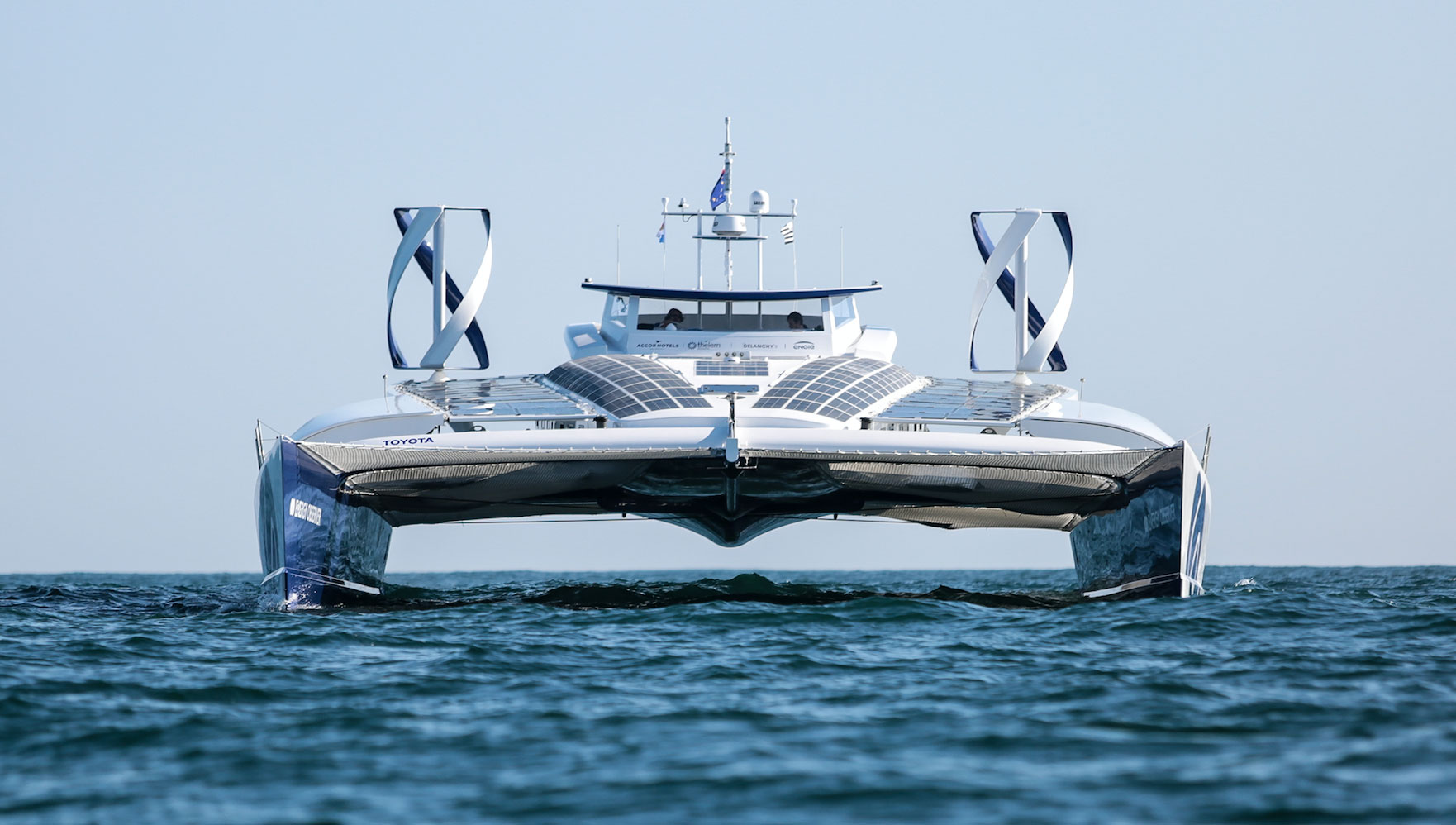 Energy Observer, the world's first experimental hydrogen powered deep sea vessel, is undergoing its fourth optimisation test, after completing the first leg of its round-the-world voyage.
After seven months in Northern Europe, covering 7,500nm with 16 stopovers in 11 countries, that produced no greenhouse effects, the 30m long catamaran is undergoing a three-month winter technical stopover at its home port of Saint Malo, Normandy, before resuming its expedition to Japan in mid-February.
Its team of professional seafarers, engineers and technicians meanwhile are preparing for a new challenge – to reach Japan before July.
Captain Victorien Erussard, founder and master of the Energy Observer project, says that maritime transport has huge energy requirements and largely operates on heavy, mostly bad quality fuels producing substantial emissions of fine particles, NOx, Sox and CO2.
He said: 'The experimental vessel in a six-year 101 stage round-the-world voyage aims to promote alternative energy technologies without CO2 emissions.'
Energy Observer, which operates with eight people on board, can reach a speed of 28km/h. It took four years to restructure the former racing catamaran to become a totally energy autonomous vessel, driven by a unique mix of hydrogen and renewable energies.
In partnership with CEA, the French government-funded research organisation Alternative Energies and Atomic Energy Commission, the ship is equipped with a fuel cell that is capable of independently converting hydrogen into electric energy by desalinating seawater, that then passes through an electrolyser that separates water into hydrogen and oxygen. Most of the technology onboard is French made.
Electric propulsion is the future, the captain said. Systems tested by the electric catamaran 'enable us to explore the world without damaging it'.
In navigating over almost 20,000nm over the last three years, Energy Observer has tested several systems, among the most effective being the installation of 130m2 of photovoltaic solar panels covering all possible areas of the ship's exploitable surface and two 6.5m spiral-type wind turbines.
In 2019, Energy Observer made a series of calls in French waters, before sailing to Northern Europe: Antwerp, Amsterdam, Hamburg, Copenhagen, Stockholm, Helsinki, Tallinn, St. Petersburg, Tromsø, Bodo, Alesund, Aberdeen, London and then returning to France (Dunkirk).
The voyage to the Norwegian Arctic port of Spitsbergen in August was made with complete energy autonomy, with the catamaran powered solely by renewable energies and hydrogen and without greenhouse gas emissions, fine particles or noise, making it a world first.
From a technical point of view, the vessel's two Oceanwings optimised the energy contribution of the wind (up to 42%) thus saving the energy traditionally allocated to the vessel's propulsion.
For Capt. Erussard, the Energy Observer's team approached difficulties and encountered unusual and unexpected weather conditions. The new hydrogen-based energy system showed that 'we could go further and faster and that it was a good solution'.
By 2050 the world's commercial fleet will have to reduce greenhouse gas emissions by 50%. 'Current new solutions such as Liquefied Natural Gas (LNG) only reduce CO2 emissions by 20% and even if fine particles disappear, noise pollution is still a problem. Vessel refits are possible but integrated solutions on new ships are more coherent,' said Capt Erussard.
Visit the Energy Observer website
---
Tags