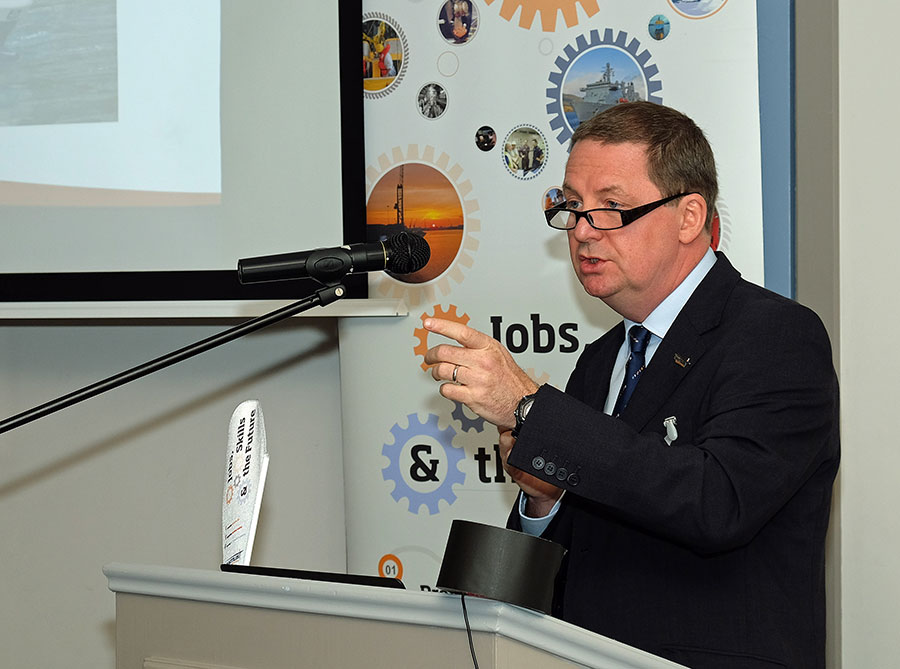 The true scale of the economic damage that Covid-19 has done to global and national economies is becoming clear.
The World Trade Organization (WTO) is forecasting a 32% decline in global output and that means lost jobs. According to a recent survey by the European Community Shipowners' Associations the hardest hit sectors will be cruise, ferry and offshore services – key areas for our members.
In shipping we are facing hundreds of jobs losses – from Ardent Maritime to P&O Ferries to Vroon – the impact is being felt by our members across all branches. The scale of potential job losses is significant – over 600 redundancies have been announced in the past month alone.
These jobs are not for sale. We must be robust in our response, ensure that our members are supported and redundancies resisted. I have asked our industrial teams to do their utmost to protect the employment of our members wherever they can.
The support of a strong trade union is especially important at times like now. It may be a cliché, but we are stronger together and we certainly need to be strong now. It is pleasing therefore that membership is growing with hundreds of maritime professionals recognising the need for our unique services.
I have been continuing my support for the work of the International Transport Workers' Federation (ITF) and European Transport Workers' Federation (ETF). This has focused on coordinating crew welfare, working with the International Labour Organisation (ILO) on seafarers' rights and taking part in discussions with the International Chamber of Shipping (ICS) to agree crew change protocols. These were immediately supported by the International Maritime Organization (IMO) and quickly circulated for attention by member states.
I have taken part in talks between ITF and the Joint Negotiating Group (JNG) within the International Bargaining Forum (IBF). The ITF had previously reluctantly agreed to two 30-day periods of crew contract extensions under the IBF Framework Agreement but when asked for a third time we refused. Instead, we said governments should be given an extra 30 days to implement crew changes in accordance with the industry protocols circulated by IMO. This should mean governments finally get crew changes moving and recognise that seafarers are key workers who deserve to get home or back to work.
I have also been busy lobbying the government to extend financial support to UK seafarers. A survey of UK members of Nautilus revealed that up to 11,000 seafarers could be without financial support because their employer does not operate UK PAYE for tax and national insurance purposes. As such their jobs cannot be protected under the Coronavirus Job Retention Scheme (JRS) nor will they receive grants to cover lost income under the self-employed scheme. Some face a triple whammy because they can't work, cannot claim the same financial support as other UK workers, and face an unexpected tax bill.
Last month with the help of TAPiit we live streamed the first virtual meeting of the Council. The use of technology is a core strand of the Union's 2030 Vision as is our communications becoming 'digital first'. This has enabled us to respond to developments much quicker than in the past. Our website has become the main source of information for our members, and the wider maritime community. In the current pandemic we are witnessing unprecedented traffic to our site. One story on seafarer certificates for travel was viewed over 42,000 times.
This investment in technology has had the added benefit of allowing us to keep working in support of our members despite the challenges of the lockdown. It has also helped us to have a greater and more frequent contact with governments and industry to resolve issues in a tripartite way.
I hope this spirit of tripartism continues long after the lockdown ends, when we return to normal. In the meantime, stay safe.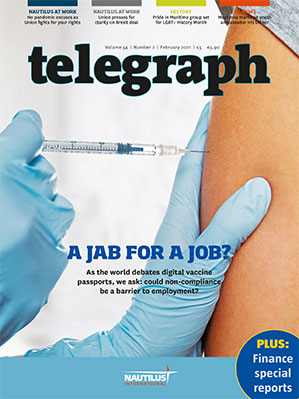 Current Telegraph
Members can download the latest edition of their Telegraph magazine by logging in to My Nautilus and visiting Member resources.
Download the Telegraph