The shipping industry needs to take note of new research revealing an increase in the severity of 'rogue' waves, Nautilus warns
A project carried out by scientists at the University of Southampton and the National Oceanography Centre (NOC) has concluded that abnormal waves appear to be occurring less often, but are becoming more extreme.
In the first study of its kind, engineers and oceanographers examined long-term data from 15 wave buoys along the west coast of the United States to assess trends in significant wave heights and the frequency of rogue wave events over a period of more than 20 years.
Waves are classed as 'rogue' when they are over twice the height of the average sea state around them. From trough to peak, past observations have put some at over 30m high and previous research has shown that global mean significant wave heights have increased over the past three decades.
The research – which has been published in the journal Scientific Reports – notes that rogue waves present serious threats to the safety of shipping and seafarers, and that there have been incidents in which they have caused fatalities, cargo loss and vessel founderings.
The project examined wave data gathered by 15 buoys between Seattle in the north of the US western seaboard, to San Diego in the south, between 1994 and 2016.
According to the findings, there are considerable variations in instances of rogue waves, depending on the area of sea and the time period focused on. On average, though, the team found instances of rogue waves across the two-decades of data had fallen slightly, but that rogue wave size – relative to the background sea – had increased by around 1% year-on-year.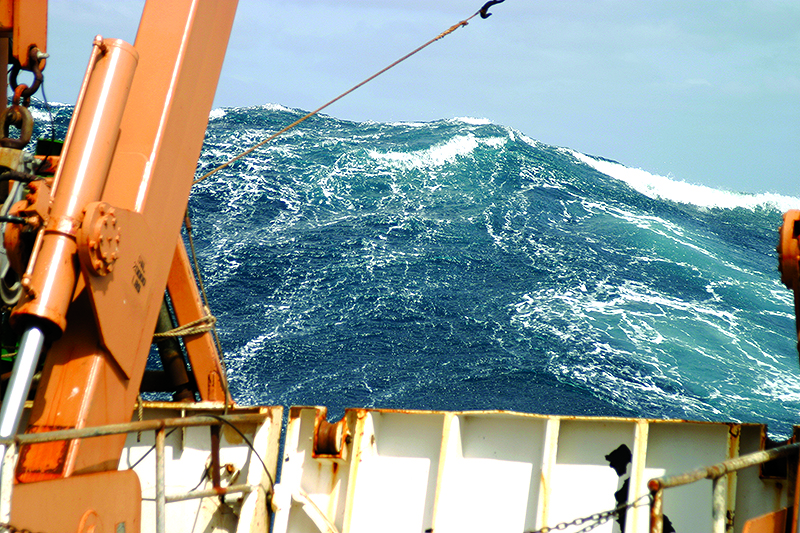 The scientists showed rogue waves are more prevalent and of greater severity in the winter months and, intriguingly, are happening with increasing frequency within calmer background seas.
Lead researcher Alex Cattrell, from the University of Southampton, said: 'The occurrence of rogue waves is difficult to predict, but simply understanding when and how these rare events occur is extremely important for mariners, both in terms of ship safety and economics.'
Research supervisor Professor Meric Srokosz, from NOC, added: 'Ports along the west coast of America handle almost half of the country's container trade and, together with shipping connected to the Californian oil industry, there is a high volume of tanker, cargo, fishing and passenger vessel activity in the region. Our research can help inform these industries and suggests that if data on rogue waves is to prove useful – geographical, seasonal and year-on-year variations need to be taken into account, rather than just relying on a single value for an entire region, for all time.'
Nautilus professional and technical officer David Appleton commented: 'This is valuable research and the results demonstrate the need for ship operators and regulators to ensure that vessels are designed, built and equipped to cope with increasingly extreme conditions. This is of particular importance in the context of the discussions at the IMO on the pressure to reduce ship power as part of the programme to improve the industry's environmental record.'
---
Tags