An up-and-coming jazz musician has drawn on her family history of seafaring to produce an acclaimed new album. MIKE GERBER listens in
After hearing about her new maritime-influenced album El Mar de Nubes, I arranged to meet up with tenor saxophonist Tori Freestone at a London cafe – where she explained that the sea played a big part in her childhood thanks to her shipmaster father John. He had grown up in Greenwich and been educated at the London Nautical School, inspired by his grandmother's stories of her going to sea with her seafarer father. When John became a captain, he would likewise take young Tori to sea when opportunity arose.
'He was working for a Spanish company, bringing sherry and rioja back, so I was in Spain a lot,' recalls Tori. 'We always got shown the docks wherever we went; it was fascinating because we'd end up in places you wouldn't see as the usual tourist.'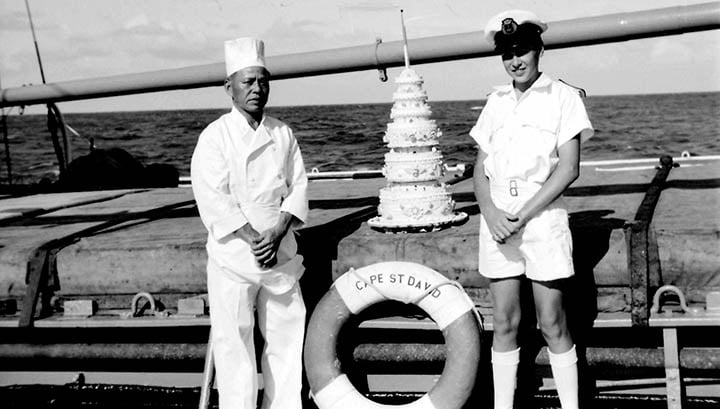 Music was in the family too; Tori's classically-trained mother taught piano, while John pursued a parallel career as a folk musician, singing, playing guitar and harmonica. Tori would often join in: 'We used to play in folk clubs. And working men's clubs [where] he had more of a rock band – when I was a teenager, I used to do that.' That's when Tori was studying at Leeds College of Music. 'But when I was really young, we used to do folk clubs.'
Inevitably, the repertoire would include shanties, another of which, 'The Press Gang', featured on Tori's first trio album, El Barranco. Tori re-harmonised folk legend Ewan MacColl's version: 'That's what I did for my commission for the London Jazz Festival. It had to be a song about London, and I was supporting [French bassist] Henri Texier at the Queen Elizabeth Hall. I thought being next to the Thames it would be great to start with a shanty and then it develops into something else, a jig and reel which is folky again, and then it goes all mad with the timing – you know how the trio plays. And when I did the album I thought I'd like to do the version.'
Performing Thameside will have had an additional significance for Tori, again in relation to her father: 'All my family on his mum's side worked on the Thames right back to the 1700s as watermen.' And John worked on the river towards the end of his career: 'The pilotage job came up and he retrained. I was testing him all the time, I knew all sorts of depths of the river,' says Tori.
How difficult is it, then, to re-harmonise shanties for jazz? 'When I work out the folk tunes I go to the violin. As long as you've got a melody you can harmonize anything into a jazz-type context; it's just shifting round the base notes, and for me it feels very natural. The harmonies I'm doing on these shanties are contemporary harmonies, not the functional harmonies you get in the jazz standards, so it lends itself to those tunes. [Classical composer] Ralph Vaughan Williams's Sea Songs, again that was something I was inspired by when I was young.'
Tori has worked on cruise liners as a musician – routine work for an artist of her capabilities but enjoyable: 'You get everything done for you and get to see these amazing places. Other musicians, yeah, it was like, "This is our lot", but I just had loads of time to practise, it was great.'
Any prospect of an entire album of shanties? Definitely something to think about, agrees Tori, at which point her dad, who has joined us at the café, suggests a version of 'the best song ever, The Hymn of Trafalgar, about Nelson being carried back. Nelson talking, and he's dead'.
'Yeah, I know it,' says Tori.
She reflects: 'There used to be lots of parties when I was growing up, lots of seafarers, amazing musicians, so many talented musicians at sea, they just know those songs. That's what I love about shanties, like storytelling passed down. I always think it's almost on a par with jazz musicians; going to sea, it attracts people who don't quite fit in to society.'

El Mar de Nubes by the Tori Freestone Trio
Tori Freestone's enduring affection for things maritime is manifest on her new release, El Mar de Nubes, the which was chosen as the Guardian newspaper's jazz album of the month in June 2019.
Standout tracks, on this third recording with regular trio partners bassist Dave Manington and drummer Tim Giles, include variations on the lovely American sea shanty 'Shenandoah'.
On the first of these, what emanates from Tori's horn sounds hauntingly bagpipe-like, Giles's drums rolling gently away behind her.
For the second take on 'Shenandoah', the final track, Tori switches to violin while singing the lyrics. Evocative, yearning and folksy.
Most numbers on El Mar de Nubes – Spanish for The Sea of Clouds – are Tori originals inspired by visits to Tenerife, where her mother lives. While there, Tori explains, she loves roaming the mountain paths. She was atop El Teide, the highest point in Spain, above the clouds which at that elevation she perceived, billowing below her, as somewhat wave-like – indeed, a sea of clouds. Her impressions inform the title track, her saxophone undulating against the swell of the bass and drums.
---
Tags