French seafarers are stepping up their campaign against the 'crews of convenience' used on Brittany Ferries' no-frills service between Ireland, France and Spain. JEFF APTER reports…
French maritime unions have warned that they are prepared to take further protest action over the introduction by Brittany Ferries of a vessel operating with low-cost crews under a flag of convenience.
The CFDT and CGT officers' and ratings' unions have several times condemned the company's decision to use the Cyprus-registered ro-ro Connemara to launch its new twice-weekly service between Ireland, France and Spain last May.
The 27,414gt vessel – which had been operating between Italy and Greece – was chartered in from Stena RoRo to run the new no-frills service linking the ports of Cork, Roscoff and Santander, with a capacity for some 518 passengers, 195 cars and 130 trucks. Its inaugural voyage sparked demonstrations by seafarers – who remain angry about the use of 'Community' crews on Connemara.
Since it was established in 1972, Brittany Ferries has traditionally used the French mainland flag and French crews on its ships. The only previous exception to this policy occurred in 2005, when the company chartered the fast craft Normandie Express to operate a service between Portsmouth, Le Havre and Cherbourg under the UK flag. The vessel was switched to the French register a year later.
The unions claim that the pay and conditions of the Connemara's crew are well below French standards, and have highlighted concerns over the safety of the ship.
They staged protests in the ports of Roscoff and Brest under the banner of the European Transport Workers' Federation Fair Transport campaign to highlight the need to establish a common European 'maritime space' with decent terms and conditions for all crews and without social dumping.
The CGT and CFDT have warned of further action after the summer season if the company's leadership continues to refuse to talk to the unions. They are still awaiting answers to their request to meet management to discuss the operational costs of the new service and have hired an accountant to investigate the charter arrangements.
The unions have also demanded that Brittany Ferries chairman Jean-Marc Roué resign as president of the national shipowners' organisation, Armateurs de France (AdF).
Mr Roué has said publicly that if the new link shows its commercial viability within two years, he would reflag Connemara to the full French register. But the unions are concerned that the 'economy' service and its low-cost crewing model will damage Brittany Ferries' reputation for quality operations.
CGT-ITF France inspector Laure Tallonneau said she believed Connemara is a substandard ship. Crews are from eastern European countries – Lithuania, Latvia, Poland and Estonia, with replacement crews including Romanian nationals – and she is concerned about their ability to communicate amongst themselves and with passengers. 'As we could see onboard the Costa Concordia, lack of communication makes situations more diffi cult when problems arise,' she pointed out.
Ms Tallonneau said the seafarers are employed through a non-French manning agency, with contracts formulated under Singapore law and the ship managed by Glasgow-based Northern Marine.
The crewing arrangements amount to 'social dumping', she added, 'in order to avoid taking on French seafarers, being under French law and negotiating with French unions – including preventing union representatives from going onboard to see what is happening on the ship'.
Ms Tallonneau said the crews are working 12-hour days, seven days a week, over two-and-a-half-month tours of duty. 'Such working arrangements are totally forbidden under French law for obvious reasons of safety,' she stressed.
'Such arrangements increase crew tiredness, and fatigue is the main cause of accidents. Minimum safe manning is below French standards, and when there is a full cargo their workload increases.'
She pointed out that a port state control inspection carried out soon after Connemara had come into service uncovered 26 technical deficiencies. Some of the defects included a failure to establish an acceptable common working language onboard, a lack of control on abandon-ship drills, and a lack of familiarity with the operation of machinery and equipment.
The checks also showed the vessel lacked an SAR Cooperation plan and its stability information booklet was not as required. There were also problems with fire doors, fire dampers, fi re protection and extinguishing systems, as well as defective life-saving appliances, missing nautical publications, and the VDR and scuppers and inlets not as required.
The company has sought to ease the union concerns by promising to reassess Connemara's flag and crewing arrangements at the end of the ship's two-year charter. Mr Roué said the decision to opt for a non-French operating model had been made as part of a risk management strategy 'in the very uncertain context of Brexit'.
He said the company continues to be committed to the French flag, and will use 100% French crews on three new ferries being introduced over the next four years as part of a fleet renewal programme valued at around €450m.
But the unions are not wholly convinced by these assurances. 'Connemara definitely does not meet the company's reputation and this could affect all the fleet,' Ms Tallonneau added. 'How many passengers with a negative experience of this ferry will trust Brittany Ferries again?'
The working hours of these crews would be forbidden by French law for obvious reasons of safety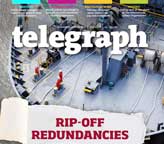 ---
Tags