Education and training
ETO expectations – investigating the current state of electro-technical officer training
17 July 2019

In December 2018, Nautilus member Clive Evans wrote in the Telegraph of his concerns that electro-technical officer training has not kept pace with industry requirements. He invited readers to contribute to his review of ETO training, and there was a very strong response. ANDREW LININGTON hears how the review has been progressing, and shares some of the participants' contributions
It's now almost a decade since a long campaign by Nautilus and its predecessor unions resulted in the Manila amendments to the international Standards of Training Certification & Watchkeeping Convention formalising the position of ETO and the qualifications needed for it.
However, research undertaken by former ETO Clive Evans – the vice-chair of Nautilus International's Professional and Technical Forum – has prompted some significant questions about the adequacy of current ETO training.
Mr Evans asked serving ETOs about their work and training, and he says many are unhappy with the current foundation degree, as well as complaining that updating arrangements are not fit for purpose.
'Some of the issues brought up are very similar to issues that were relevant in the 1960s and 70s,' he notes. 'There are big variations in the ETO job description for different types of ship and big variations in the job expectations of ETOs.'
Mr Evans said there were complaints that the ETO foundation degree has an undue emphasis on academic elements rather than practical skills, such as wiring, electrical plant, computer networking, and server administration.
'It took various people over 25 years to get the foundation degree up and running,' he points out. 'The purpose was to put ETO tickets on a par with deck and engineer qualifications, and while technology is now moving fast, some ETOs feel the upgrade to COC/degree is a pain. Some say that the HELM course is not required, and others suggest that more seatime/experience is required on different classes of ships.'
The feedback from ETOs showed marked differences in the work they were doing. 'For example, DP ships have a lot more equipment and are very dependent upon keeping the DP units operational, and therefore they carry a lot more spares,' Mr Evans said.
Today, an ETO has to maintain more comms units, more nav units, more DP and specialised units, and computers, as well as vibration monitoring, deck and engineroom lighting, entertainment units, cranes, lifts, motors, diesel-electric gear, high-voltage switchgear and more
'The comms and navigational gear on most cargo and container ships is very different and there is also a vast difference evident in the spares that they carry, while gas carriers have large twin enginerooms but only one set of engineers to cover,' he said.
'Passenger ships have a lot of extra items to fix and carry. Some ships have only one ETO and could do with more, while others have as many as five.
'The Royal Fleet Auxiliary systems engineers are like ETOs, but have more military and commercial equipment to repair, while ETOs on research vessels have a lot of scientific equipment, computers, and special winches on top of routine maintenance and repair.'
Mr Evans says some tanker ETOs are expected to work on preventive maintenance schedules and vibration monitoring as well as serving as duty engineer/ETO.
'On some ships ETOs are required to carry out electrical and electronic maintenance and repairs as they do not have an electrician. Some shipping companies expect the ETO to have a fourth engineer's ticket and become a watchkeeping engineer, doing two days of electrical/electronics maintenance and one day as duty engineer on a rota.'
With the increasing reliance on shipboard computer systems and integrated bridges and engine control rooms, it is not surprising that ETOs report that a lot of their work involves dealing with software issues, faulty sensors, cables and wiring. But their duties can also range from fixing public address and fire detection systems to repairing passenger lifts, air compressors, satellite tv and galley equipment.
'Today, an ETO has to maintain more comms units, more nav units, more DP and specialised units, and computers, as well as vibration monitoring, deck and engineroom lighting, entertainment units, cranes, lifts, motors, diesel-electric gear, high-voltage switchgear and more,' Mr Evans said.
However, as his study shows, many ETOs face challenges in carrying out such work. 'Some companies provide updating courses, some do not. Similarly, some companies provide equipment courses and others do not. Maintenance manuals may not be in English and are generally very poor, while some equipment manufactures do not supply information or type specific fault-finding software as they want their service engineers to fix faults which experienced ETOs could fix.'
The restrictive nature of some service contracts is frustrating for many ETOs – especially as shoreside technicians are often scarce, he notes.
Another source of frustration are crewing levels – with many ETOs considering that more personnel are required to ease the workload pressures caused by defects, fault-finding, modifications and refit planning.
Mr Evans says the evidence he gathered from ETOs shows a need for their job descriptions and training to be updated, and he plans to take this forward through the Union's Professional and Technical Forum.
Nautilus professional and technical officer David Appleton welcomed the results of the survey and said they underlined the importance of securing progress on the post of senior ETO (SETO).
Although M-Notice MSN 1860 provides guidance on the requirements for gaining a SETO endorsement, the position is not recognised within the STCW Convention and the Maritime & Coastguard Agency is presently unable to examine candidates.
'I believe it is particularly important that there is agreement to take the SETO system forward, because Clive has highlighted the increased importance of the ETO role in the future and also the need to offer career progression for ETOs to attract people into the industry,' he added. 'There is also the SMarT Plus issue, as this is based on achieving a second CoC [certificate of competency].
'What we have now is a bit of a circular argument,' he said. 'We can't issue a senior ETO CoC because there is no provision in STCW, but expecting IMO to regulate when there are no examples of good practice and therefore no demonstrable demand is unrealistic.'
Mr Evans warns that there is one other very important issue that has not been addressed by governments and the shipping industry. 'What would they do if all the satellites failed due to a major cosmic event or warlike operations? GPS units wouldn't work and there are only a limited number of digital calling frequencies. All the calls would be routed via area rescue coordination centres, which would not have enough staff to cope.
'My question to the relevant authorities is: what are your back-up plans to deal with such a situation?'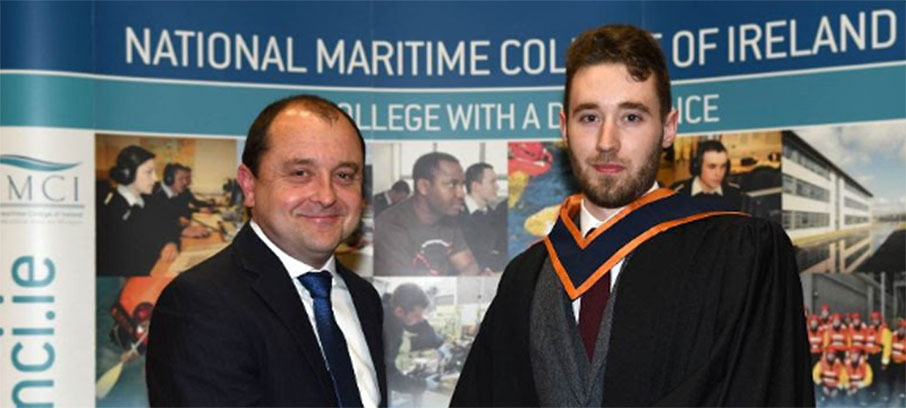 ---
Tags