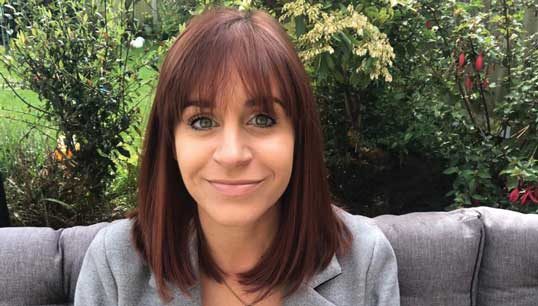 Rachel Lynch has been part of the maritime world all her life, as her father has now been at sea as an engineer for over 40 years, and her husband is a seafarer too.
Her own career at sea started in 2008, gaining experience on Clipper Tankers and in the Irish Sea with Seatruck ferries. 'I started at Fleetwood Nautical Campus the same month the Riverdance ended up on Blackpool beach, so I wasn't really sure what I'd let myself in for!' she laughs.
After completing her cadetship and sailing as a third officer, she came ashore and worked in the crewing department for Meridian Marine management. She then relocated to Southampton to work in the maritime regulations department as a specialist for Lloyd's Register, before returning to the Wirral, where she worked as a project manager for WMT Marine.
A temporary time-out from her shipping career saw Rachel taking a position as a travel risk manager with Liverpool Football Club. But after the birth of her second child, she got back on the maritime track by applying for the job she does now at Nautilus.
It's a role that is close to her heart. 'I have always believed in the work and role of trade unions, and signed up as a member of Nautilus when I was at college.
Having worked previously to try to improve safety standards through the International Maritime Organization (IMO), and on producing safety manuals when working at WMT Marine, it has always bothered me to learn of fatalities in the industry and the unfair treatment of seafarers.
'Nautilus has been standing up for seafarers' rights for over 160 years, and it is nice to have a job where you can make a difference.'
Starting at Nautilus around eight months ago, Rachel is usually based at the Union offices in Wallasey, Merseyside, on the same site as the Nautilus Mariners' Park retirement estate. 'It's nice to work alongside the Nautilus Welfare Fund, knowing that Nautilus supports seafarers not only throughout their careers but also offers care and assistance in retirement.'
So what does being a strategic organiser at Nautilus involve? In trade union terminology, 'organising' means bringing people together in the workplace to support each other and negotiate collectively. Rachel is the organiser for seafarers working on yachts – Nautilus International's fastest-growing membership sector.
'I spend the majority of my days responding to members' queries, dealing with open cases and looking for ways for Nautilus to organise within my sector,' Rachel says. 'It's always good to provide advice and support to members, especially during the pandemic, and the best thing is getting a result for a member who has been wronged.'
Looking back at her career to date, Rachel picks out three highlights. One was attending the IMO with delegations working on improving the safety of shipping. Another was finding herself in Kyiv with Liverpool FC for the Champions League final: 'Although we didn't win, it was a great experience.'
The third highlight was speaking on behalf of the Nautilus at the TUC Women's Conference in London earlier this year. 'I supported a motion for sanitary products to be available for free in the workplace and explained how obtaining these products could be even harder for women working at sea.'
Rachel would usually attend major yacht shows to support members and recruit new ones, but with pandemic-related cancellations now the norm, she is focusing on the project to develop an online form for the Union's MCA-accredited yacht sector sea service verification scheme.
The way we all work may be rather different at the moment, but Rachel's yacht sector operations are still very much open for business.
---
Tags