Members at work
Fascinated by the sea, Jamie Edwards finds lasting friendships and a camaraderie onboard unmatched elsewhere
14 May 2020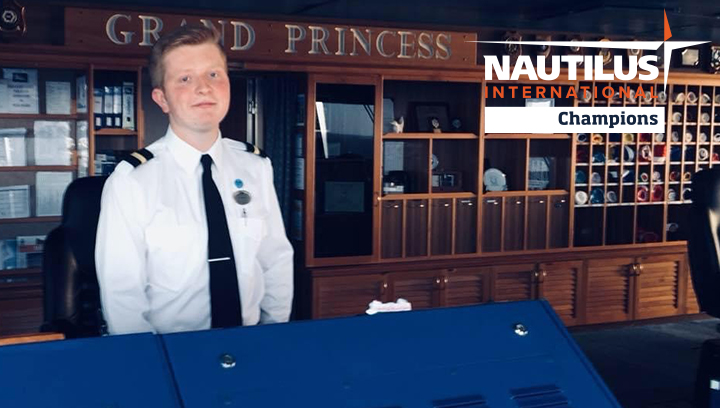 Nautilus Champion and Second Officer Jamie Edwards revels in the responsibility of senior officer on the bridge and says a career highlight was rescuing 650 refugees from a sinking fishing boat in the Mediterranean
What is a typical day in your job?
I work on a cruise ship as a Second Officer. As a senior officer I hold one of three watches (8-12) with a junior officer. The main aspect of the job is navigation; however, the bridge of a cruise ship is its 'brain', so we have lots of ancillary questions and information to assess and decisions to make. In port we carry out safety rounds and man the bridge and the all-important telephones to keep the ship operational and safe.
Why did you choose a career at sea?
A cliché I know but I wanted a job that allowed me time outside and to travel the world. Plus, I've always been fascinated by the sea. The tradition of the Merchant Navy and all its history also appealed quite strongly to me.
Tell us some of your career highlights – and challenges – so far
Career highlights
Rescuing 650 refugees from a sinking fishing boat in the Mediterranean whilst sailing on a large container ship. They were taken to the Italian coast where the Italian authorities took over the rescue
Docking a large cruise ship in the Hawaiian port of Nawiliwili. It's quite a narrow approach so it was more challenging than most ports
Career challenges
A force 11 storm off the coast of SE Ireland in a small coaster, was a very long night with the engine dead slow ahead and hove to, waiting for the storm to pass, which it finally did around midday the next day.
What are the best things about your job?
Every day is different and there are always challenges and decisions to be made. It's a job that is demanding but also very satisfying (especially manoeuvring and navigation). Working as part of a close-knit team with very visible and tangible results. I also enjoy the travelling aspect and visiting countries (albeit shortly), which I may never normally get the chance to visit.
Would you recommend seafaring as a career?
I would certainly tell someone to investigate and research it. I love my job and I don't think I would change it.
I believe that this is more than a career. There are not many jobs that take you away from home for six months of the year surrounded by different cultures and beliefs in a potentially tiring and stressful environment. However, it is also for these exact reasons why I would say a career at sea is worth it.
Tell us one thing that people may not know about your job?
I think with social media etc, most of the job is well advertised. However, one aspect less covered is the camaraderie and with the meeting of new people.
The pressures and the way of life onboard lend themselves to real and lasting friendships, even if short, but it is by far one of the most rewarding parts of the job that is rarely advertised.
---
Tags