International
High stakes – The human consequences of Mediterranean migrant rescue on seafarers
9 August 2019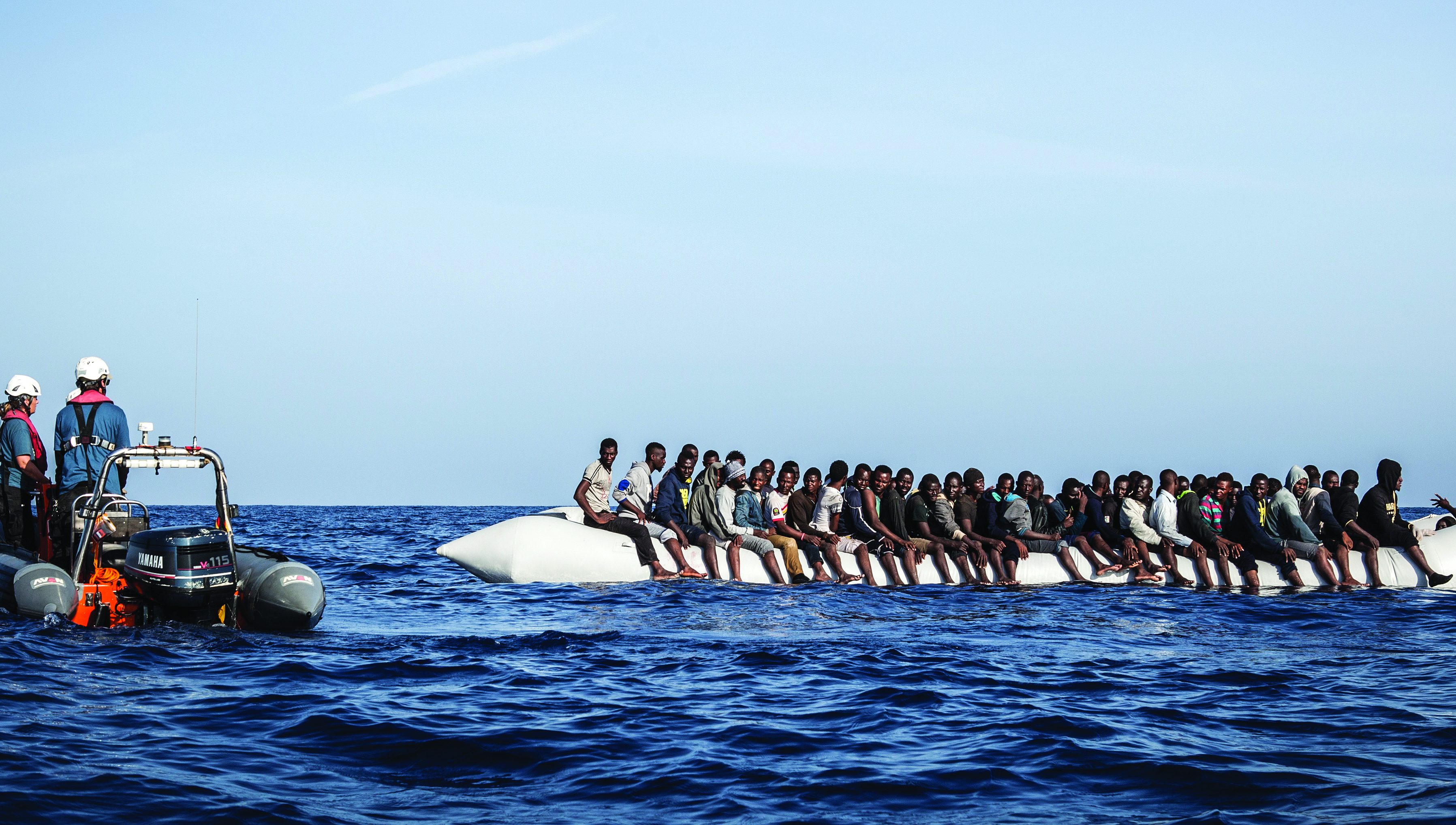 Rescuing people in distress at sea comes naturally to seafarers. But Italy has led a growing resistance and often outright hostility from port states to receiving rescued migrants – leaving seafarers caught in the middle. Felicity Landon looks at the impact on masters and everyone onboard
At the end of July 2019, up to 150 people attempting to make the dangerous sea crossing from Libya to Europe drowned when two boats capsized. It was just the latest in a series of tragedies on the Mediterranean.
The instinct and responsibility under international law of seafarers is to help wherever they can. And yet… there are stories of ships changing their course in the Mediterranean to avoid meeting refugees in distress; of ships turning off their AIS; of officers being instructed by their employers to 'look the other way' and find something important to do on the other side of the bridge; of masters who have done their heroic best later being penalised for changing track and delaying a voyage; and of extreme pressure on masters from shipowners, charterers or cargo owners to keep to time.
Last year Italy started to turn away rescue vessels bringing migrants into its ports. This year it fined rescuers who brought migrants into port without authorisation. Then it arrested Carola Rackete, captain of SeaWatch 3, after her vessel carrying rescued migrants docked at Lampedusa. The charges against Capt Rackete were subsequently dropped by Judge Alessandra Vella for being non-applicable, however the case shows that the stakes for sea rescue are getting higher.
Seafarers involved with migrant rescue can find themselves coping with the physical demands and psychological effects of rescuing and caring for hundreds of exhausted and traumatised migrants, in difficult and dangerous circumstances, with little support at the time or in the aftermath.
Human impact
Working on pipelines off the Libyan coast in January 2017, the Deep Vision received a call from Maritime Rescue Co-ordination Centre (MRCC) in Rome about a boat in distress. The situation escalated and Deep Vision, a subsea inspection, maintenance and repair (IMR) and survey vessel, ended up helping to rescue more than 900 migrants from nine boats over three days. Some had run out of fuel – others had no engines and had been towed out and left to drift.
Captain Jamie Wilson, a Nautilus member who was honoured with the Merchant Navy Medal for his part in the rescue, recalls the horrific situation in the first overloaded dinghy. There were 132 people on the boat, including two pregnant women. A rescue boat was launched, life jackets were distributed, and the migrants were eventually transferred to a French navy ship. The bodies of two children were found under a blanket.
'Obviously the law of the sea states that I must help – and of course I would always help,' Capt Wilson says. 'But there is also the safety and security of my ship to consider. We had about 70 marine and specialist crew onboard. If I had brought 132 additional people onto my vessel, how could I secure them on deck? How would we have fed them? We did have extra provisions and lifejackets but certainly not enough for more than 900 people in three days.'
The Deep Vision provided a lee for the boats and assisted with the transfer of the people to navy and humanitarian ships.
A lot happens in a concentrated period in such a situation, he notes. But an issue sometimes forgotten, and which he hadn't previously given much thought to, is the effect on the crew. 'I asked my rescue crew to take a boat and go across the open sea to the raft – we didn't know the situation there, whether the people were angry or injured or had weapons. It isn't until afterwards that you think about it all and have to deal with the emotion and how you pick yourself up from that.'
The crew didn't hesitate to perform extra duties; the stress, worry, nerves and extra workload were all put on the backburner while they did what was asked of them, says Capt Wilson.
'A big part of the master's role was trying to return the crew's attention back to "normal operations" whilst maintaining the highest focus on safety and security.'
This was not easy, he says. Morale was low, the extra workload had affected all, the rescue boat crews had had to deal with situations in each raft and the stress of the whole operation took its toll.
'The extra pressure on masters and on shipping companies from a hardening stance by EU states and possible refusal to accept migrants picked up on merchant ships cannot be overstated,' says Capt Wilson. 'But any master would say saving life at sea has to take priority over anything else.'
Eye-opener
Patrolling the Aegean looking for migrants in distress at sea has been an eye-opener for another Nautilus member, who wants to remain anonymous. He says: 'Those trying to cross the Aegean are generally from war-torn countries, primarily Syria and Afghanistan. These people have malnutrition, have had next to no healthcare, have endured horrible journeys.'
The government-run patrol boat is not allowed to approach migrants' boats unless they are deemed to be in distress. 'But what do you deem distress? You can look at a boat and say it's OK but know that in half an hour it likely will not be OK. We are talking about 80 to 90 people in boats designed for 20, with no lifejackets, babies onboard, and no one can swim – it only needs one rogue wave. They are in 40-degree heat, they have no cover and no water or supplies.'
He believes there needs to be collective, official advice rather than individual countries taking their own position over migrant rescue both in the Mediterranean and elsewhere.
'It should be clear: if you operate in this area where you are likely to come across this problem, this is what you need to do. No master wants to get arrested but also no master is going to not pick up people in distress.'
The 1979 International Convention on Maritime Search and Rescue (SAR Convention) defines the 'distress phase of emergency' as: "a situation wherein there is reasonable certainty that a person, a vessel or other craft is threatened by grave and imminent danger and requires immediate assistance". A master can face a situation where the 'grave and imminent' danger is not perfectly established, or not yet (in comparison to a situation where people are struggling in the water far from safety).
Nautilus director of legal services Charles Boyle says that discussions have taken place in recent years to try to define further 'distress at sea', for instance in International Maritime Organization (IMO) plenary meetings during Maritime Safety Committee (MSC) and Legal (LEG) committees, with no final conclusions regarding possible new parameters allowing a better measure of the distress.
'In practice, it appears that if the maritime expert (search and rescue authority or master) has "reasonable certainty" that "grave and imminent" danger exists and that "immediate assistance" is required, that must suffice', Mr Boyle says.

Be prepared: psychological impact on crew is huge
Ships that operate on well-known migration routes should be better equipped with life rafts, food, clothing and medical equipment, while masters and crew should be well prepared, including psychologically, says migrant rescue campaigner and photographer Judith Buethe. 'It is important to remember what a rescue operation is in terms of physical and mental exertion and the impact it has on the crew,' she says.
Ms Buethe, who has crewed several NGO rescue vessels, says all efforts by shipping companies and commercial vessels are 'very important and correct'. But, she says: 'That should not be a reason for politics to rest.'
Rules, agreements and regulations should not unsettle seafarers and limit them in their humanitarian action, she insists; they need to know there is external support in worst-case scenarios. 'Seafarers must – without many trains of thought – be able to intervene humanly and effectively and save lives.'
Albrecht Beck is managing director of Prepared International (PPI), a consultancy firm specialising in disaster management and preparedness. He agrees that ships need to be prepared and crew trained for this sort of situation. He suggests having blankets onboard, chemical toilets, simple food stocks such as rice, and a supply of medical equipment for basic coverage.
Dr Beck, who has also spent time onboard a rescue vessel in a support role in the Mediterranean, worries that 'bad behaviour' could be rewarded.
'Some companies are rerouting ships to avoid the zone, while other ships were called upon to support – but didn't and continued on their way. I can imagine the pressure on them from their bosses,' he says of his experience on the rescue vessel.
'On the other hand, we had many ships that did help. A large tanker from Thailand stayed for nearly three days and took onboard more than 1,000 people brought to them by different ships. They gave up their last drop of drinking water and had all these people on the deck. They brought blankets to give them shade and worked through the night to support them.
'For a tanker company, the loss from such an action is huge. The shipping companies that don't respond and don't care for the people will in the end be the winners on that route. There is a need for some form of insurance – you can quickly kill a good company if the ship isn't making money.'
Dr Beck is also concerned for captains who carry out rescues. 'By international law you have to help; but that is no security afterwards, against the repercussions that captains may have to go back to.'
Judith Buethe has been in the situation where a merchant vessel provided the only help and support for the NGO rescue boat and several hundred people onboard who it had rescued.
'Our capacity onboard was exhausted. The possibilities to bring people aboard the commercial ship were very difficult. We gradually brought people – with the help of a rope ladder – on to a tanker, including those who were injured, weakened or pregnant. In the end, they were well protected and supplied by the professional crew onboard until the support of a naval ship came, one day later.'
---
Tags