Europe's inland navigation industry is facing major challenges to get the investment it needs in a new generation of vessel crews and a modern, environment-friendly fleet, Nautilus Council members have heard…
Presenting his final report to the Nautilus Council on inland waterways transport (IWT), the Union's retiring international officer Nick Bramley said there is a mixed pattern of operations in the European sector – with freight levels being largely stagnant, while passenger cruises are booming.
The latest annual report from the Rhine Commission shows that inland waterways carry around 6% of European freight, and cargo volumes have been rising at an annual average of 1% over the past two decades – while passenger numbers soared by an average annual rate of 13% between 2012 and 2016. There are currently some 13,500 vessels in the European inland navigation freight fleet, with a total cargo capacity of 17m tonnes and employing around 30,000 people.
The river cruise fleet has more than doubled over the past 13 years. There are now 346 active vessels, with a total passenger capacity of more than 50,000, and 17 new boats entered the market last year. The number of jobs on cruise vessels has increased to almost 14,000. Operators are reporting skill shortages in some parts of the industry, and inland navigation is also facing the problems posed by an ageing workforce – with 38% to 41% of qualified crew members in key countries such as the Netherlands, Germany and Belgium aged over 50.
There have been attempts to tackle these issues by making the industry more attractive to young people, and new entrant numbers rose in the Netherlands, Romania, the Czech Republic and Serbia between 2009 and 2015. Nautilus has been involved in these initiatives, and in discussions on new qualifications and clearer rules on work and rest times.
'The fleet itself is under-funded and getting older, with around 50% of vessels being over 50 years old and 15% being more than 75,' Mr Bramley continued. New tonnage – with greener propulsion systems – is urgently needed if IWT is to keep an environmental edge over road transport. Only nine of the 187 new vessels built between 2014 and 2016 meet the emission performance standards that are being introduced in 2019 for new engines.
Inland navigation is also facing the problems posed by an ageing workforce – with 38% to 41% of qualified crew members in key countries such as the Netherlands, Germany and Belgium aged over 50. Nautilus retiring international officer Nick Bramley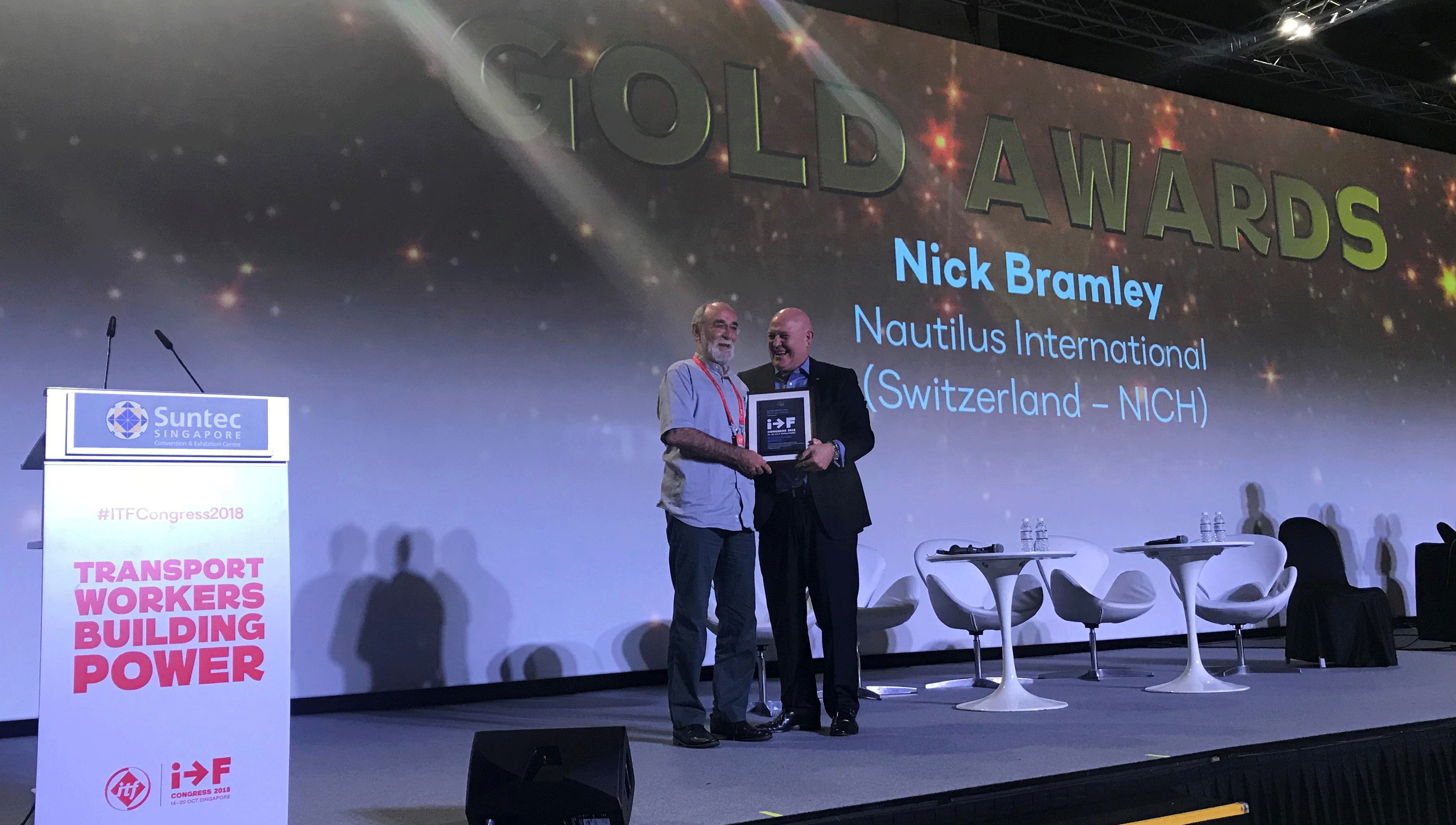 Mr Bramley reported to the October 2018 Council meeting that Nautilus had recently been involved in discussions over the potential for autonomous inland waterway vessels, and the European Transport Workers' Federation had organised a seminar to assess the issues.
'The development of automation will be complicated, not least due to the complex regulatory systems,' he noted. 'Higher levels of automation are probably beyond the resources of the mass of owners.
'There is a widespread assumption that the removal of the human error factor under automation will make shipping safer,' he added, 'although there is little or no research on this. The reduction of remaining crew members to the role of mere observer could even create new hazards, and the nature of IWT, with high traffic density on rivers with varying water levels and currents, would require a dense network of onshore equipment.
'As in maritime transport, automation raises legal questions on issues such as liability, life-saving, and certification,' Mr Bramley pointed out. 'And considering the small numbers of crew members on inland waterway vessels – usually between two and five per barge – large-scale reductions could bring social problems and reduce the attractiveness of the profession.'
Concluding his report, Mr Bramley said that Nautilus is working to increase Union membership in the sector, but there are major obstacles to this. It is hard to secure collective bargaining agreements because so many companies are small, he said, and up to 80% of the vessels are run by owner-operators.
---
Tags