Health and safety
International health service – a new edition of the Ship Captain's Medical Guide
16 October 2019
The iconic Ship Captain's Medical Guide has had its first major overhaul for 20 years. Andrew Linington finds out how advances in technology influenced the 'complete rewrite' needed for the 23rd edition
If you think seafaring is dangerous today, spare a thought for those at sea 150 years ago. In 1869 a total of 1,460 British seafarers died as a result of disease, 2,839 by drowning, 277 in accidents and 256 by other causes.

Today, one of the initiatives launched by Victorian social reformers in a bid to cut these shocking statistics is not only still with us but is now being relaunched. The 23rd edition of the Ship Captain's Medical Guide has just been published, with its radically revised content reflecting the latest advances in treatment and care.
The original publication – written by Dr Harry Leach, resident medical officer on the Dreadnought hospital ship and inspector of lime and lemon juice for the Port of London – first appeared in 1868 and aimed to reinforce requirements introduced in the 1867 Merchant Shipping Act for British ships to carry a defined set of medicines and medical supplies.

Seeking to help shipmasters recognise, diagnose and treat sick or injured crew members, its carriage was – and continues to be – required on UK ships, and it also went on to become a course textbook for officers being trained in first aid and medical care.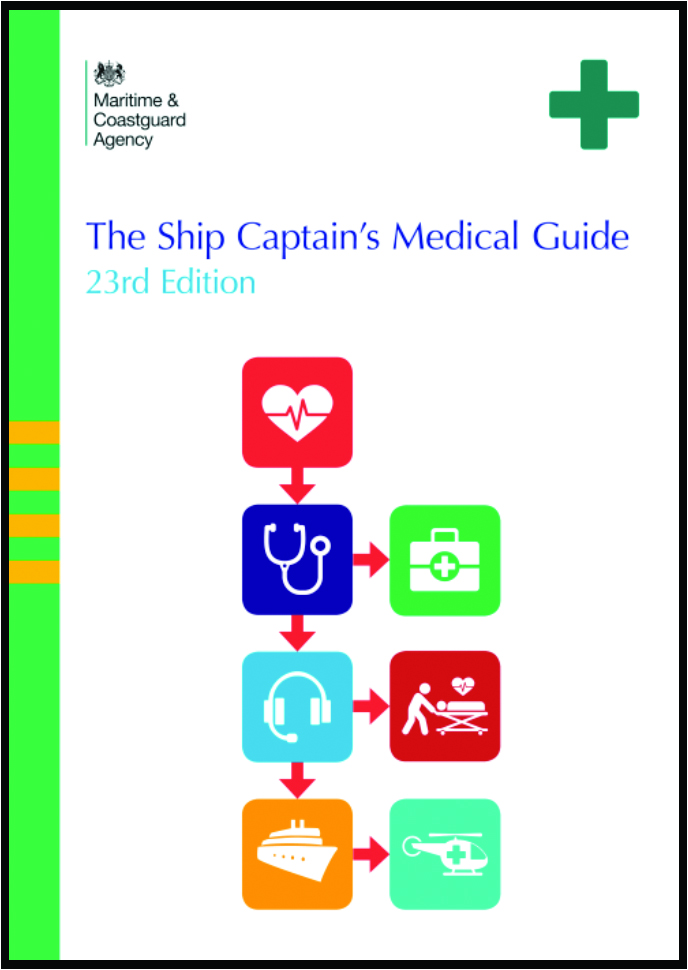 Since its first edition – which ran to just over 90 pages and included advice on such things as scurvy, fish-poisoning, ague, arsenic and 'excessive drunkenness' – the Guide has undergone regular updates to keep pace with the latest medical best practice, as well as developments in the understanding of disease, new medicines and treatments, and access to radio-medical advice.

The new book is described as a complete rewrite from the previous edition, which was published in 1999. The revolution in global communications over the past 20 years has driven some sweeping changes in the contents of the Guide.
'Telemedical advice is usually available almost instantaneously, from anywhere in the world,' say the Guide's authors, intensive care consultant Dr Spike Briggs, former Maritime & Coastguard Agency chief medical adviser Dr Tim Carter, and Colonel Dr Katharine Hartington of the Royal Army Medical Corps.
'Images and medical test results can be sent to shore-based medical advisors with minimal delay,' they point out. 'Video consultations are routine ashore, and part of mainstream medicine. While not routinely available at sea, where available, the ability for the doctor to see and talk to the casualty in real time essentially improves understanding of the clinical situation, and thus better informs the decision process.'
The original Ship Captain's Medical Guide was written by Dr Harry Leach, medical officer and inspector of lime and lemon juice for the Port of London
The new edition also mirrors recent advances in medical technology. 'The capability for "point-of-care" testing has essentially changed how medicine is practised, from the bedside in the most technical intensive care unit to the remotest place on earth,' the authors note.
'Vital signs can be measured with remarkable accuracy, and tests and examinations performed on a casualty to a level previously not possible. All this objective clinical information better guides the process of making diagnoses, and thus formulating more effective treatments.'
Another key element has been the advanced life support and advanced trauma life support emergency treatment algorithms developed in the 1980s and 1990s. These introduced a structured way of delivering care in emergency clinical situations, and the concept has been extended to many other areas of emergency medical and trauma conditions, as well as more routine medical conditions.

'A structured approach gives the non-medical professional clear guidance on recognising serious clinical situations (using "red flags"), the required immediate actions, and when to call for advice,' the authors note.
Other significant changes include a more diagrammatic presentation, with the emphasis on a condensed summary of evaluation and treatment. The new Guide features:
flow charts to aid evaluation and treatment
incorporation of 'red flags' to aid identification of potentially life-threatening conditions
clear, authoritative advice and easy-to-follow guidance
step-by-step illustrations to explain emergency procedures
cross-references to further detail
anatomical illustrations.
Now running to 332 pages, the book is divided into six parts, with the first four covering emergency care, trauma, medical disorders and medical procedures. In each of these chapters, users can consult a flow chart for a condensed summary of evaluation and treatment. The remainder of the chapter expands on this outline, further explaining what to look for in an examination, giving hints on prevention, and describing the features of specific injuries and treatments.
Part 5 provides useful reference material such as the structure and function of the body, record-keeping and continuing care.
The final chapter, Appendices, contains essentials such as evacuation by helicopter or boat, transporting a casualty and a medicines guide. The Telemedical Maritime Assistance Service (TMAS) medical report form is provided on the front flyleaf, while the antibiotics and pain relief guides are on the back flyleaves.
Around 20 people in total worked on the new edition, with work on the project overseen by a user review group of industry professionals and stakeholders – including David Appleton and Allan Graveson from Nautilus International – who provided technical advice and practical guidance to MCA, the authors and TSO.

The review group also included representatives from shipping companies, the fishing and workboat sectors, and the RMT union, as well MCA chief medical adviser Dr Sally Bell and seafarer safety and health manager Julie Carlton.
'It has taken around two and a half years to put the new edition together,' says David Bryan, from TSO. 'It's an iconic book, so it was a privilege to be involved. We're very grateful to all those who contributed and are delighted with the end results.'
---
Tags