Members at work
Mentoring is close to the heart of tallships sail training master Carolyn Vincent
6 March 2020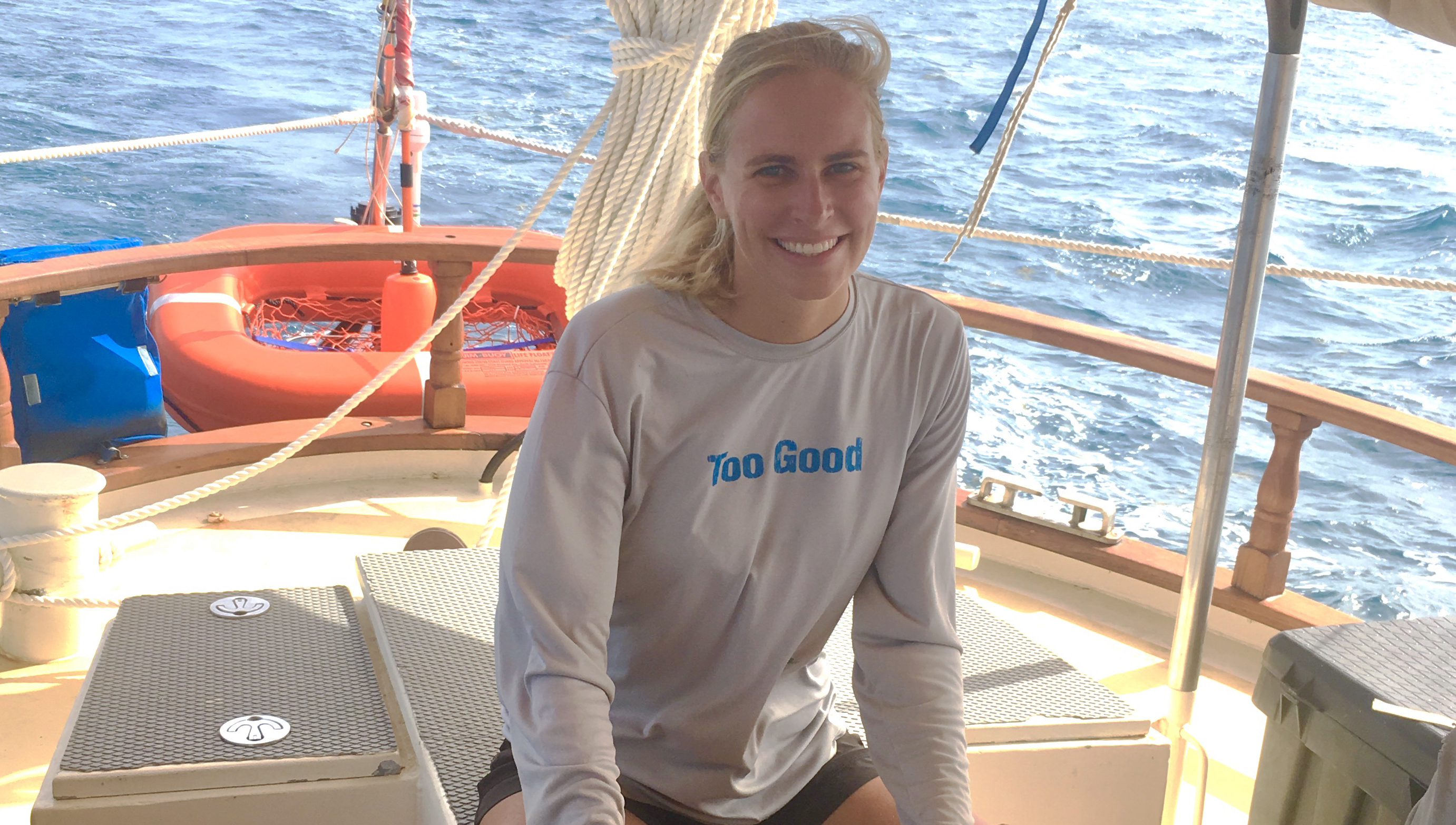 Tallships master and engineer Carolyn Vincent must be prepared to take on multiple roles in her sail training job, and believes mentoring is key to retaining women at sea
What is a typical day in your job?
It truly depends on the day. Some days I am planning our next passage, dealing with customs and trying to repair a broken system in the engine room. Other days, I am hiking up a volcano with our students while explaining meteorology concepts such as the reasoning behind the clouds at the summit
Currently I am a captain/engineer of an 88ft schooner owned and run by a university study abroad programme.
Students come on board for three months at a time as trainee crew and are involved in every aspect of running the vessel and shipboard life as well as taking university courses. We sail with a relatively small number of professional crew and because the broad scope of roles needed by these vessels, every professional crewmember has multiple roles.
In addition to being captain, I am also an instructor of their Seamanship Course and the MedPIC onboard.
Why did you choose a career at sea?
I just fell into it really. I needed a summer job before I started university and ran into an old friend. He was running one of the classic 12M sailboats in Newport and offered to introduce me to other captains who still needed crew for the summer. I had no idea how to sail and learned through trial by fire. After finishing university, what had been a fun summer job turned into a more serious pursuit.
I originally went to university for a bachelor's degree in International Relations and, despite my dad's constant insistence that I should keep track of my sea time, I was convinced I would never continue sailing or working on the water past my university years. A year later, I had my US Coast Guard (USCG) 100ton and was skipper of a 50ft sailing vessel.
Tell us some of your career highlights so far – and challenges
I currently work in the sail training sector but have worked on super yachts and even on a few car and passenger ferries while trying to build up sea time.
Highlights included mentoring female students and convincing them they were in fact just as capable as their peers despite their smaller size, 'weaker muscles' or lack of previous experience doing hands on things.
Proving to them that they could think a way around any situation they didn't feel physically capable of doing and catch up on any lack of experience their peers had gained fixing cars or messing around with boats as kids.
On one particular watch team sailing across the Indian Ocean, I had four women who were so determined to get good at helming that on a particularly difficult night with massive following seas and the wind directly behind us, I trusted them to helm when only professional crew had helmed on the other watch teams and they steered as good a course as I could have. Watching some of these students go on to get their captain's licenses and pursue their own career on deck and getting to work alongside them has made me so proud.
For a long time, the biggest challenge I faced was not knowing other women working on deck, especially in leadership roles, and not having anyone to discuss my experiences or any difficulties with. The guys I worked with were great, but clearly saw me as not quite one of them and the women I knew in service equally saw me as different. It felt surprisingly lonely.
It was also frustrating to watch women get promoted less quickly than their male counterparts because they did not oversell their experience, knowledge and training the way the guys did. I saw women not being considered for jobs not just 'due to cabin arrangements', but because they didn't boast of their abilities the way their male counterparts did.
The sailing industry has traditionally been very male dominated and although this culture is changing, a lot of women are still raised to be cautious, humble, detail oriented, perfectionist and only to take on roles they are one hundred percent ready for, while guys are constantly encouraged to take risks.
Once you've been in the industry for a while you realise wherever you go there are small communities of yachties or cruisers that hang out together and help each other out. It's cool to have similar minded people wherever you go and quickly discovering all your common connections Carolyn Vincent, tallships master
How can women be made to feel welcome and retained once they are there?
Mentorship is important. I have a large network of mentors in various sectors of the maritime industry. They have advised me, encouraged me and helped me in any way they could but none of them could speak to having constant assumptions made about them or how to get people to realise their own unconscious bias. Representation matters. It is hard to be inspired to be by someone you've never met or someone you've never seen. I think this applies to all minorities in the industry.
What are the best things about your job?
I love the tight knit communities that some crews form, and the way individuals are drawn together by the need to depend on each other. I enjoy the constantly changing conditions and need to be resourceful and able to react quickly.
Would you recommend seafaring as a career?
Absolutely. It can be hard to be away from friends and family but there is so much to gain in experiencing such a different way of life.
I absolutely love living and working out on the water, but I can also see myself moving back ashore. Either way I am sure I will always have a strong connection with the sea.
Tell us one thing that people may not know about your job
There are communities of each sector of the maritime industry all over the world. Once you've been in the industry for a while you realise wherever you go there are small communities of yachties or cruisers that hang out together and help each other out. It's cool to have similar minded people wherever you go and quickly discovering all your common connections.
---
Tags