Members at work
First officer Pip Whalley is proud to be helping develop the world's energy resources
6 March 2020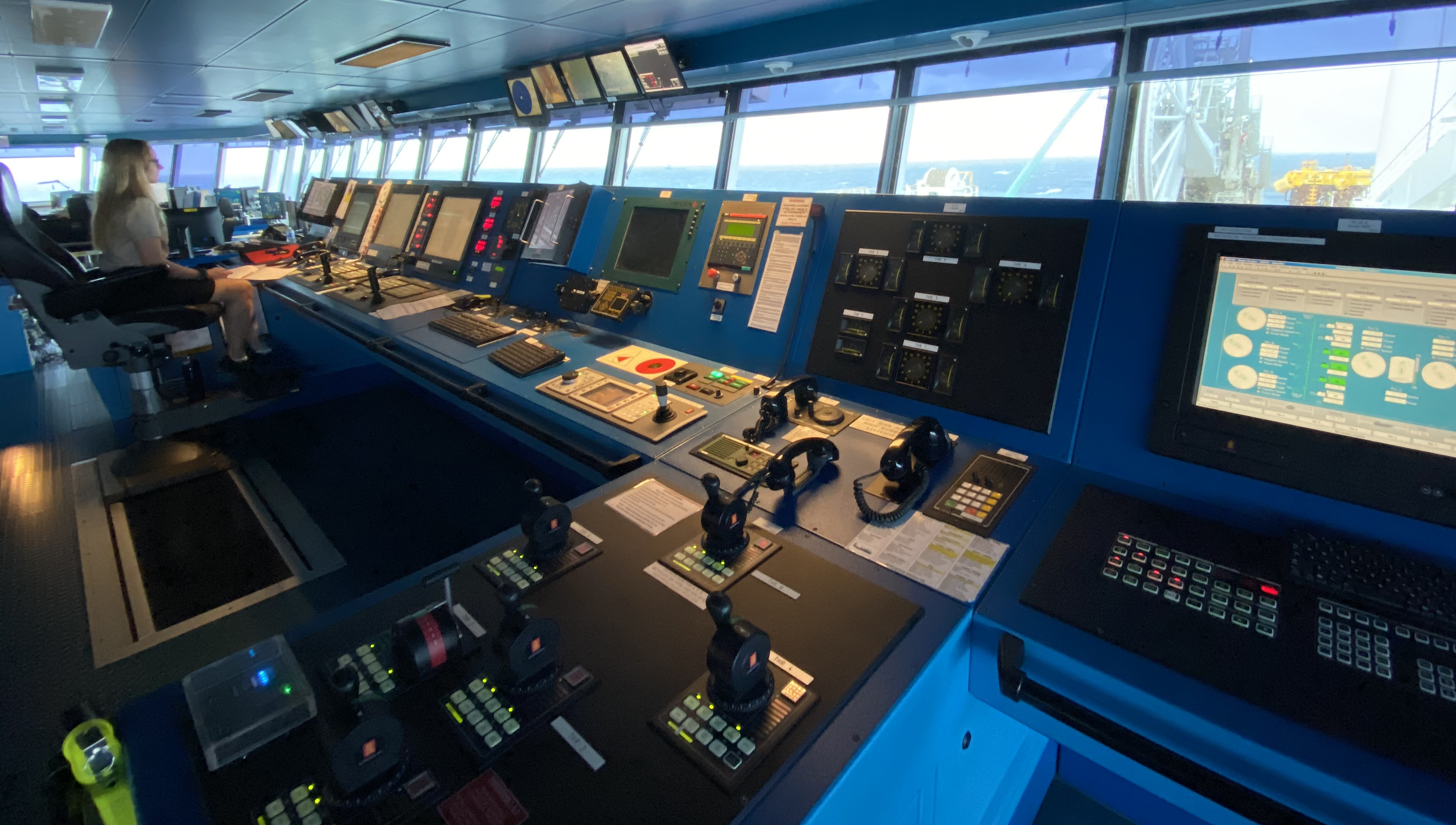 First officer and senior dynamic positioning officer Pip Whalley has spent 11 years at sea and currently works in the offshore sector on diving support and rigid pipelay vessels. She is proud to be helping the development of the world's energy resources. She enjoys shining a light on her career at sea for the 'seablind' and has her sights on becoming a master.
What is a typical day in your job?
My usual day is from 12:00hrs until 24:00hrs. When I come on watch after checking the equipment, I take over from the chief officer. During the watch myself and the second officer DPO take it in turns to position the vessel as per requirements for diving or pipelay. We work as part of a team with the other technical departments to complete the required work scope. There is a lot of interaction and communications during the critical operations of installing, repairing or improving subsea assets and structures.
Why did you choose a career at sea?
I have always been fascinated by stories my dad would tell me of his time at sea as a marine engineer. I had never really considered doing anything else and always knew that one day I would work on ships like he had done.
After leaving school I continued to college to study A-Levels in various subjects that I liked. When the time came to apply to universities I knew that that's not where I wanted to go. Instead I began to research a life at sea and found the course and attended an open day at Fleetwood Nautical Campus. After meeting various companies, I started applying for sponsorship. The following year when I had completed my A-levels I attended Fleetwood college.
Tell us some of your career highlights so far – and challenges
Working in different countries on different projects on specialist ships has both been a highlight and a challenge. Each job that we do is different and has its own challenging aspects, from these experiences I have an insight to a world that most people don't realise exist. I have enjoyed working in various areas particularly West Africa – unlike vessels passing through we get to see what's really below the water and the fantastic marine life that's there. Whether this is through the camera on a diver's hat or from a Remote Operated Vessel (ROV). Although the main highlight is moving through the ranks and progressing my career.
I have always been made to feel very welcome. Onboard it's like working with one big family and being female has never made any difference to the way I have been treated. We are all here to work as a team and that's what we do. Occasionally we have other women onboard which is always nice.
My job is much more than just navigation which I love. We are improving subsea infrastructure and each project is something different Pip Whalley, first officer
How can women be made to feel welcome and retained in a career at sea?
All I ever wanted was to be included and treated the same as the boys. I am no different to them, we do the same job, for the same reasons. Being made to feel welcome, part of the team and no different to the others is a contributing factor to why I'm still at sea 11 years later.
What are the best things about your job?
Learning new things and the fact that every day is different. My job is much more than just navigation which I love. We are improving subsea infrastructure and each project is something different. I've travelled the world but that is why people go to sea.
Would you recommend seafaring as a career?
Of course! I know it's not something for everyone but if you have a passion for travel and experiencing new things then yes! And a liking for ships is a given.
Ultimately, I want to become a master on the types of vessel I currently work on. I am working my way to my dream. I love being at sea and really appreciate the time that I get to spend at home which is my time to see family, friends and other parts of the world that I've not yet visited by sea.
Tell us one thing that people may not know about your job
People know very little about the Merchant Navy and the opportunities it offers. People tend to think Royal Navy and don't realise the wide variety of merchant vessels and what they do. There is more to this industry than moving from port to port delivering cargo and passengers. I am part of the development of the world's energy resources, people take it for granted that they can turn on a switch and a light will come on or they fill their car with fuel without appreciating where it all began.
---
Tags