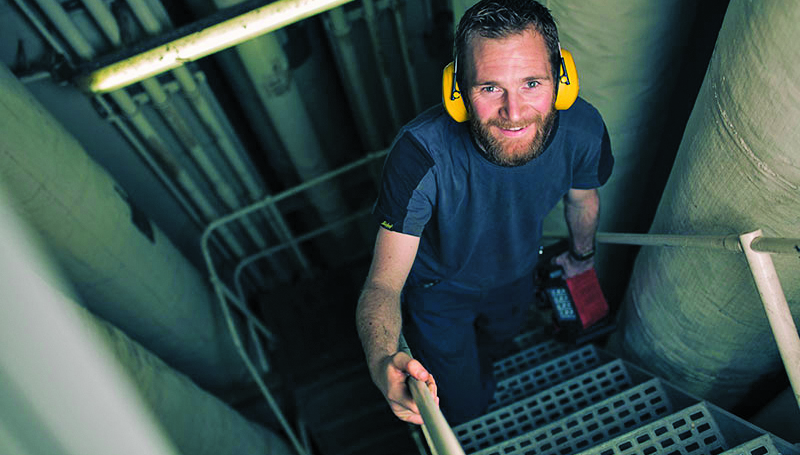 Ahead of International Day of the Seafarer on 25 June 2020, Nautilus talked to 31-year-old HVAC Technician Ruben Galama, who comes from a Dutch seafaring and nursing family, a combination that led him to work with Mercy Ships. His mother is a nurse, his Nautilus member father is a chief engineer with Holland America Line and his sister works with the same line as a deck officer
Ruben Galama began work as a design engineer in the Netherlands. He started with Mercy Ships as a storesman in 2016 before getting additional heating, ventilation and air conditioning (HVAC) training through Mercy Ships and in the UK. Currently he serves as an HVAC technician within the hotel engineering department on the hospital ship Africa Mercy.
'I first heard about Mercy Ships through my former boss, who had served on the Anastasis for two years,' Mr Galama said. 'He talked about his adventures onboard.
'Also, a colleague of my mother is a nurse and served on the Africa Mercy a number of times. I followed her blog and read her experiences.'
Mr Galama considered following in his father's footsteps by going to the maritime academy but at the time was put off by the focus on maritime officer (deck and engineering combined), being more interested in pure engineering. So instead he chose mechanical engineering as an educational direction.
On Africa Mercy, Mr Galama works to keep the ship running and is often called in to help maintain some of the medical equipment as well.
'Originally I signed up for one year… that was three and a half years ago! I don't have any medical skills myself, but I do have the skills to help keep the ship operational and the hospital running so patients can get the treatment they need,' Mr Galama said.
'Everyone onboard can contribute towards bringing hope and healing to those without access to surgical care. Even though I am not directly involved with the patients, we are all a part of the team that makes this happen. It's rewarding to be able to use my technical skills to make a real difference. And a bonus is that I met my wife Silke with Mercy Ships!'
Hailng from Germany, Silke served as a nurse anaesthetist onboard and now manages quality control in the hospital.
Together, the Galamas have teamed up to bring together the unique model of healthcare and maritime skills as they share a passion to make a difference to those in need.
---
Tags