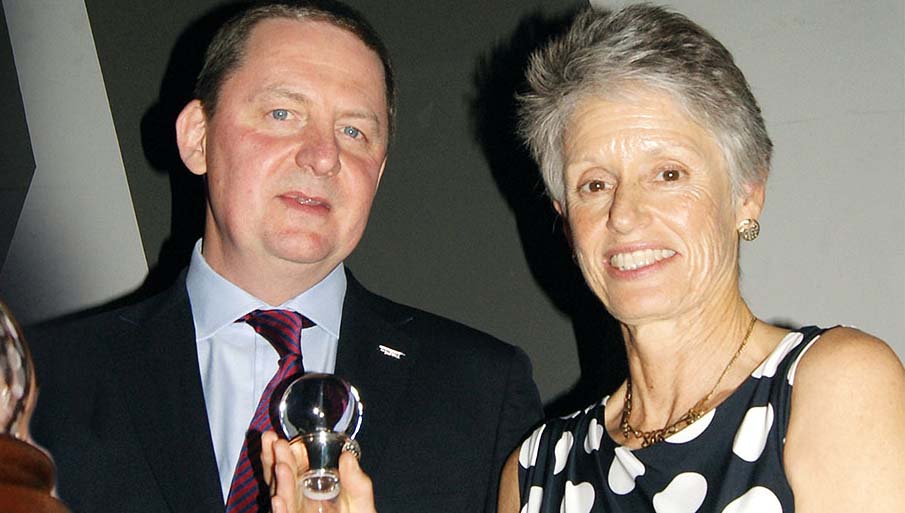 An unusual and distinguished maritime career is coming to an end with the retirement of Captain Barbara Campbell of the Jubilee Sailing Trust. ANDREW LININGTON heard about the highlights of her four decades at sea…
Almost 43 years to the day since she joined her first vessel in London's Royal Albert Docks – the P&O refrigerated cargoship Tekoa – Nautilus member Captain Barbara Campbell completed her final voyage as master in November 2018.
Capt Campbell's achievements have been lauded numerous times – notably with the presentation of the Nautilus Victoria Drummond Award in 2015, receiving the Merchant Navy Medal in 2007, and by being invited to become a Younger Brother of Trinity House in 2005 in recognition of her knowledge and expertise in square rig sailing and sail training. But not everyone knows she was a trailblazer from the start, beginning her career as one of P&O's first three female cadets in 1975.
'I had done a lot of dinghy sailing as a child and really fancied going to sea,' she recalls. 'The Royal Navy didn't have women at sea then, but I heard that some merchant shipping companies were taking on women, and I applied and was accepted by P&O.'
Although women at sea were relatively rare at that time, Capt Campbell says she suffered relatively little sexist treatment. 'I have never really thought of myself as a pioneer – although I sometimes look back and think, crikey, we really were,' she adds.
'It must have been a shock for the guys on the ships when the first women arrived, but I can only remember one or two occasions when there was a captain or chief officer who didn't like women at sea, and I got a lot of support when I was a cadet and junior officer.
'When I was at college, I never thought I would become a captain, and I'm not sure that other people thought that we would progress through the ranks,' Capt Campbell says. 'I thought I could do more, but the perception was that women would not stay at sea or be able to give men orders.'
By the time she finished her cadetship, P&O's cargo fleet was rapidly contracting - so she started off as a third officer in the cruise fleet. She served on cruiseships for the next seven years, gaining her master's certificate in 1986 before moving to P&O Scottish Ferries at the end of 1987 to serve on the Northern Isles route.
I learned from every ship I sailed on, but the Jubilee Sailing Trust has really been something special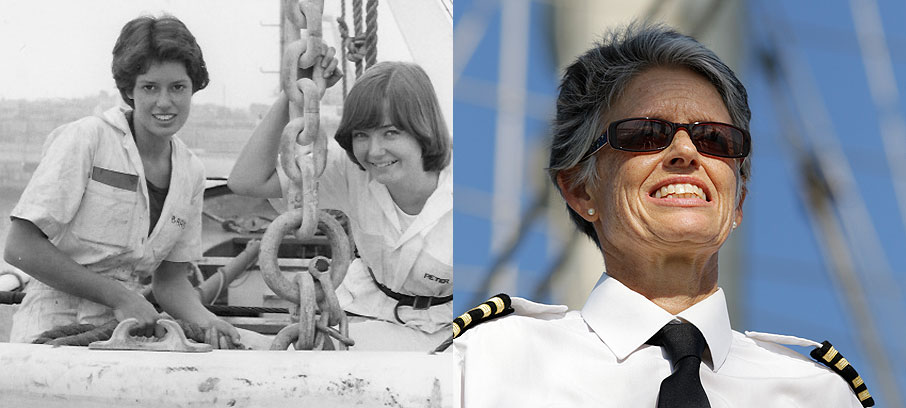 'My husband, Chris, was working for Caledonian MacBrayne and I wanted to be closer to home,' Capt Campbell explains. 'There was lots of leave – two weeks on, two weeks off – and it was in this time that I started doing some trips as a volunteer on the Sail Training Association (STA) vessels Malcolm Miller and Winston Churchill.'
Bitten by the tall ship bug, she became increasingly involved – even taking unpaid leave to serve on the sail training ships. 'I had enjoyed my time on the cruiseships and learned a lot there, and despite some of the weather on the Orkney-Shetland service I had a good time, with a great crowd of people on the ships,' she recalls. 'But the tall ships were something completely different – much more than a job, more a way of life.'
After seven years with P&O Scottish Ferries, Capt Campbell moved from volunteer work on sail training ships to a full-time job as mate. She got her first command on Malcolm Miller in 1999 and spent four years as a captain with the STA, also serving on Stavros S Niarchos and Prince William before moving to the Jubilee Sailing Trust (JST).
Working on the JST vessels Lord Nelson and Tenacious has been a marvellous experience, she says. 'The vessels aim to integrate people with disabilities into the crew and are built to enable them to join in as much as they can. On every voyage, up to half the people onboard will have physical disabilities, but everyone joins in. They get to do all sorts of things – steering the ship, helping to set the sails, keeping watches day and night, scrubbing the decks, and climbing the rigging with assistance from the permanent crew, no matter what their disability. Some of the crews are really dedicated, and on every trip you see amazing sights of people who achieve so much with their disabilities.'
Capt Campbell says it is hard to pick highlights from such a long career – although she does admit that being part of the Lord Nelson's round-the-world voyage between 2012 and 2014 stands out. 'It was a massive undertaking at the time and was quite challenging in many aspects. We had some amazing sailing – sometimes at speeds in excess of 13 knots – and Lord Nelson was a great workhorse, ploughing through 60-knot winds and everything.'
That voyage also reinforced her love of the sea. 'When you sail across an open ocean and don't see any land or any other ships for day after day, averaging five or six knots, you realise just how big the world is.'
Capt Campbell clocked up some 25,700nm in the various legs of Lord Nelson's circumnavigation that she participated in. 'I sometimes wish that I had calculated how many miles I have sailed in total,' she adds, 'but when you look back you see all the highlights within the highlights.'
There was one last highlight before she signed off, however. Lord Nelson and Tenacious spent a week racing each other around the UK in the first 'Battle of Barques' for three years. 'It was such fun,' she reflects, 'and it really brought home to me just what our ships do.' It was also rather good to finish as the winning ship she adds.
Capt Campbell has also enjoyed passing her skills on to a new generation of seafarers. 'We nearly always have a cadet onboard, and have lots of cadets from Chiltern, Clyde Marine and Trinity House,' she notes. 'I think all MN cadets should have the opportunity to do a trip with us – they learn so much. It's completely different from an enclosed bridge; you are outside regardless of the weather and develop a much better sense of awareness as a result.'
Retirement is a wrench, she admits. 'This has been a job that is pretty hard to give up, but at some stage everybody has to. I learned from every ship I sailed on, but I certainly don't think I would still have been at sea if I hadn't joined the JST - it's really been something special.'
However, Capt Campbell won't be getting bored. 'I am looking forward to doing all the various things that I haven't had time for in the past. I'm pretty active, and enjoy things like cycling and yoga.' And she won't be leaving the water anytime soon. All those years after sailing a Mirror dinghy on a reservoir inspired her interest in going to sea, she's still to be seen off the west coast of Scotland in a sea kayak.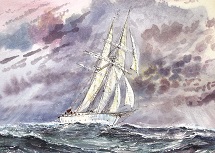 Tall ships flagship appeal
Nautilus is supporting the Tall Ships Youth Trust new flagship appeal - which was launched at St James's Palace in 2018 at an event hosted by the charity's patron The Duke of York.
The appeal aims to raise funds for the purchase of a new flagship vessel - akin to the Schooners, which will double the Trust's voyage training capacity.
As the UK's oldest and largest sail training charity, it is estimated that, in total, the Trust has helped 117,000 beneficiaries and sailed more than 2 million nautical miles, enough to go around the world nearly one hundred times. Its current fleet includes four Challenger yachts, a catamaran and a ketch which all provide a safe, physically and mentally challenging setting for people of all ages and abilities.
for more information on the Tall Ships Youth Trust and to find out how to get involved as a donor or fundraiser, please follow the Get involved or donate links below.
donations to the appeal can also be sent to the Tall Ships Youth Trust, 2a The Hard, Portsmouth PO1 3PT or text TSYT01 £5 to 70070 (the donation will be added to your phone bill).
Get involved or donate
---
Tags