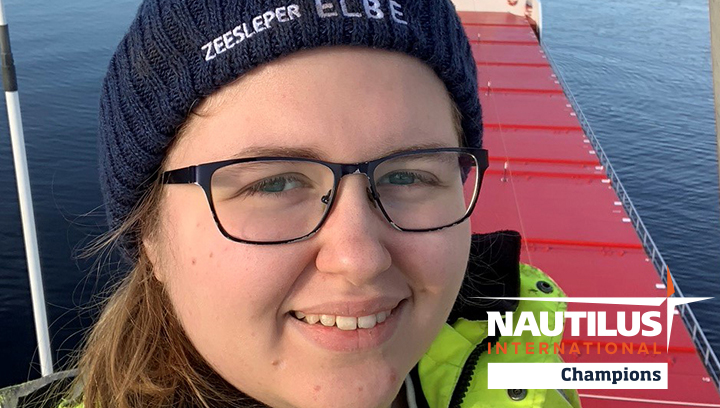 Following in her father's footsteps, Dutch cadet Petra van den Corput finds her second family on deck and in the engine room, which makes the sacrifices and hard work at sea seem like fun
What is a typical day in your job?
It depends on whether I'm in the engine room or on deck. On deck at sea I usually do my watch (with the captain and chief officer on standby if I need them) in the morning and again in the evening. In port it depends on the port, is it a 24-hrs port? Then same watches as at sea. Is it a working day port? Then it's usually the working day unless worked in the night.
In the engine room I'm on watch from 08:00 hrs-17:00 hrs along with the chief engineer and then afterwards I'm on call if something happens, and the weekends are free unless we have business in port.
Why did you choose a career at sea?
My father was an AB on seagoing tugs, but he never really shared anything. When I was in high school I had to make a decision on what to do with my life within a year and I did a career choice test, my result was to look into a career on sea. I went to the closest maritime academy and I fell in love with the maritime officer study and the rest is history.
Tell us some of your career highlights – and challenges – so far

Oof highlights? Well, there are a lot of them. One of my favourites is the regular karaoke night on Saturday evening that I participate in when I'm in the engine room. Another one is my watch in the morning from 04:00 hrs-08:00 hrs, I can play whatever music I want without disturbing anyone on whatever volume I like and nobody will see my terrible dancing skills!
The biggest challenge is getting the ABs to let me work, they have no trouble taking orders from me or letting me put them to work, but when I want to help them they keep sending me away or taking my job out of my hands.
What are the best things about your job?
The beautiful views and the fact you have a second family on board; you're never alone and can always talk to someone if you need to. You also learn a lot about yourself and keep improving your knowledge and skills.
Would you recommend seafaring as a career?
No. Seafaring is not a career, it's a lifestyle. You give up a lot when going to sea for a period of time, sometimes without being able to contact people at home. Along with all the sacrifices comes hard work and not everybody realises that, you're at your job 24/7 and you have to be able to handle it mentally and physically.
I love my future job, I really do. But there are a lot of people I know who think differently and are only in this for the promise of money.
Tell us one thing that people may not know about your job?
It's so much fun!
---
Tags