Health and safety
Quenching flames with knowledge – a chief engineer's mission to improve CO2 firefighting training
31 May 2019

CO2 is an important weapon for fighting fires onboard ship, but only if used correctly. Andrew Draper speaks to a chief engineer and union chief whose experience has led him to campaign for better training and clearer instructions
Investigation of a major fire on the Wallenius car carrier Mignon in April 2018 has led to new thinking on how to tackle onboard fires — but has also exposed a lack of awareness about the use of CO2 in firefighting.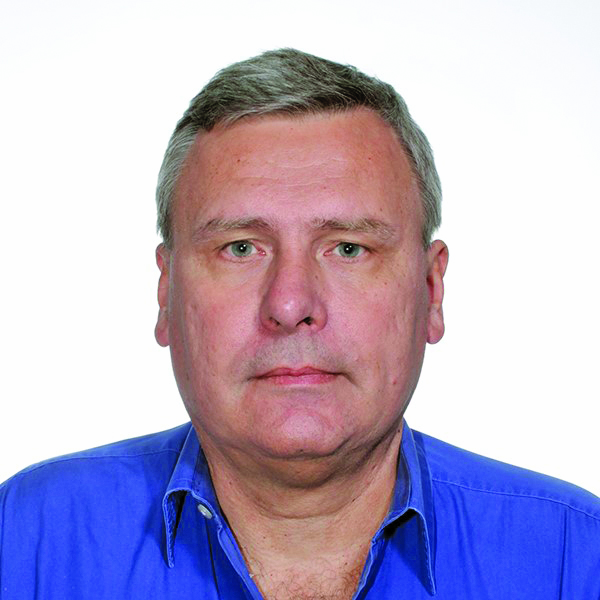 Mats Högblom, chair of Swedish officers' union SBF and the chief engineer in charge of tackling the blaze, recommends using CO2 as an early measure – not the last resort – avoiding smoke diving right away and introducing better training for officers in the use of CO2 to fight fires.
He says unclear manufacturers' instructions in the use of the CO2 system resulted in a significant delay in the release of CO2 onboard Mignon.
Mr Högblom told the Telegraph that very few officers have experience of using CO2 to tackle fires onboard ships and attendance on training courses is not as high as it should be. During Mignon's 18-year lifetime, this was the first time the CO2 system had been used to tackle a blaze.
The fire, which occurred in the South China Sea near the Philippines, resulted in fire or smoke damage to more than 500 cars and structural/electrical damage to the vessel on three decks. Almost 700 sq m of steel had to be replaced during subsequent yard repairs.
The Swedish Accident Investigation Authority report stated the fire likely sparked in a starter motor in a second-hand car. Following the incident, Wallenius installed a new central fire alarm and work was initiated to review checklists for dealing with emergency situations.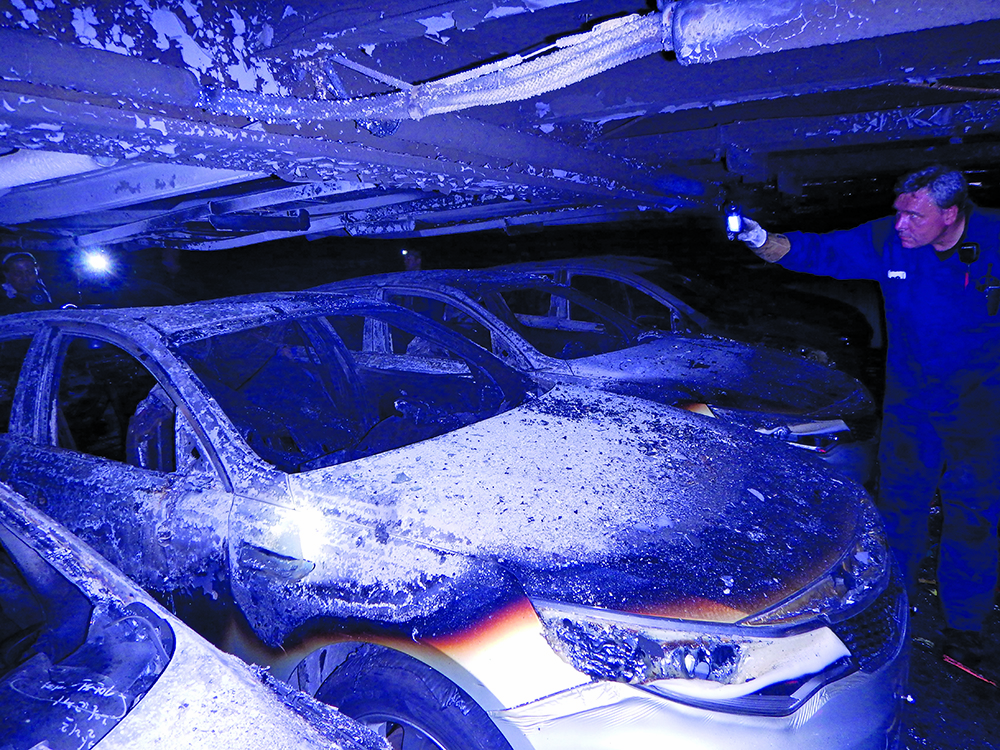 Mr Högblom joined Wallenius Wilhelmsen Ocean from Atlantic Container Line nine years ago. Wallenius cargo is predominantly ro-ro, and motor vehicles are secured with far more lashing ropes and chains than on other types of cargo vessel – creating potential tripping hazards, especially in poor visibility.
This increases the risk to officers sent in to tackle the fires. 'Imagine entering the deck when it's full of smoke with smoke-diving gear and pressure hose. It's out of the question,' Mr Högblom says.
Conventional thinking among educators is that CO2 should be used as a last resort. Mats Högblom argues that delays in using it means a fire can escalate unnecessarily
On the day of the Mignon blaze, an investigation team was sent to check out the fire discovered on the first deck of the vessel. When Mr Högblom entered the smoke-filled deck, he was confronted with thick smoke and explosions – probably from car tyres and air bags going off – and very poor visibility.
Naturally, adrenalin was pumping, and any officer regardless of experience would be highly anxious about such an operation.
The cars were burning in a cargo hold 84m from the normal access point, which would have required 100m of fire pressure hose. Mr Högblom says the safety risk was too high: 'Professional firefighters wouldn't enter such a place with such a deep entrance'. He decided to activate the CO2 system, once the investigators had confirmed they were clear of the area.
Conventional thinking among educators is that CO2 should be used as a last resort. Mr Högblom argues that delays in using it means a fire can escalate unnecessarily. 'For me, CO2 applies as a first resort!'
Swedish-flagged Mignon has two CO2 tanks holding 52 tonnes of gas. The cargo hold is divided into four sections, each with its own valve. On activation, the high-pressure gas releases quickly before being shut off automatically after 15 minutes. It reduces the oxygen levels to around 13%, puts the fire out and leaves no mess (unlike powder).
Two hours after the CO2 was released, Mr Högblom and the first engineer went to the decks in breathing apparatus and found the fire was out. To prevent reignition, they left the decks closed until the next day. These were then ventilated to allow temporary repairs to hydraulic pipes and electric cables. Escaping hydraulic oil had ignited and added to the intensity of the fire.
According to Mr Högblom, 17 cars were totally burnt out, over 500 had fire or smoke damage, and the manufacturer decided to scrap many of them rather than risk problems in future. The ship had capacity for 7,200 cars and was almost full for the voyage.
Conventional thinking among educators is that CO2 should be used as a last resort. Mats Högblom argues that delays in using it means a fire can escalate unnecessarily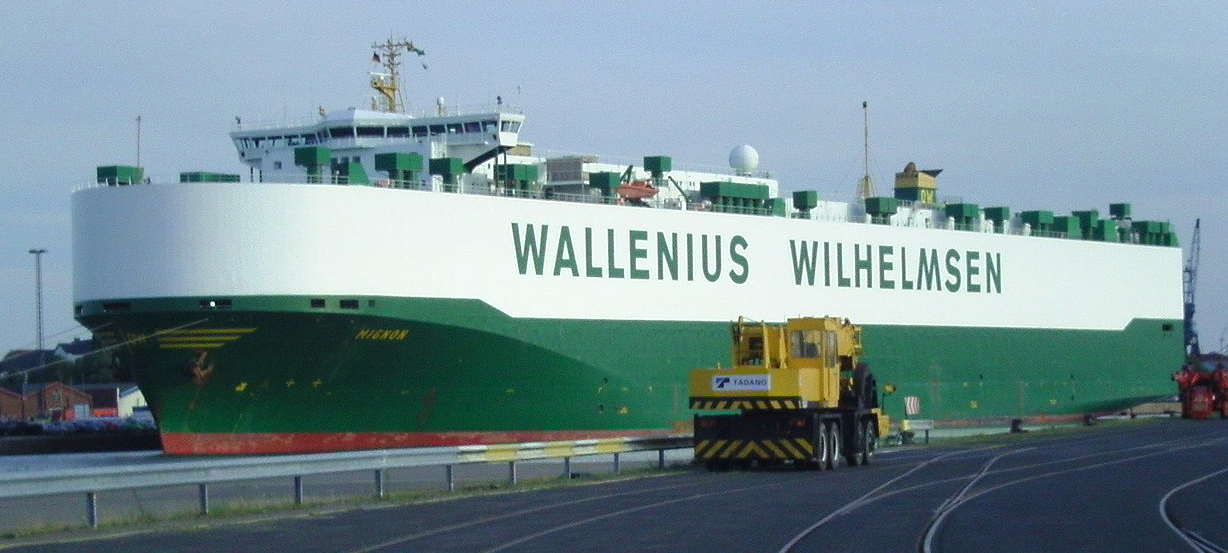 The Swedish Accident Investigation Authority states in its report that a CO2 unit must include a maintenance checklist in Swedish and English. The installation must be checked and tested during the first seaworthiness inspection, and then at least every two years after that. The levels of CO2 must be checked every year and a record made.
Using CO2 to fight fires onboard can be costly at around $100,000 for two tanks, but the cost is typically covered by insurance, Mr Högblom says.
Mr Högblom lost time during the investigation on trying to understand the CO2 instructions, which he claims were unclear and which are now being rewritten by the manufacturer.
When the vessel was built the system was provided by Marine Fire Protection A/S. There have been various company changes since then. Henrik Bygbjerg, global director of the system's present company, Danfoss Semco A/S, told the Telegraph that the CO2 system fought the fire 'by the book'. He said Wallenius had asked to change the system's operating instructions and they were making a joint review.
Mr Högblom has studied other fire accident investigation reports and spoken to colleagues on other vessels, and discovered a similar pattern of unclear instructions regarding use of CO2. It's a big problem because officers' experience of using CO2 remains low.
Mr Högblom says vessels should have IKEA-style CO2 instructions that a five-year-old can follow. 'It's got to be important that it's done correctly.' Instructions should be thoroughly checked and tested before being issued, particularly because if CO2 is released into an area where people are present, the health consequences could be severe, he says.
Training also needs to improve, stresses Mr Högblom. He has attended an STCW refresher course since the fire aboard Mignon and said the awareness and discussion of the potential use of CO2 was weak.
have you had experience of fighting a fire with CO2? How useful was your training, and how clear were the instructions on the equipment? Let us know at telegraph@nautilusint.org.
Top image: A burnt-out car on the Mignon Image: Martin Wahlbacke
---
Tags