Members at work
Sea service sorted – an introduction to the Nautilus Commercial Yacht Service Record Book
15 July 2019
A major attraction of Nautilus membership for yacht crew is the Nautilus International Commercial Yacht Service Record Book. If you're new to Nautilus – or new to the superyacht industry – here's how it works
As an STCW-qualified yacht professional, you'll periodically need to revalidate your Certificate of Competency or apply for a Notice of Eligibility. In the UK, this means applying to the Maritime & Coastguard Agency (MCA) with your signed sea service testimonials (SSTs), which have to be verified.
The verification process can take the MCA up to six months, which is why they have delegated the process to Nautilus International (with some verifications also carried out by the Professional Yachting Association).
When you join Nautilus, you are entitled to a fast and efficient verification service and a free Commercial Yacht Service Record Book – which, when properly completed, is accepted by the MCA as evidence of sea service without the need to be accompanied by SSTs or certificates of discharge.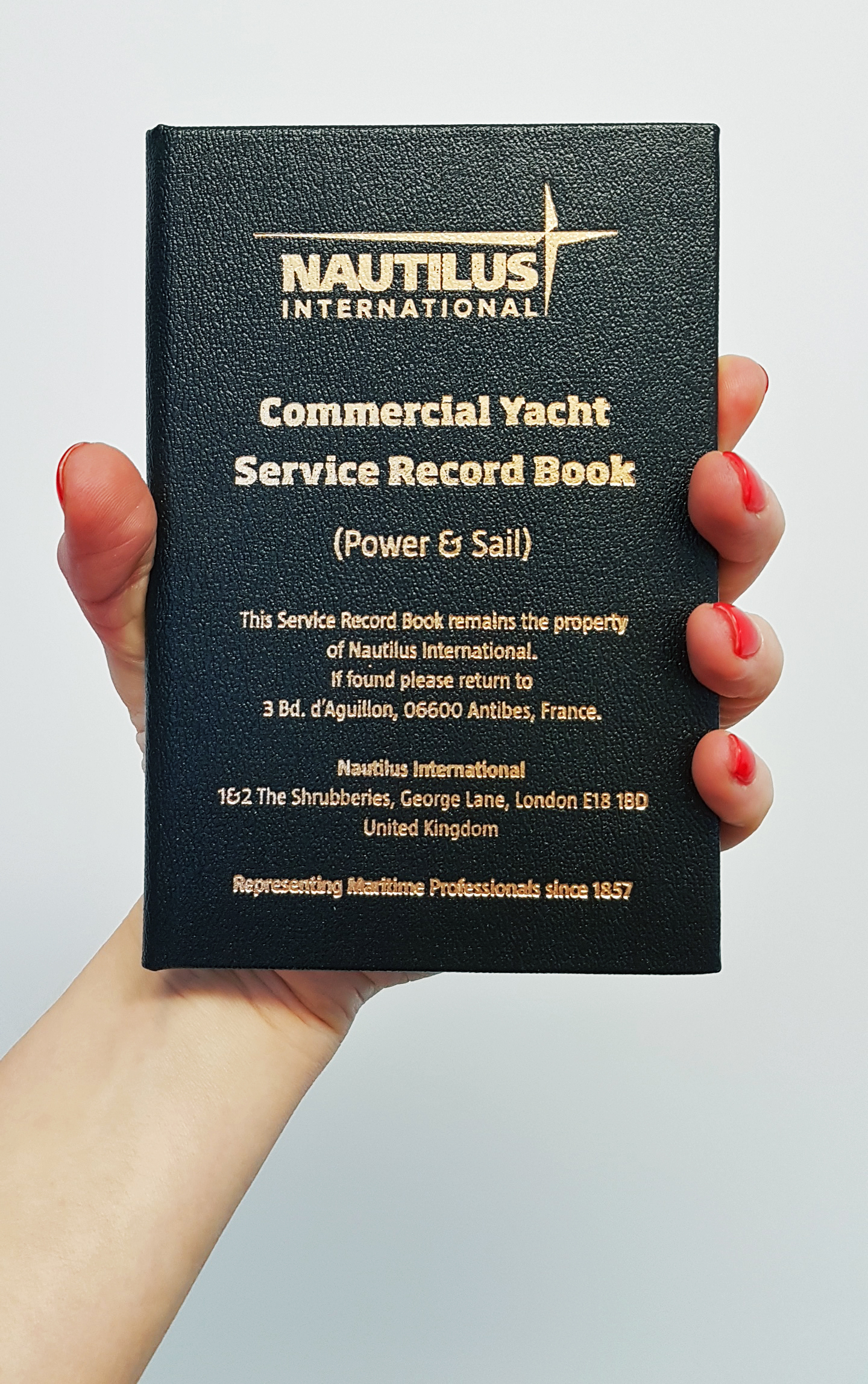 The MCA's official delegation agreement with Nautilus is set out in M-notice MIN 543, which you can find at the UK government website.
So what does completing your Service Record Book involve? Here's a run-down of the essentials.
Step 1
At the end of each voyage or rotation, you ask a senior colleague such as the captain or chief engineer to write you a sea service testimonial (SST). This records a range of information about the work you have just completed, including: vessel name, type and flag; position held; and days of service at sea, on standby or in a yard. The SST must have the contact details of the senior colleague on it – including a work email address.
Many employers have their own SST forms, but Nautilus offers one for members which can be completed online or printed out. To find the Nautilus SST form, log in as a member to the My Nautilus area of the website.
Step 2
You then need to send your completed SST form to the Nautilus sea service department, and this is where the Nautilus online form comes in handy, because you can send this simply by clicking on a button on the form itself. Alternatively, if you've been filling in a printed form, you can scan this and send it as an email attachment.
Main image: Getty Images
When you join Nautilus, you are entitled to a fast and efficient verification service and a free Commercial Yacht Service Record Book
Step 3
Nautilus will then validate your SST by contacting the senior colleague who is the signatory on the form. The signatory will confirm their identity and that the information they signed their name to is genuine.
Step 4
During Step 3, you'll also need to send in the original of your passport-like Service Record Book to the Nautilus International sea service department in the Union's Northern office. Once the validation is complete, Nautilus will put the official stamp on the SRB and return all original documents to you by registered post or courier.
Alternative Nautilus SRB validation with D&B Services
Most members use the Step 1-4 process above to get their Service Record Books validated, but If you're in Antibes, you can also use the drop-in service provided by our strategic yacht partners D&B Services.
And that's the basics covered. Sometimes there will be additional checks and paperwork to do, but you can rest assured that these will be carried out in the same prompt manner as the main validations by our sea service team.
If you would like to get your hands on a Nautilus Service Record Book, join Nautilus as a yacht crew member. You can choose to join under the reduced Yacht Friends of Nautilus category, but most yacht professionals elect to become full Nautilus members so they are eligible for the Union's unrivalled package of support, protection and benefits.
You can also join Nautilus – and receive your Service Record Book straight away – at this year's Monaco Yacht Show.
---
Tags