Welfare
'Wake-up call' for maritime employers following new research showing seafarer pension priorities
25 July 2018
Maritime employers are being urged to act on a 'wake-up call' about retirement planning delivered in research published in June 2018.
Nautilus has welcomed new research which warns shipping companies that they will face increasing recruitment and retention problems if they fail to provide decent pensions for their seafarers.
A report published by the Ensign Retirement Plan warns that maritime employers are underestimating the importance seafarers place on retirement savings and good workplace pensions.
The Ensign research reveals that more than half of employers surveyed see pensions as a 'not very' or only 'moderately' important part of their overall employee benefits package.
In stark contrast, more than four in every five workers in the sector regard pensions as 'very' important – ranking them as more important than job satisfaction, workplace environment or flexible working arrangements when choosing their employer.
While employers said the recruitment and retention of staff is their single biggest HR challenge – ahead of political and regulatory developments and globalisation – they ranked pensions as only sixth among the factors affecting recruitment and retention, behind such things as flexible working and workplace surroundings.
'These inconsistencies highlight a concerning disconnect between what employees want and what employers think they want,' the report states. 'Continuing in this vein could mean employers do not promote the importance of pension provision enough and miss out on a significant retention and attraction tool for the best talent in a competitive market.'
41% of employees surveyed were not aware of the tax relief on pension contributions.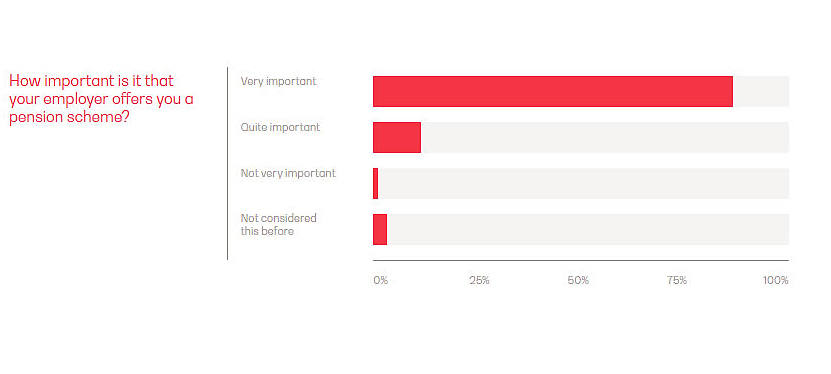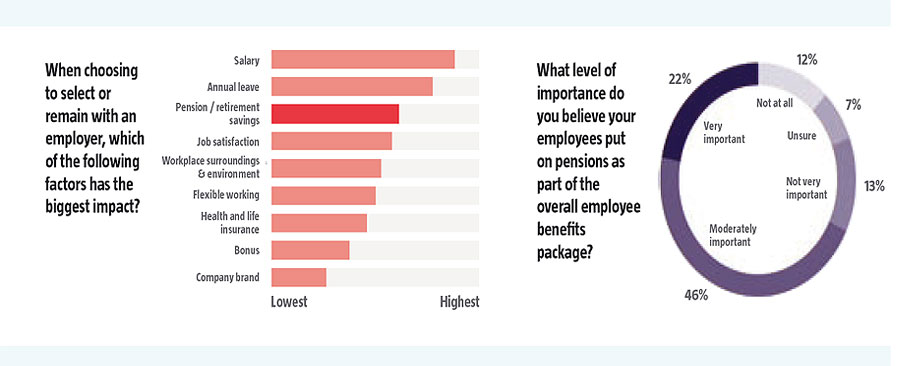 The survey found that 79% of respondents are members of an employer's pension scheme. Less than one-third consider they are paying enough into their pension and only 3% think they are paying too much.
However, half the members surveyed said they did not know how much money they needed to have a good retirement income.
Describing this as 'a big alarm bell for the industry', the report warns that without proper planning and adequate saving it will become harder for maritime employees to retire when they want to.
The report warns that seafarers could face significant hardship in retirement as a result of an 'alarming' lack of understanding of their pension rights. Only 42% know how much they are paying into their pension, and over half (54%) have no idea, or have forgotten, how much they are paying in fees and charges.
Most worrying, the report said, was the fact that some 41% of employees surveyed were not aware of the tax relief earned on their pension contributions. 'This can result, and clearly is resulting, in undervaluing the impact of saving into a pension fund,' it adds.
'Just a simple communication highlighting the "free money" that members get by saving could make a huge difference to their engagement and potential additional contributions.'
This lack of understanding also means that employees are more likely to put any spare cash into a bank or building society, and least likely to use it to top up their pension, the research found.
The survey showed that some 54% of respondents believe that auto-enrolment requirements have succeeded in encouraging more UK maritime employees into pension saving. A further 30% think the rules have encouraged more employees into pension saving, regardless of whether they are UK domiciled.
The report notes that employers need more clarity about the way auto-enrolment rules affect the maritime industry. 'There is clearly work to be done in helping employers in the sector implement their responsibilities to employees' pensions and to understand how this unique industry is impacted by regulations,' it adds. And it also stressed the 'crucial role for employers to help build financial awareness amongst staff to allow them to make the most of the scheme provided, understand the elements within their control and plan for their future'.
Ensign chairman Rory Murphy commented: 'Far too many employees are unaware of the tax advantages of pension saving, or don't know how much they need to save, or even how much they are saving. This is a toxic cocktail which could lead to poverty in retirement for thousands of workers, and as such is a critical issue for our industry. Doing nothing is not an option.'
Ensign CEO Andrew Waring added: 'This research represents a wake-up call for employers in the shipping and maritime sector. It illustrates an alarming disparity between the industry's employers and their workers in their attitudes to retirement provision, with employers worryingly slow to recognise the importance of pensions to their staff.
'The message from these findings is clear: employers who downplay the importance of pensions risk losing out in the battle for talent.'
Nautilus general secretary Mark Dickinson said the Ensign report reinforced the findings of research carried out by the Union showing that, while more than 60% of seafarers say that saving for retirement is a priority, the same percentage were not in a company pension scheme.
'This new study clearly demonstrates the value that seafarers place on pensions and underlines the need for many shipping companies to improve the package that they offer – especially for young maritime professionals – if they are serious about recruiting and retaining the skilled personnel they need.'
---
Tags