The Netherlands-flagged passenger/cargo liner Oranje Nassau was one of a pair of popular sisterships built for the Caribbean services of the Royal Netherlands Steamship Company (KNSM). By Andrew Linington
KNSM operated from 1856 to 1981, when it became part of the Nedlloyd group, and at one time was the largest company in Amsterdam. From the mid-1920s, it specialised in running passenger and cargo services between NW Europe, the West Indies, Central America, and South America.
Plans for the 7,214grt Oranje Nassau and sistership Prins der Nederlanden were developed in 1954 in response to the flourishing business on the Holland-Caribbean route, and at the time they were the largest ships in the KNSM fleet. They were designed to accommodate 116 passengers in a single class and 68 on a 'group' basis, with a crew of 100.
The ships each had five holds – three forward and two aft, with a couple of tween decks. Cargo capacity totalled 195,000 cu ft, with a refrigerated capacity of 14,680 cu ft.
Oranje Nassau was built by Scheepswerven Gebroeders Pot, Bolnes. Powered by a nine-cylinder Stork diesel engine, developing 4,500bhp, the vessel had a service speed of 15 knots. It was launched in January 1957, and after fitting-out work, it undertook deepsea trials in the North Sea, achieving a top speed of close to 16 knots.
The vessel entered into service in August 1957, running a round trip between Amsterdam, Southampton, Barbados, Trinidad, La Guairá, Curacao, Aruba, Puerto Limon, Kingston, Santiago de Cuba, Cartagena, Plymouth, and back to Amsterdam.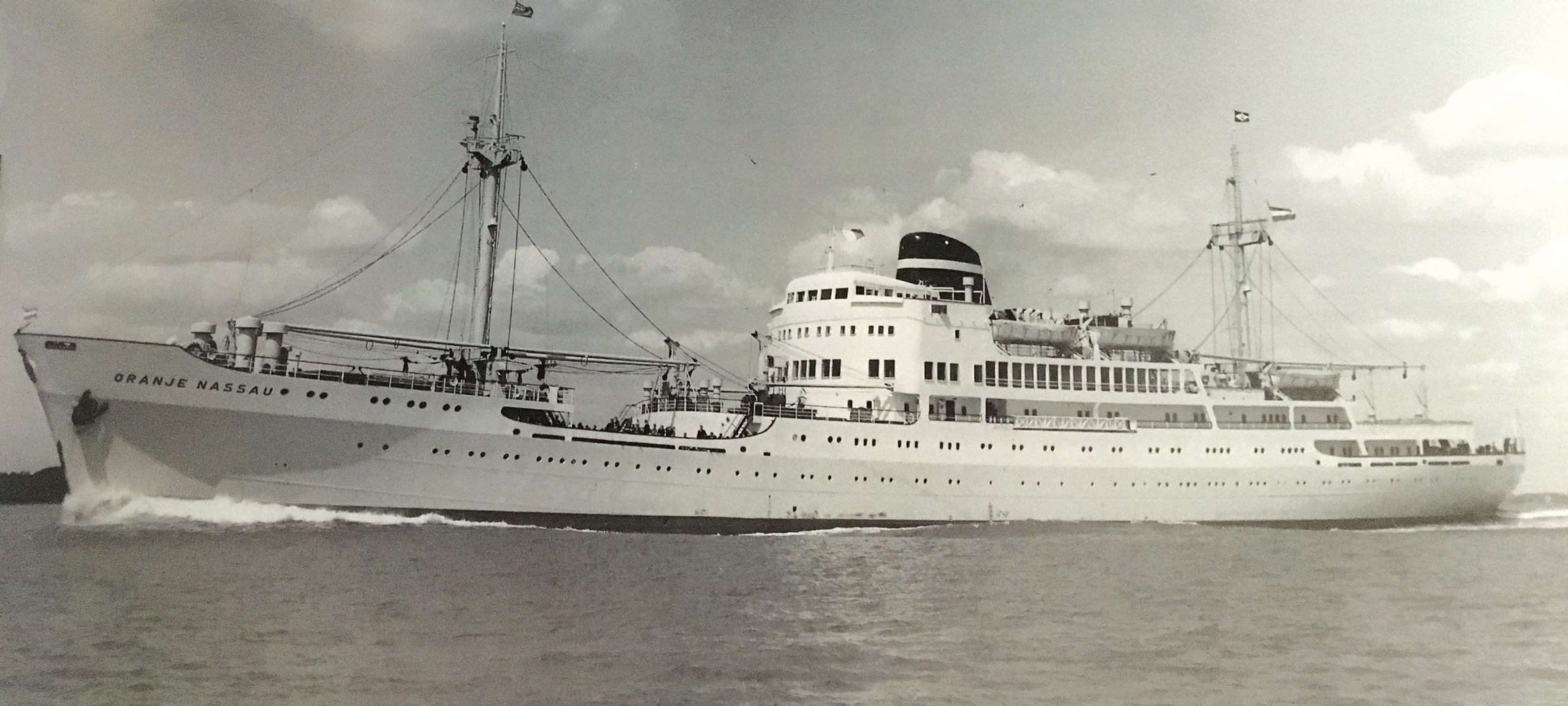 KNSM had originally intended Oranje Nassau and Prins der Nederlanden's passenger service for one-way traffic outward from Europe, but many people used the ships for a 34-day cruise
The two sisters had been fitted out to a very high standard, with spacious accommodation and excellent facilities, and quickly became popular with passengers.KNSM had originally intended that the passenger traffic would be mainly one-way – outward from Europe – but many people used the ships for a 34-day cruise, especially in the winter months.

However, by the late 1960s, containerisation and air travel had started to affect the service, and in October 1972 the two ships were withdrawn from operations and laid up in Amsterdam, before being put up for sale and bought by the Cuban government for use as military transports and training ships.
In 1973 Oranje Nassau was officially renamed XX Anniversario (20th Anniversary) and after service in a training role, the ship went on to take troops to Angola. In 1989 it was sold to Incorn Ltd of St Vincent, renamed Ani, and delivered to the Greek port of Piraeus before sailing to Alang, India, to be broken up.

Prins Der Nederlanden had been renamed Vietnam Heroico by the Cubans, and was declared a constructive total loss after striking the quay at Havana in October 1984.
---