Every year, numerous UK ratings, electricians and yacht crew progress their careers to officer level with scholarships from the Nautilus Slater Fund. ANDREW LININGTON met two of the Fund's finest…
Two seafarers who displayed exceptional ability and high achievement in the face of adversity have been presented with this year's JW Slater Outstanding Achievement Awards. John Bacon and Jack Jones both secured their officer certification thanks to scholarships from the Nautilus Slater Fund, which is run by the Union in conjunction with the Marine Society.
Mr Bacon, who now serves as an electro-technical officer with Stena Drilling, gained his ETO certification after going back to college at the age of 38. Originally a shore-based electrician, he was drawn to seafaring after working on Royal Navy vessels as a commissioning engineer on electrical propulsion systems.
'They joked that I was the geriatric cadet, but I found it really rewarding going back to the classroom,' he said. 'Having the ETO certificate is the way forward, and says you have all the skills needed for the electrical systems onboard.'
Mr Bacon gained his qualifications despite being diagnosed with head and neck cancer in 2016 and being unable to work for a year because of chemotherapy, radiotherapy and surgery. 'It was a bit of a blow,' he said, 'but working towards the CoC [certificate of competency] gave me some focus outside the illness and allowed me to see a life past cancer. I am very thankful for everything, and fully believe that the Slater Fund helped to save my life.'
He is now working onboard the UK-flagged drillship Stena Carron. 'It's a great vessel and the company have been very good to me,' he said. 'I'm very proud to receive the award and it has made me feel very special.'
They joked that I was the geriatric cadet, but I found it really rewarding going back to the classroom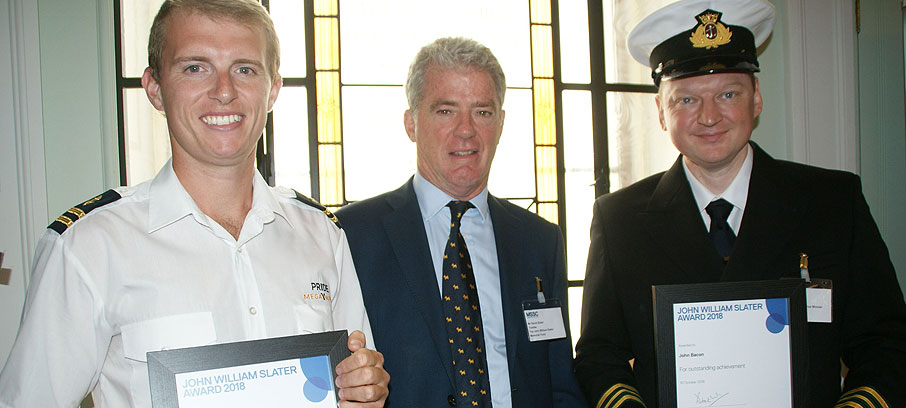 Mr Jones decided to go to sea after serving five years in the Army. 'When I left the infantry, I didn't really know what I would do next and I decided to go travelling for a while. I was lucky to be in the right place at the right time, and met some people who were working at sea who sparked my interest.'
He went into the yacht sector and gained his chief mate's (<3,000gt) certificate before deciding to go for the OOW unlimited experienced seafarers route. Studying at Warsash, he passed every assessment first time and gained an overall distinction.
'Studying was challenging and at times exhausting,' he admitted. 'However, the support from the Slater Fund and all involved made all the difference. The financial burden the course places upon you is massively eased by the help of the scholarship.'
Now serving with Burgess Yachts as a second officer/safety officer, Mr Jones is presently working on the first Chinese-built superyacht. 'I love being at sea,' he said. 'It's an exciting career and every day is different. You are learning new skills all the time and working with some great people from all over the world.'
---
Tags